13 Types of Jeans with Names- A Guide to Pick Your Style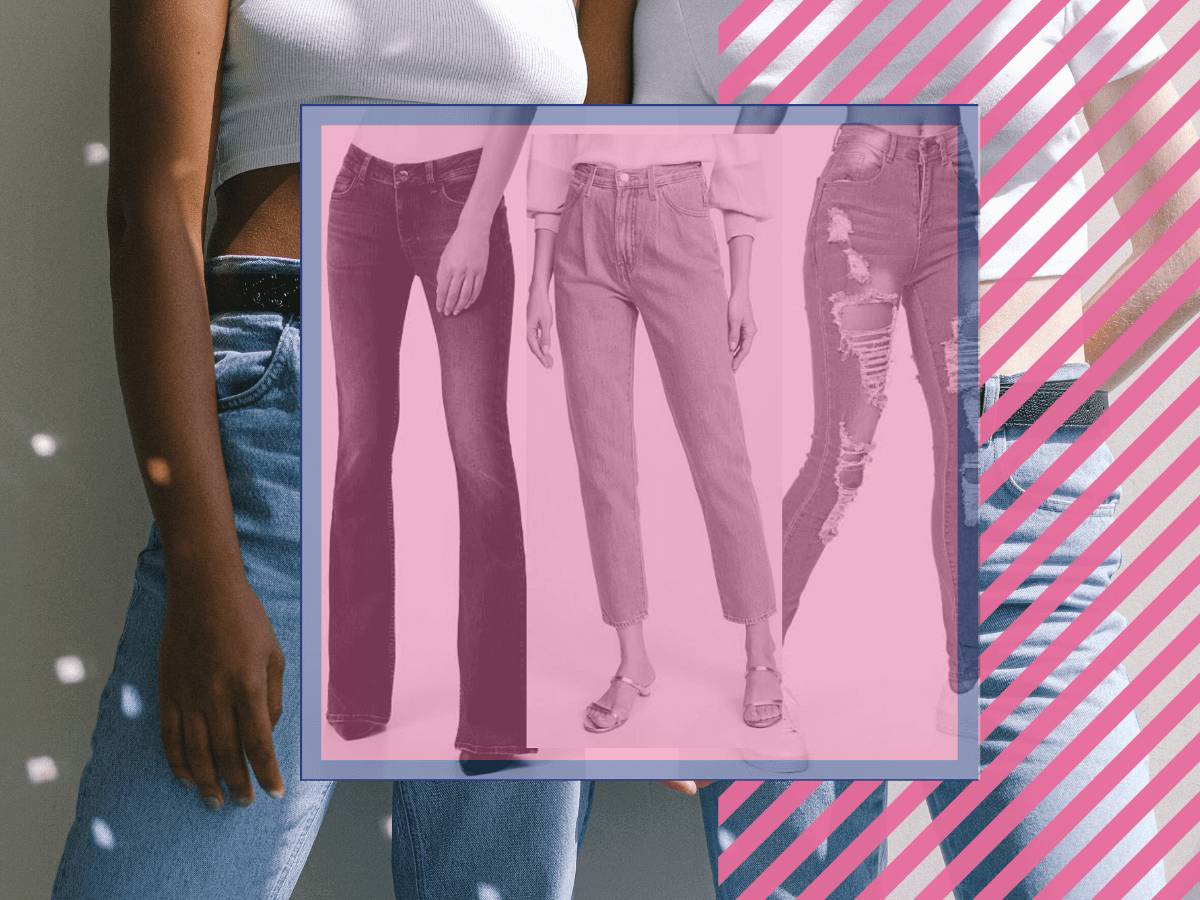 Confused while choosing the best pair of jeans, which goes with every mood without giving it much consideration? Read on to find the best type of jeans fit for your body.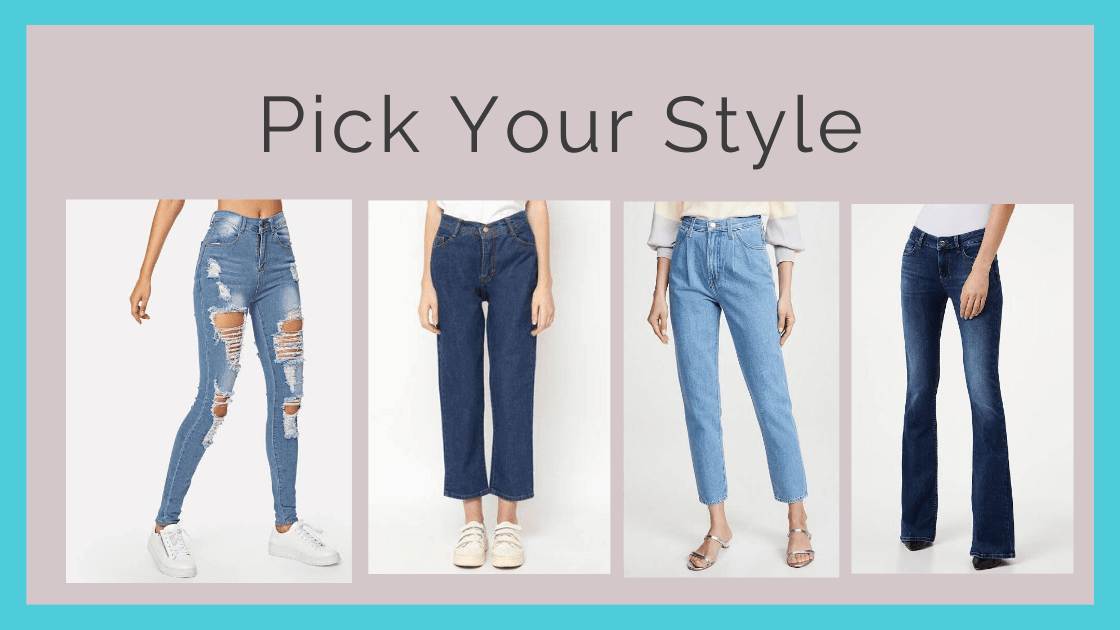 We all are obsessed with any one piece of cloth in our wardrobe, that always comes first in our preference whenever our mood is set on messy mode. Some good pair of "jeans" always relieve us in a state of dilemma. It's so easy to pick any jeans put them on with any clothing or accessory and you're ready to go, but is it as simple, as it sounds? NO.
Figure out with jeans is not as simple as our thoughts. Choosing the right jeans from a wide variety that fits us well, that goes with our personality and makes us look modish yet comfy, is a tough thing to get our hands on. Now we don't have to limit our options, but to explore more to make our jeans collection more variant.
Here you can find, 13 different type of jeans with names for women, which also follows the best women jeans types:
On the basis of Leg shape:
1. SKINNY JEANS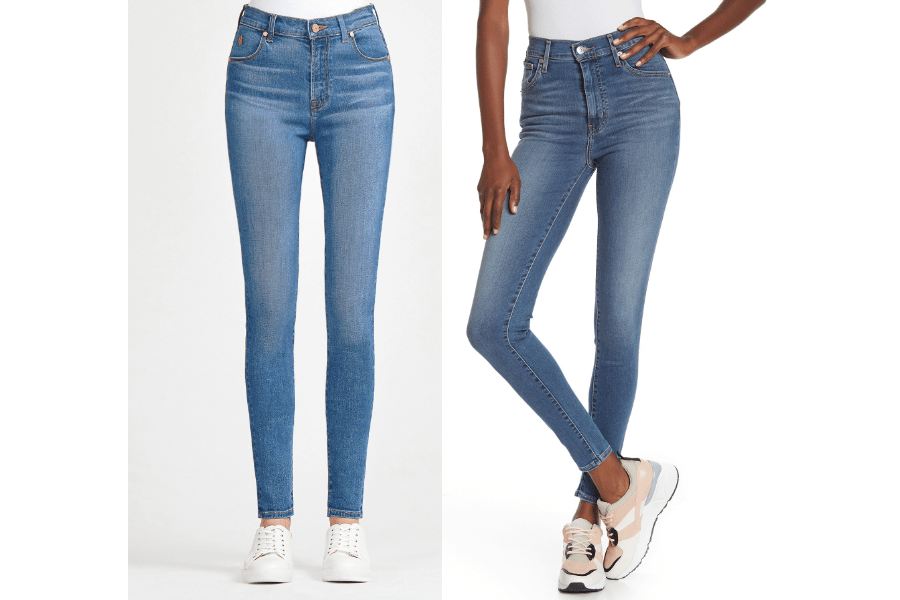 ‌ As these jeans can be defined by their name, "skinny" means something that clings to the skin as these jeans do. These jeans come with a snug fit from the waist to the thighs to the ankle. They are tapered at the bottom. These jeans make your every curve highlight either your waist, butt or legs. These jeans can be worn in casual or formal both ways.
Pair it with: Hoodies, Tops, Coats or Kimonos; Pumps, Boots, Strappy Sandals, Gladiators
Body Shape- All Body Type
2. FLARED JEANS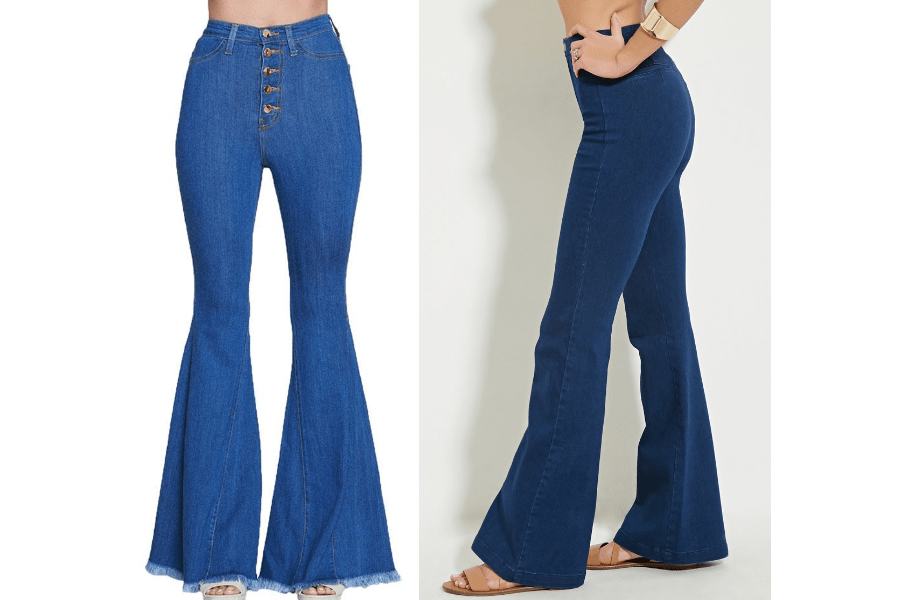 ‌The flare jeans are a revival trend of the 70s, which add a classic and vintage touch to your looks. Gives you an elevated illusion, and works both for tall and short people. Good choice for a casual look, they are well fitted from waist to thigh but give flare from below the knees. These jeans don't give dramatic looks. Good for people having heavy waists and butts.
Pair it with: Off Shoulder tops, Button Down Shirts, Tank tops; Clog heels, Pumps, Stacked Heels
Body Shape - Pear, Hourglass Shape                                        ‌
3. BOOT CUT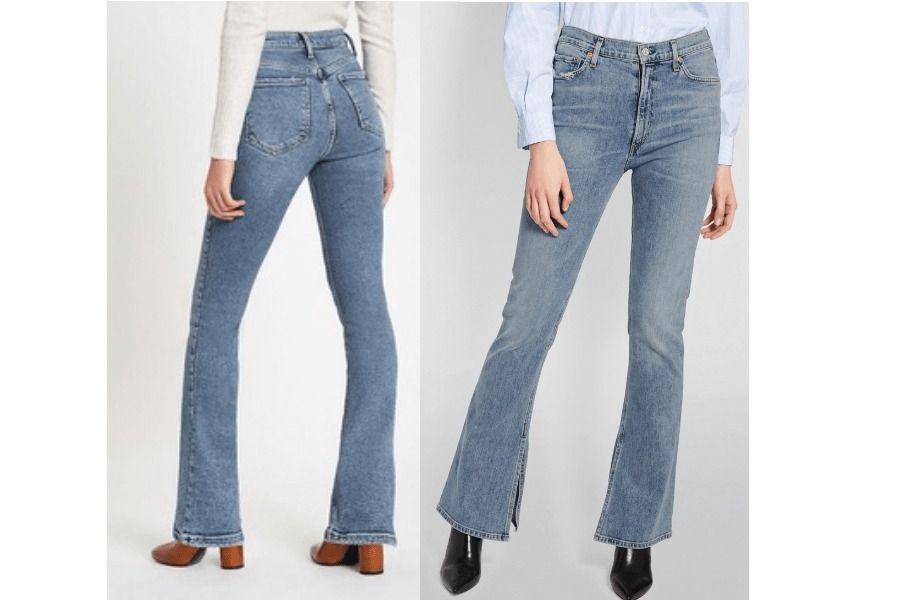 These jeans have little same appearance as flare jeans. These jeans can be easily worn with boots as their name suggests, they come with a great fit till the knees and flare starts from the knees to the ankle, but still, they give a sleek elongated silhouette shape to the body. Best to style on official events and make you feel bossy and classy.
Pair it with: Formal or Semi-casual Shirts, Jackets or Shrugs; Boots and Heels
Body Shape - Apple, Tall, Hourglass Shape
4. STRAIGHT JEANS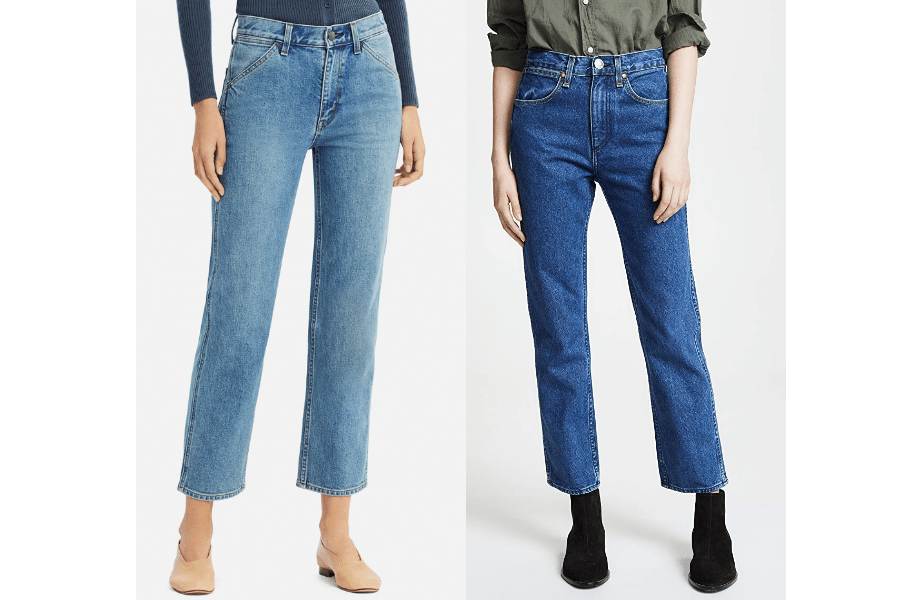 ‌Want to get rid of clingy jeans? Here is a better choice for you, these jeans are straight from the hips to the ankle, and it doesn't cling from the upper knee or get tapered at the ankle. These jeans do not give stretch as it doesn't require, they keep the gap. They could be a good choice for travelling.
Pair it with: Sleek Blazer, Turtle tops, Crop Tank tops; Flats, Ankle boots, Slingback Sandals
Body Shape- Pear, Petite, Apple Shape( to get an elongated and slimmer look)
5. WIDE-LEG JEANS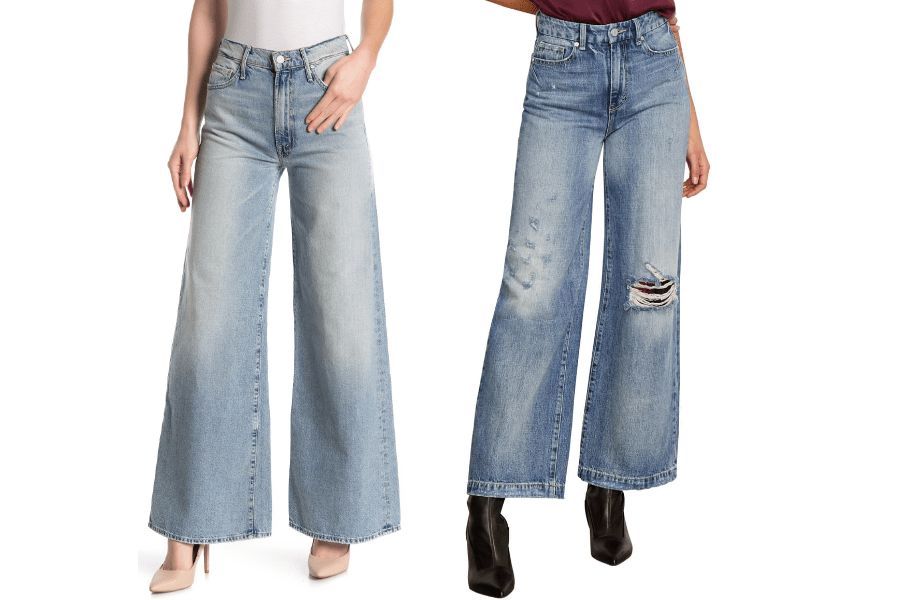 ‌A good to go choice in summer. This pattern consists of a large flare, from the waist to the hem of the jeans. This oversized comfy pattern has become a crazy pick among youth. These super airy jeans add volume to your legs and give it a longer appearance at the same time. It can be styled in formal and semi-formal ways at various events, business meetings and so on.
Pair it with: Full or Mid Sleeve basic Tees, Fitted Crop Top, Casual shirts; Loafers, Mule Heels, Sneakers, Strappy Sandals.
Body Shape- Plus Size, Pear, Triangle Shape
6. BOYFRIEND JEANS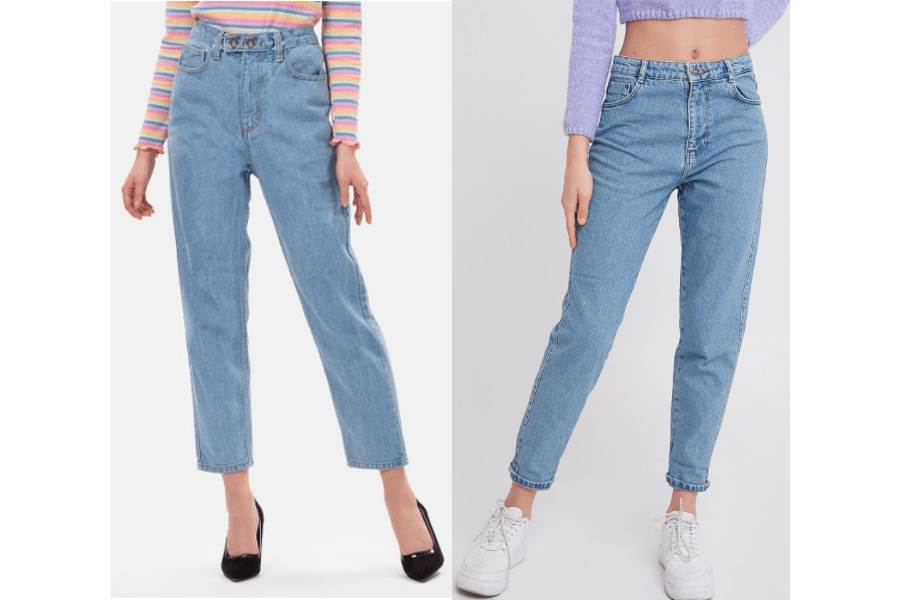 These pair of jeans add a tomboyish touch to your look. The fashion started with men, now creating bizarre women's trends. You can get a casual comfy and easy care free look by wearing this kind of jeans. Perfect for college girls, gives a great fit near your waist and hip area with great comfort.
Pair it with: Tees and Sweatshirts; Kitten Heels, Trainers, Wedges.
Body Shape- Apple, Pear Shape
On the basis of Waist-line:
7. HIGH WAIST JEANS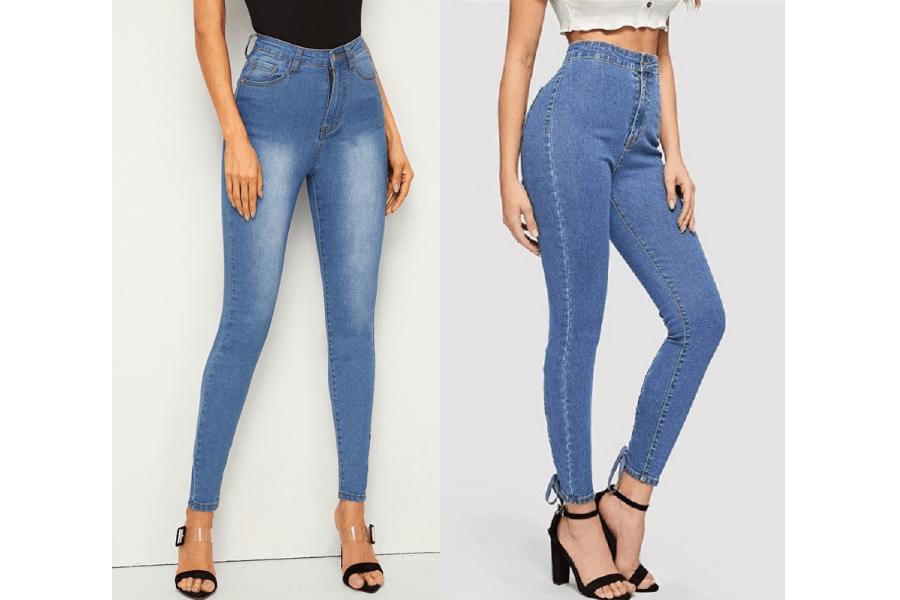 These are the jeans which easily can be found in every girl's wardrobe. They are known for their versatility and you can flaunt your curves with them too, also they hide your belly fat. They usually start with 3 inches higher from the navel but the length goes according to the pattern. It accentuated your waistline, elongates the legs and prevents butt lining and gives you a clean sharp point look.
Pair it with: Crop and Tube tops, Cami tops; Boots, Stilettos, Pumps.
Body Shape - Apple, Hour Glass Shape (with slim abdomen)
8. MID RISE JEANS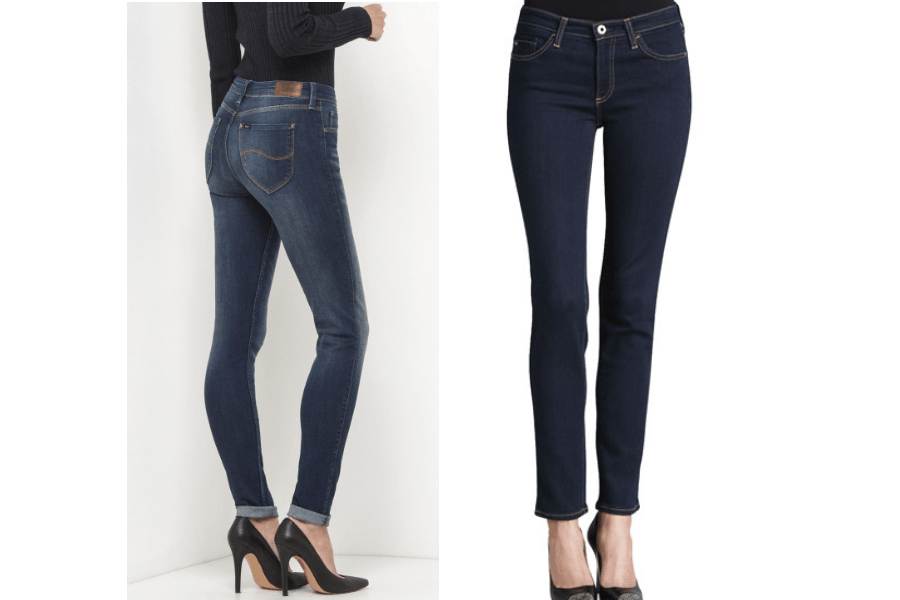 These jeans are a friendly option and perfectly go with all body shapes. It defines your midsection. It usually starts between the hip and the belly button. They have a balanced height neither go high nor stay too low.
Pair it with: Shirts, High Neck Sweaters; Flats, Trainers, Slip on shoes.
Body Shape -  Apple, Pear, Plus size body Shape
9. LOW RISE JEANS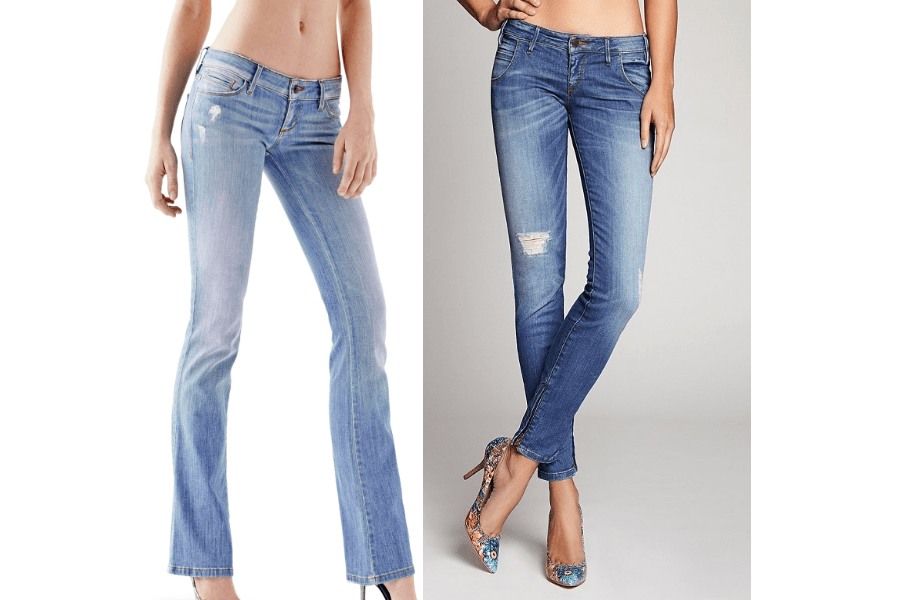 These jeans are back again in trend after a long elapse. Slaying in the high-waist jeans trend from decades, this is a drastic change in the comeback of low-rise jeans. These are designed to flatter your stomach and waist, as they start from 2 to 3 inches below your belly button. Perfectly fits with skinny, super skinny and straight patterns, and goes to ankle length.
Pair it with: Tube tops, Tees, Sweaters; Sneakers, Flats, Heels.
Body Shape- Athletic Body Shape ( to flaunt your curves)
On the basis of Length:
10. CROPPED JEANS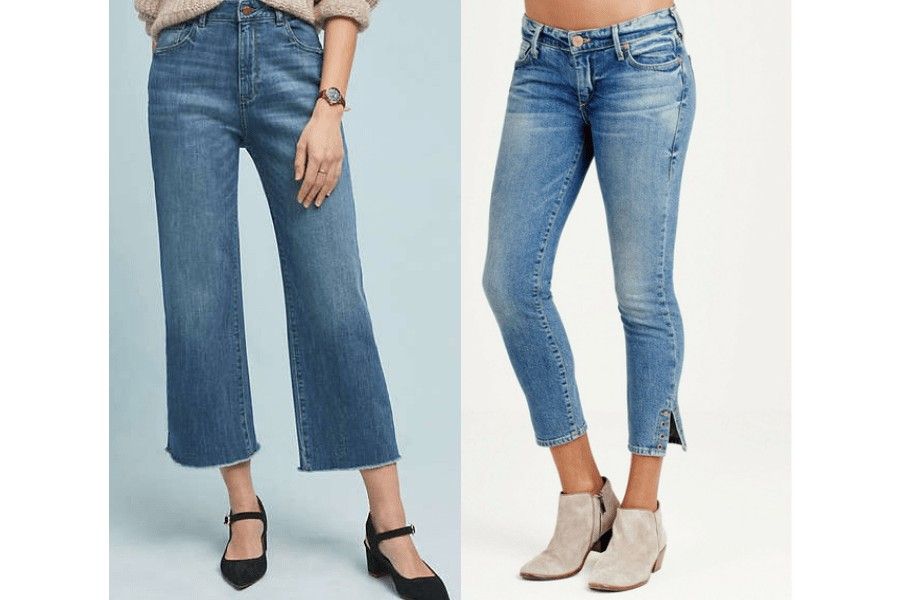 Cropped jeans are basically shorter in length and come with higher from the ankle but less than the knees. It gives a modern touch with perfect comfort. They look extremely modish at work. They usually come with a high waist look. Comes in different patterns like Skinny Crop, Tapered, and Wide-leg Crop. Pair it with: Graphic Tee, Tweed Jacket, Blouse Tops; Pumps, Stiletto heels, Ankle Boots, Clog Heels;
Body Shape- All Body Shape ( except Petite)
11. ANKLE JEANS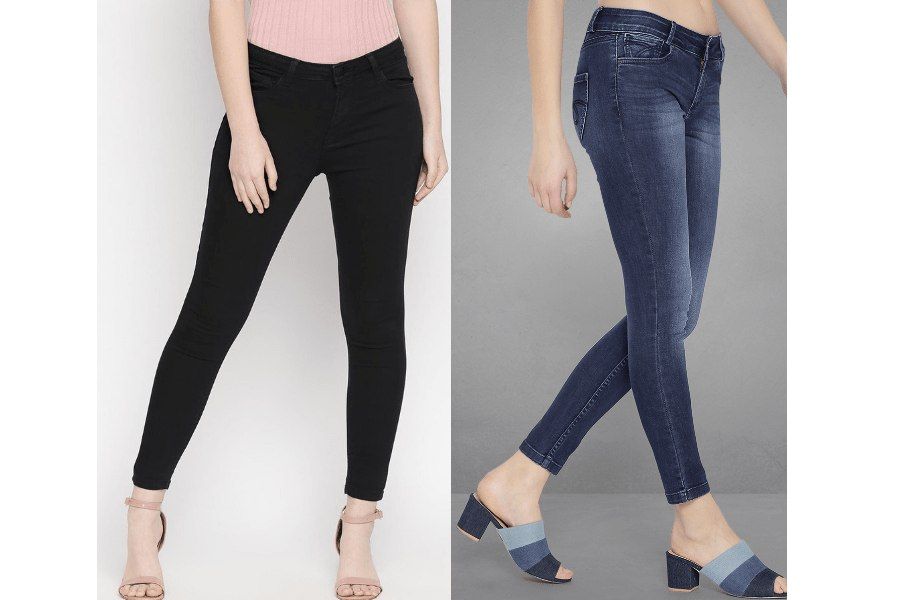 ‌These jeans are running in trend with every pattern either wide, skinny, straight and whatever you keep your hands on. Ankle length patterns mean to hit at the ankle. It can slightly make you look shorter in a skinny fit but it looks good as it is in trend.
Pair it with: Blazer, Pullovers; Ankle boots, block heels
Body Shape- Hourglass Shape
12. RIPPED JEANS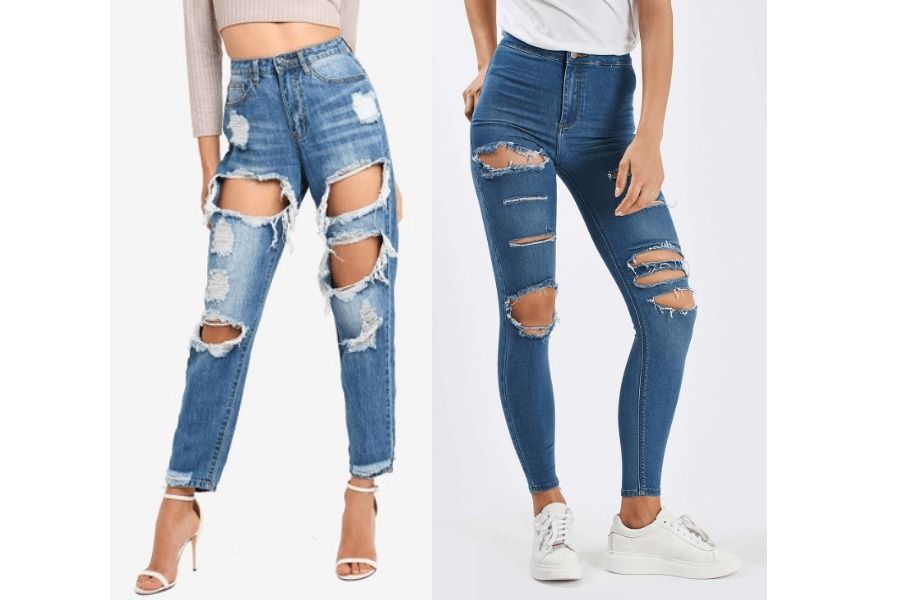 ‌Torn jeans are called ripped jeans, this fashion started in the 90s, but the fashion revived in recent years. There is no specific pattern followed, near the thighs, on one leg, whole leg, at the back, small cut, slight cut,  large hole, rips pattern can be found. It has been in trend by its quirky looks among youth as street style fashion to follow by the celebrities to chill out their looks. These jeans have a wide variety of patterns like Ripped Patch, Skinny Ripped Small cut, Sequel Ripped,  Ripped Huge cut and so on.
Pair it with: Plain Tees, Spaghetti tops and basic Crop tops; try Sneakers and Block heels.
Body Shape- All Body Shape
13. CUFFED JEANS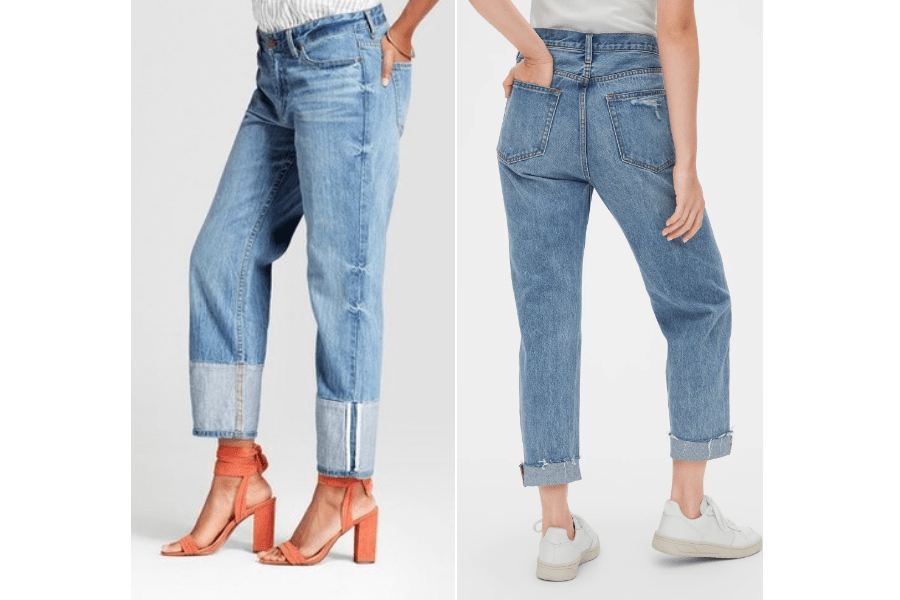 These jeans have folds at the hem of the jeans. They give you a cool- casual look. They come in different varieties like Skinny cuffs and slouchy cuffs.
Pair it with: Jumpers and tees with leather and denim Jackets, also try it with a Knitted blazer; Kitten heels, Trainers, and Ankle boots.
Body Shape- All Body Shape