Best Sarees For Farewell Party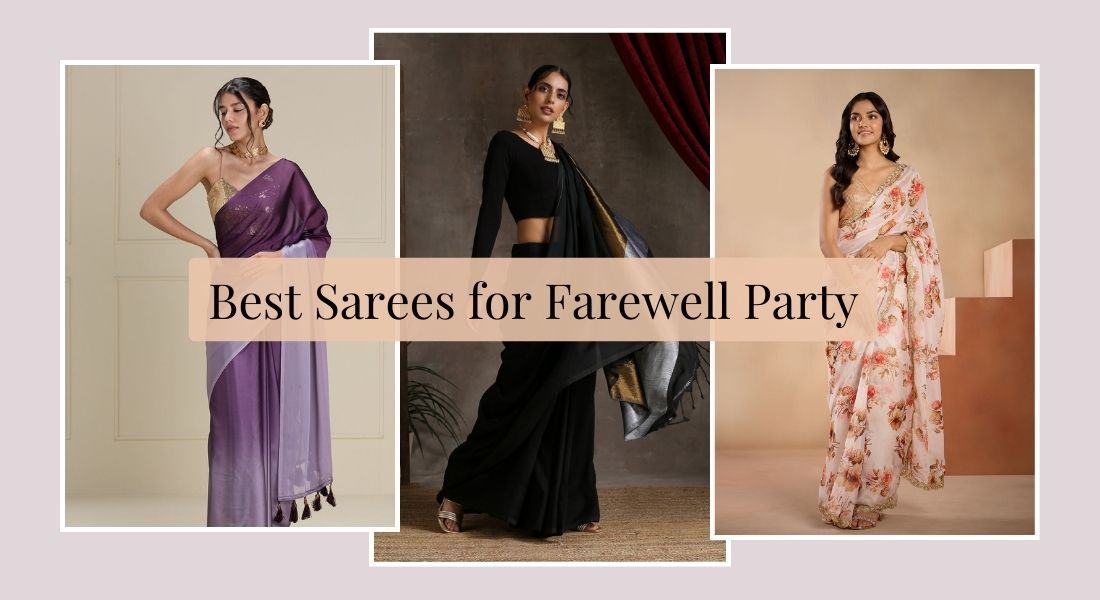 A Farewell party is the best time to create lifelong memories that remain imprinted in your heart forever. On this special day, you surely attain your best look, as it's one of our fantasy to get dressed up in our dream saree and get a picture-perfect look.
As much as this day is important, it is also necessary that you wisely choose the saree for a farewell party. If you want to go for a simple farewell party saree or looking for a fashionable saree for farewell, there are some things that you must consider while buying the best saree for a farewell party.
To attain the best farewell party saree look, you must consider the type of fabric in the first place. After, decide whether you want to go for solid or printed options. Read more below for the detailed guide to help you choose the among the trending saree for farewell:
Fabric
When choosing an attire for a special event, the right fabric choice plays a great role. While shopping for a saree for a farewell party, the fabric must be your priority. Always look for some lightweight and breathable fabrics and avoid using bulky & heavy materials such as cotton and silk. To make the moment enjoyable, you must select a saree in which you can move freely. To choose the best saree for the farewell party must consider the following options:
Georgette Saree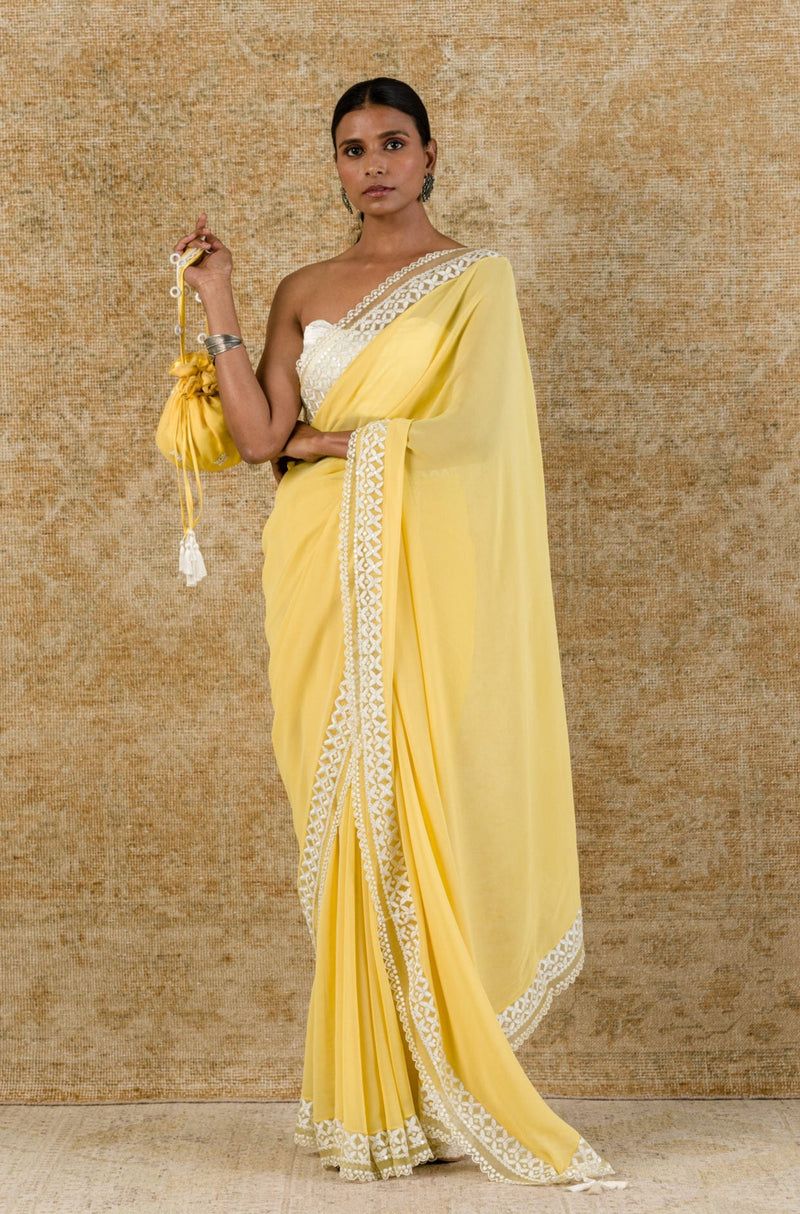 Georgette Sarees are one of the most breathable and lightweight sarees to put on if you are a first-timer. They come in soft and flowy material. The plus point about Georgette sarees is that they remain intact and make you look slimmer as well. If you're looking for a simple farewell party saree then Georgette can be your one choice. It gives you a minimal yet presentable look at the same time.  
Organza Saree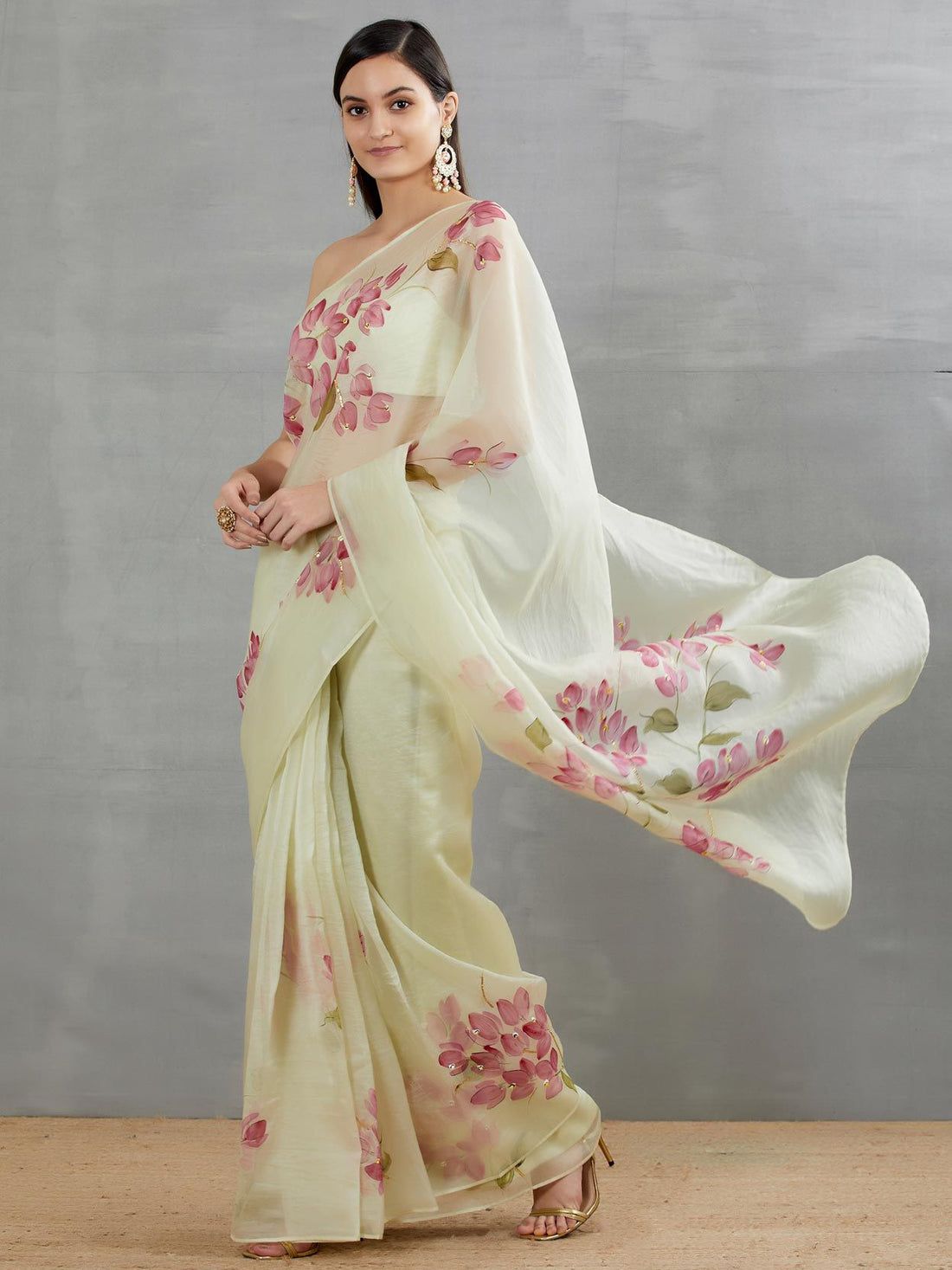 Organza is a new go-to choice for girls nowadays and definitely a trending saree for farewell. It comes in a sheer lightweight fabric with a hint of shine that makes it attractive to wear. If you're looking to wear a fancy saree for the farewell, Organza sarees can be your best option. These sarees usually come in soft colors with subtle prints that will make you look elegant and effortlessly stylish.
Satin Saree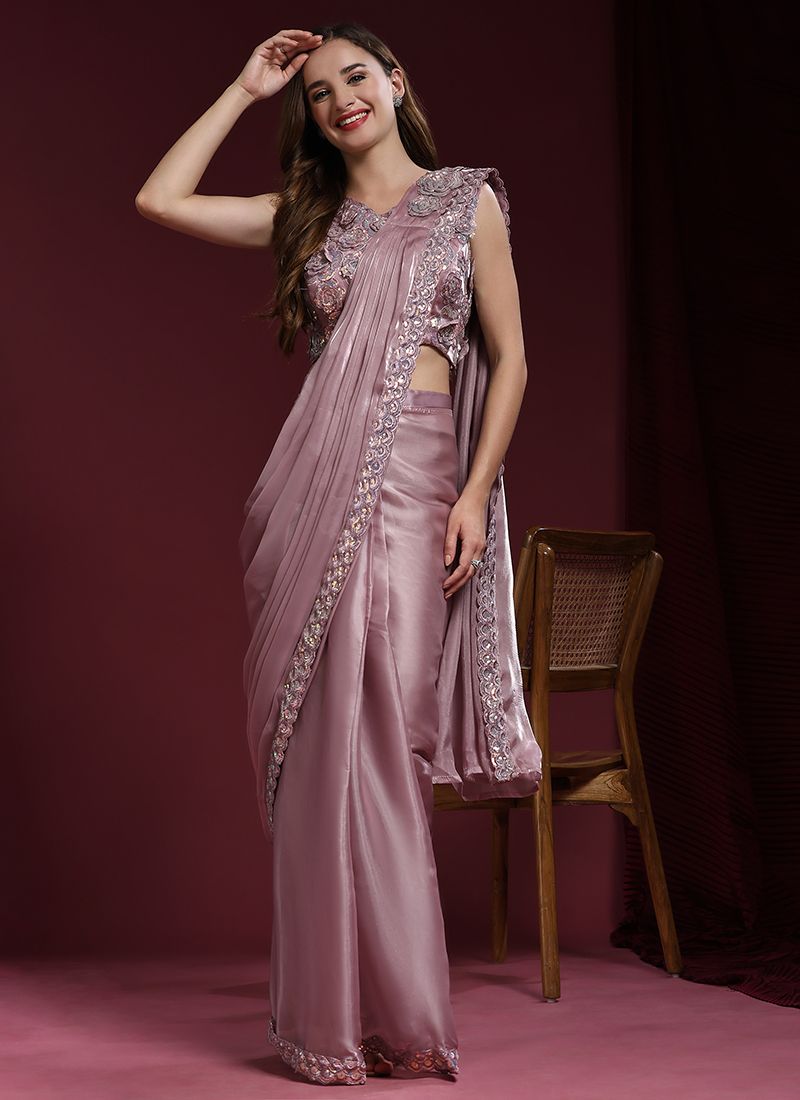 With a glossy finish and soft fabric, Satin Sarees can be a top-notch choice for a farewell party. Satin fabric graces you with elegance and sexiness. The best thing about wearing a satin saree is that it's easy to drape and handle. Also, it gives you an attractive silhouette. With a satin saree, it's like a no-brainer as with limited accessories, you can manage to stand out among the crowd.
Sequin Saree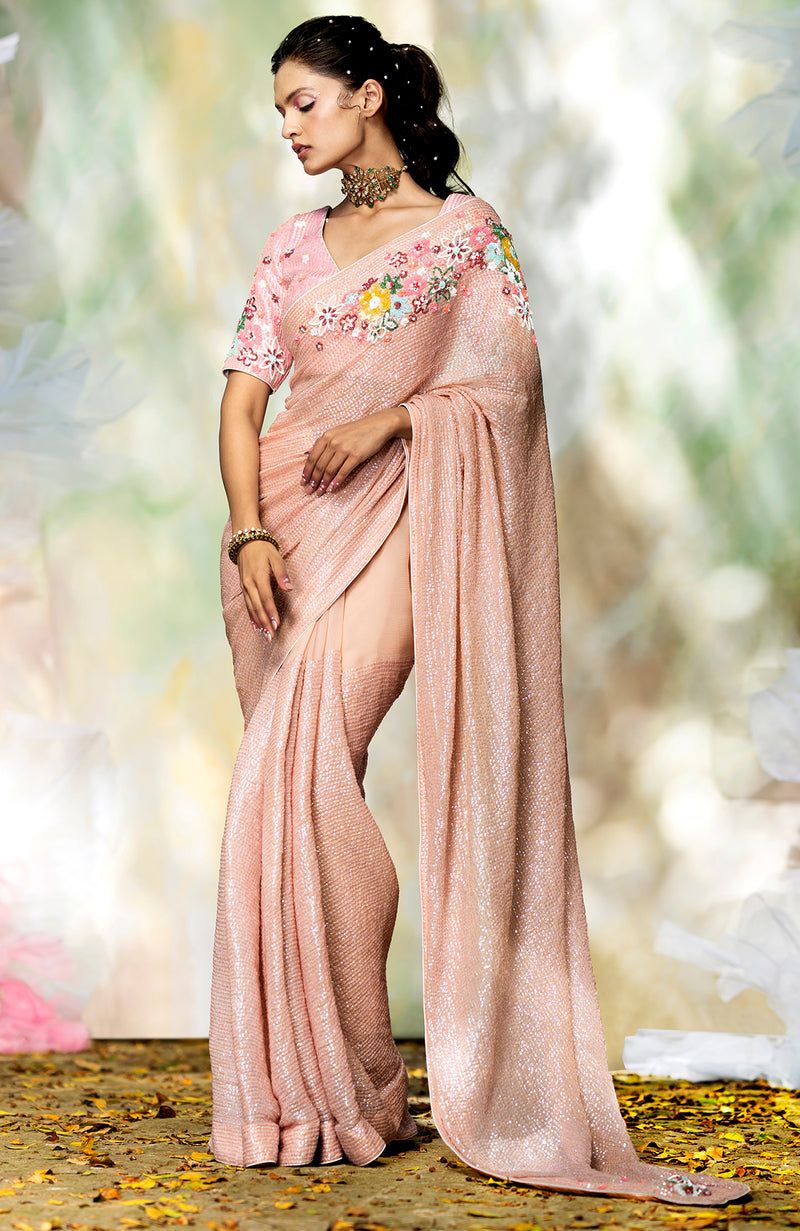 If you love glitz & glam and want to go one step ahead in your style game, then sequins can be your right choice. Sequin sarees are embellished with intricate bling work. These sarees are best to wear in the evening time. There are multiple catchy colors available for the sequin saree to choose from.
Color
The right color instantly uplifts your entire appearance. You must go for colors that compliment your complexion and make you look confident. There is no color barrier to achieve the best farewell party saree looks. You can go with solids, bold or pastel shades as per your choice. Let's find out some of the trending saree colors to wear on farewell in the following section:
Black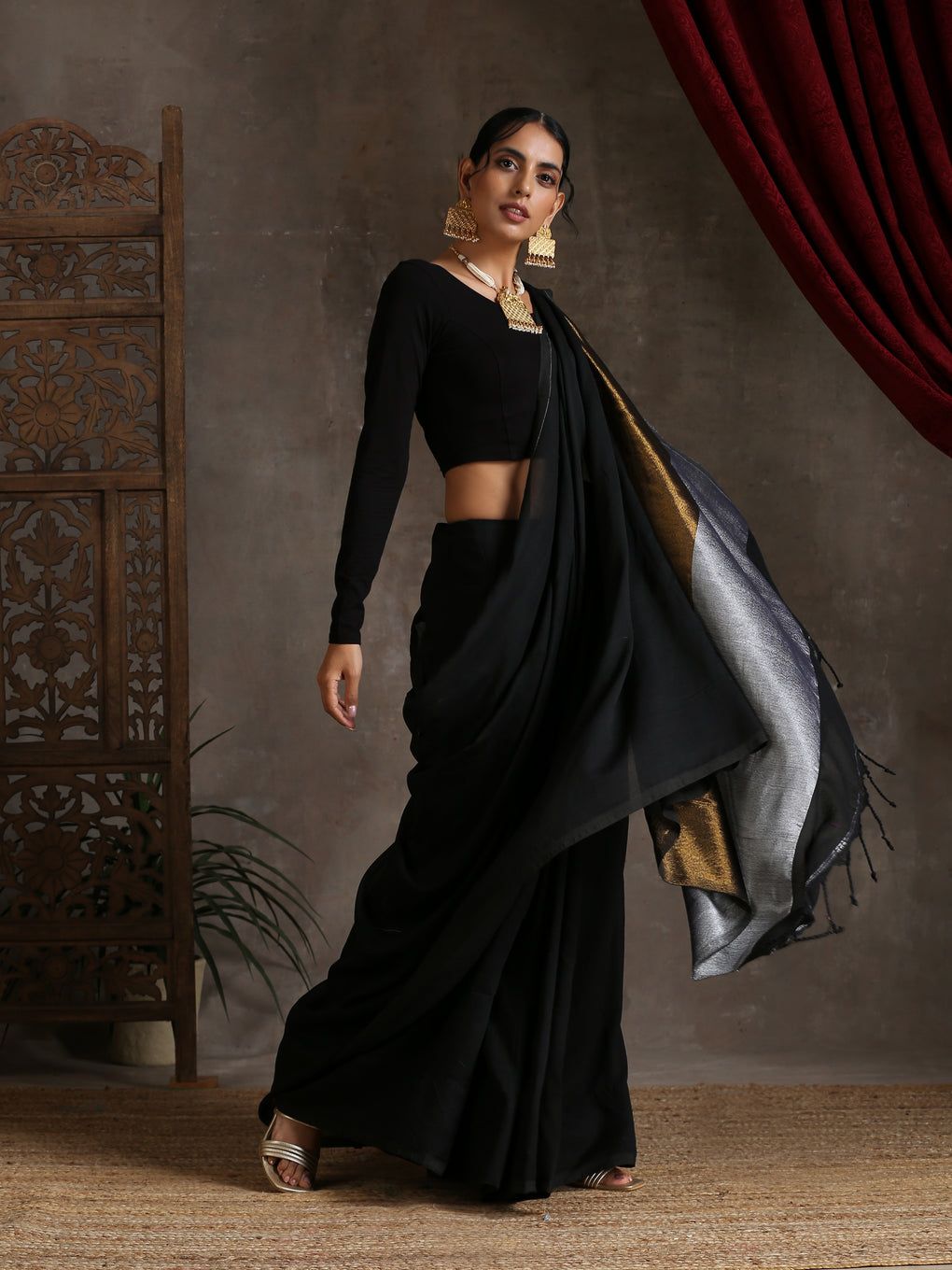 Black sarees are another definition of love. We all have to agree with it. You can create a mesmerizing look by opting for a black saree look for farewell. Even the most iconic Bollywood farewell looks are also created in Black sarees. You can pick any sheer fabric with embroidery or lacy designs and put on nude makeup to attain a perfect black saree farewell look. Black color doesn't only look chic and classy but also makes you look slim and confident at the same time.
Ombre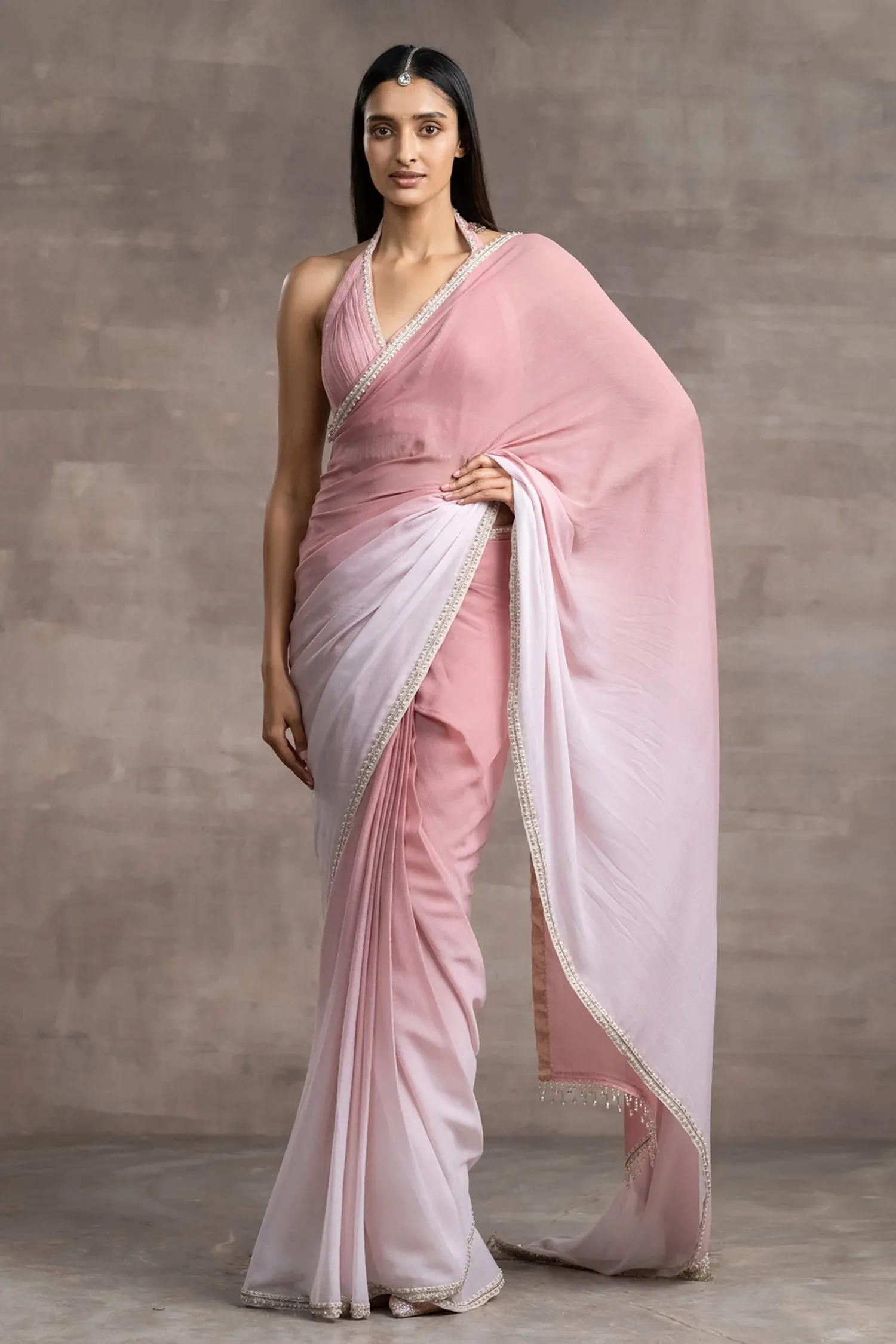 Recently, Ombre sarees have gained popularity and acing every girl's heart. If you're looking for a trending saree for farewell, then you can choose an ombre saree. These sarees come in the most refreshing dual shades, mainly dominate pastel hues. In the daytime function, the color even radiates more. An ombre saree with a solid blouse makes the best combination. Minimal makeup with statement jewellery is enough to set all the eyes on you.
Solid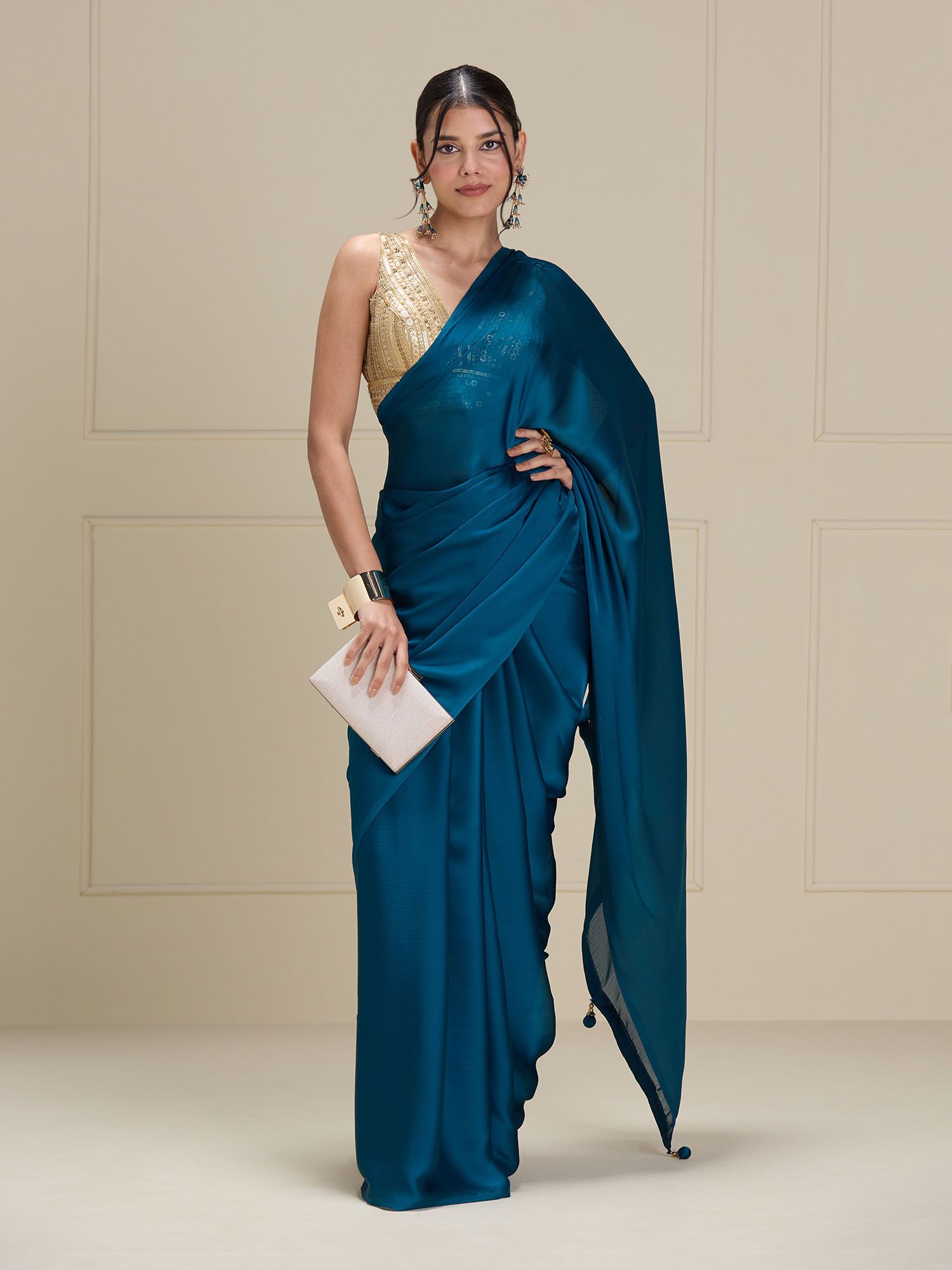 Solid sarees are the most safe and attractive options altogether. If you're selective for your favorite color or know about the ones that suit your complexion, then you should definitely go for it. You can pick any fabric as per your comfort and add a printed blouse to break the monochromatic look.
Prints & Patterns
Prints quickly catch attention and help you to look unique and attractive at the same time. Prints can never go out of trend and are always the best options for uplifting the feminine vibes. If you are looking for a girlish look saree for farewell, then you must go for prints. There are several print options available but the most trendy and classic printed saree options are given below:
Floral Prints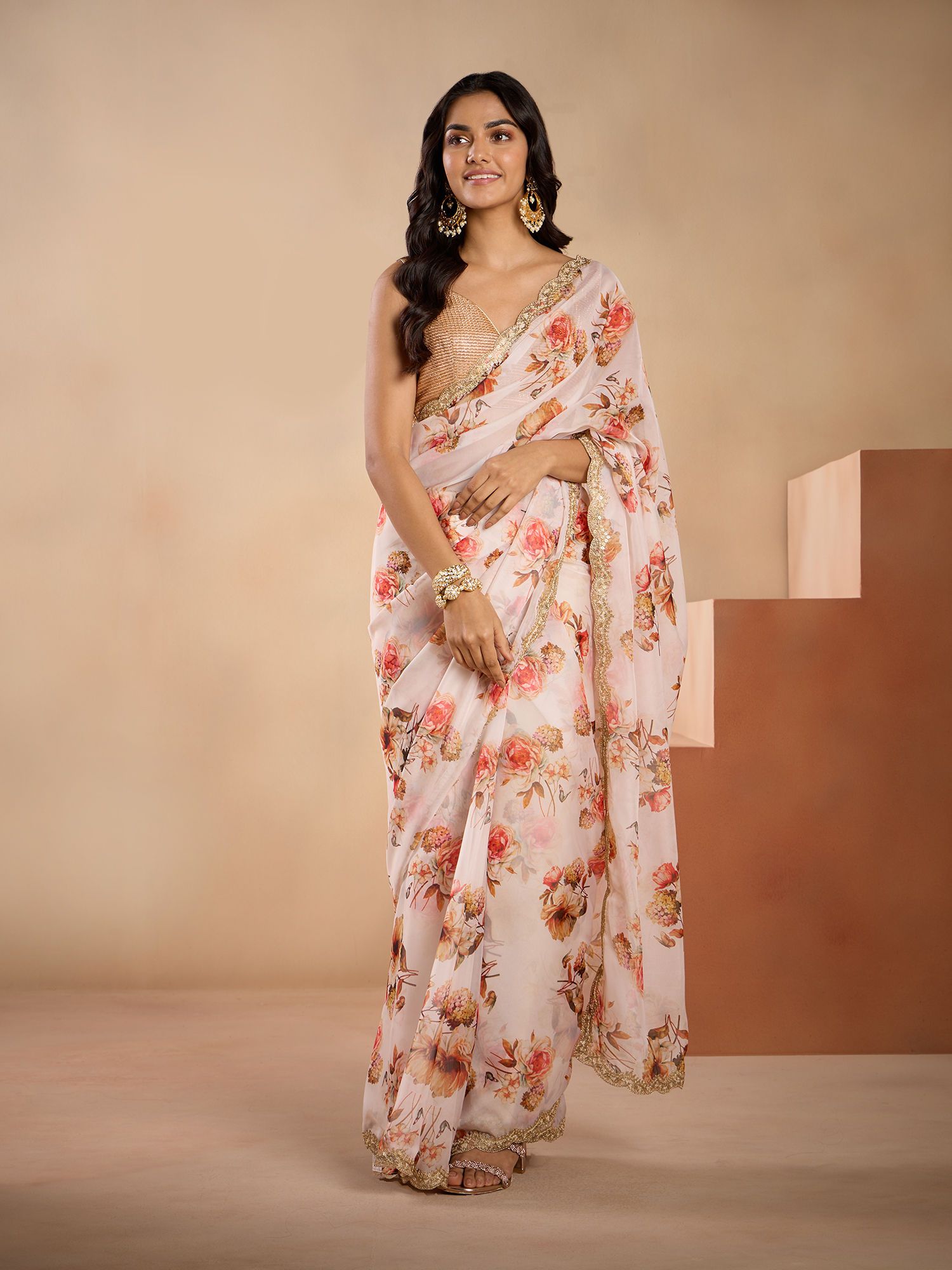 Floral prints is a classic trend that can never go out of style and always looks more attractive in daytime events. Floral sarees are available in large and small prints. You can choose the floral sarees for farewell and style them with a solid blouse. To complete the look, keep the jewellery minimal and let the entire focus be on your beautiful printed floral saree.
Abstract Prints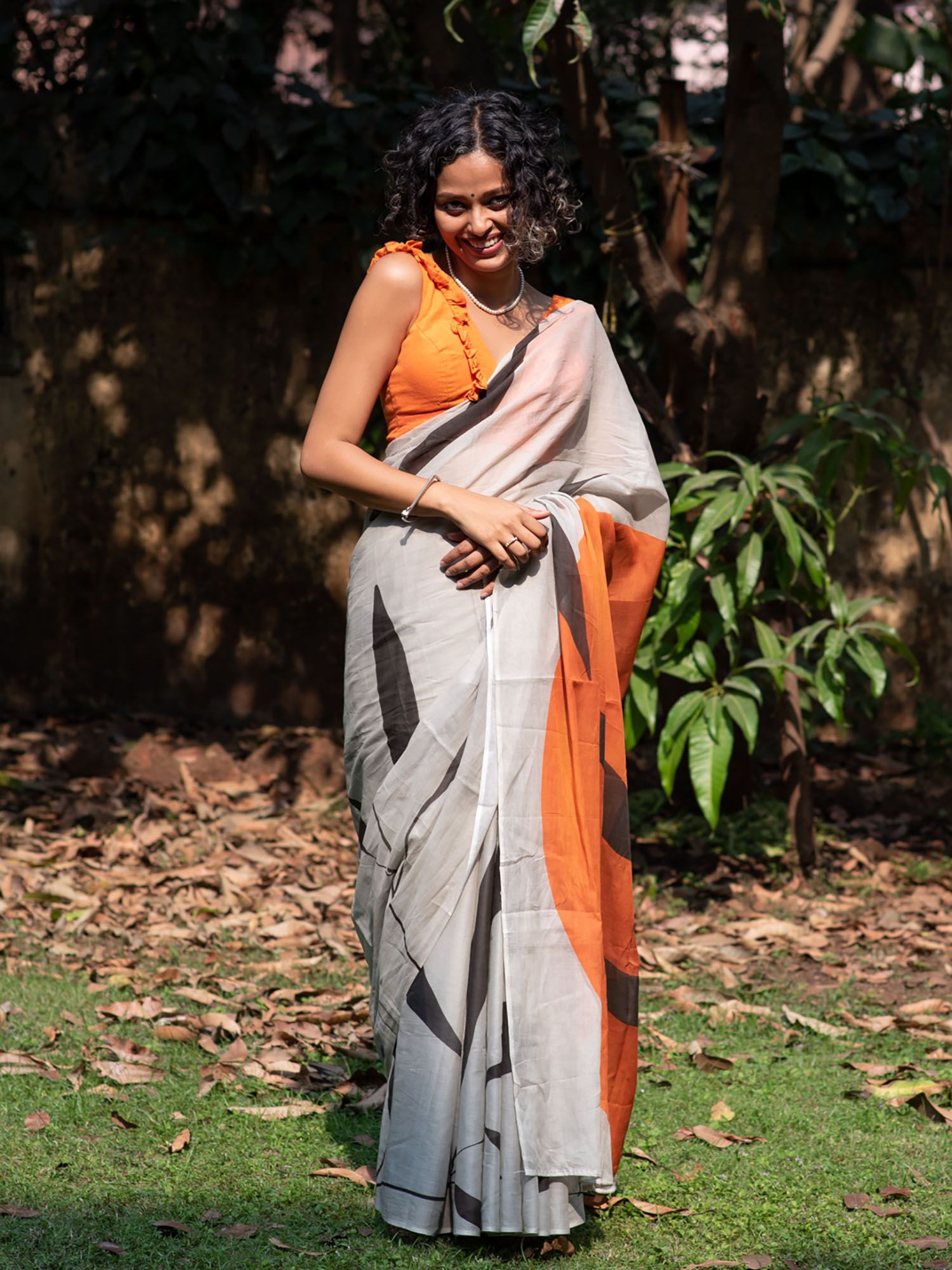 When looking for printed sarees for farewell, you surely can't miss Abstract prints. They add a feminine touch and give you a quirky look. Abstract prints do not follow a specific pattern and comes in smaller to larger prints. Choose the one that compliments your style and personality.
Thank you for reading this article. I hope we helped you to choose among the best styles.
FAQs on Best Sarees For Farewell Party:
Q. Which type of saree is best for farewell?
A. While choosing the best saree for farewell you must look for the following things:
The Fabric: You must choose a fabric you can handle comfortably during the entire function. Avoid choosing any heavy or bulky fabric such as silk or cotton and go for lightweight options such as Georgette, Chiffon, Organza, blended silk, etc.
The Color: It is also important to choose the right color that flatters your complexion and matches the vibe of the event.
Q. Can we wear a heavy saree in farewell?
A. No, heavy sarees are not meant to be worn at farewell functions. As the farewell party is an event to enjoy to the fullest and make memories, in heavy sarees it will be hard to manage the same. Heavy sarees can keep you distracted in the entire function. Always choose a lightweight fabric, in which you can move freely and something which is easily manageable.
Q. How can I look unique in farewell?
A. Looking unique in farewell entirely depends on how you put on the saree and keep your entire look. To stand out at your farewell party, firstly, you must choose a saree that is comfortable and which suits your complexion. As per the styling, you can try out contrasting/ printed or laced blouses over solid sarees. Don't over-accessorize and keep the look simple with minimal statement jewellery.
Q. Which type of saree to wear in school farewell?
A. In the school farewell function you must consider keeping the look on a slightly minimal side. You can go for pastel colors or choose a printed saree for a farewell party look. The best material for first-timers will be lightweight georgette and chiffon.
Q. Is a black saree good for farewell?
A. Yes, a black saree is one of the most classic and bold options to choose for a farewell party look. You can consider a black saree farewell look, if you like bold colors and feel confident in wearing that. The best way to enhance the look is to style it with a minimal statement or oxidized jewellery as per your choice.
Q. Is sequin saree good for farewell?
A. If you like to go for a fancy saree for farewell, then you can choose a sequin saree option. It looks very elegant and attractive in the evening events. Additionally, sequin sarees are also in trend and one of the most preferred girlish look sarees for farewell parties.