6 Bollywood Celebrities Aced Their Looks Wearing White Outfits in 2021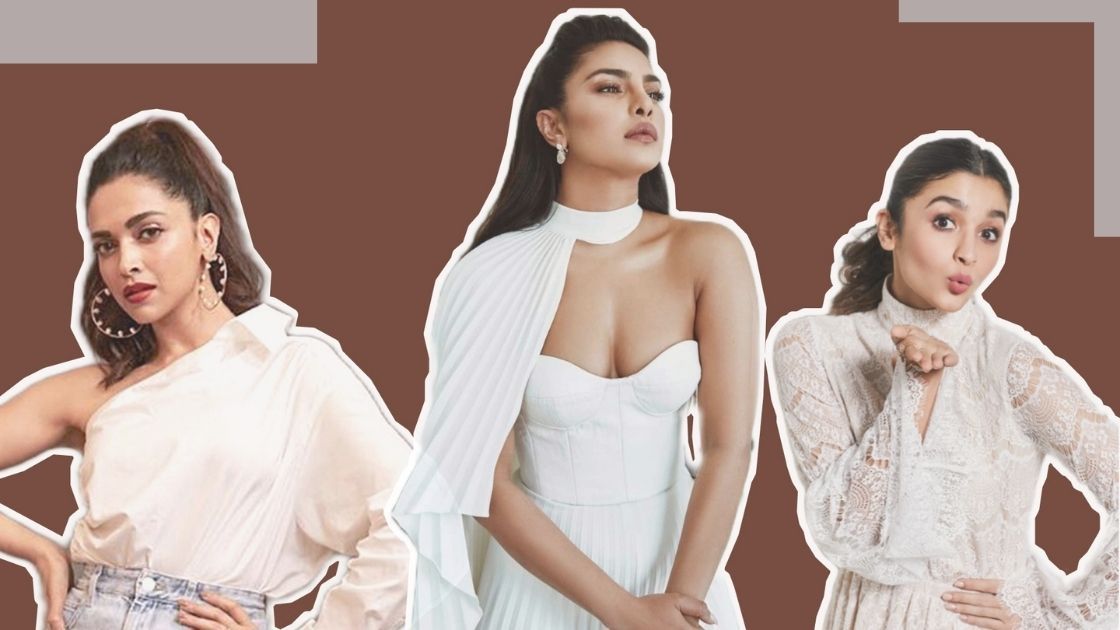 As many seasons come and go, the trend of new colors keeps changing every year. Summer has its vibrant colors, fall has its palette of deep shades, but one color that rules every season and that is 'white'. This color itself is a mood that doesn't need any special occasion to be carried.
A classic color that is forever prime in our list is most noteworthy. Our Bollywood celebrities have a keen eye for trends but still, they have been spotted many times carrying all-white outfits despite having many color choices.
We've listed down some very classy, glamorous, and elegant looks of our favorite Bollywood beauties wearing white outfits which they paired up in their unique style that actually gives us styling inspo.
Kiara Advani
Kiara can pull on any style gracefully whether it is an ethnic Indian look or any bold & classy look. For shooting the Femina's magazine cover, she wore a white leather corset Bodycon dress in which she was looking very elegant and modish. This simple look is magnificently carried by her. Kiara paired a multicolored embellished heel with the white dress and kept it minimal with a basic bracelet and light makeup. She aced this look beautifully and we can actually look forward to it.
Priyanka Chopra
A bold actress who is known for her versatility, never lays back showing her sophisticated style. In this look, Priyanka can be seen flaunting her curves in a beautiful Slip dress that she paired with all-gold accessories like beautiful hoops, an elegant dainty neckpiece that has her name itself, and two designer bracelets in each of her hands. She completed this look with a gorgeous pair of golden heels. She has set an inspiring stylish look for us.
Deepika Padukone
A very popular actress not just by her acting but also with her glamorous personality, she rules many hearts. Deepika can always be seen experimenting with her looks. No matter what she carries either a simple or any challenging look, her confidence sets everything up. In this exclusive outfit, she's wearing a long wide-collar white shirt with a black corset belt to add contrast and paired it up with a blue relaxed cropped denim that itself is an all-time classic combination.
To complete her look she accessorized it with golden-colored chain bracelets and rings in both of her hands.
Sonam Kapoor
The actress is known for her elevated fashion sense. No matter what look she achieves, perfection can always be seen in her style.
The ways she has mixed & match her outfit and created this super attractive monochromatic look, we can't take our eyes off. In this picture, Sonam has worn a flared mid-length skirt with a full-sleeve top with several cuts over it and to enhance and balance the look, she added a white shirt to the attire, then she completed it with black slingback pumps. Sonam accessorized her look with gold hoops and a black satin handbag.
Jacqueline Fernandez
Jacqueline can pull on any outfit with her magical smile. But this time she's acing the look by wearing an Ivory color net saree with a lace top. She has created a very modest and classy look and to complete this saree look, she wore accessories in contrast to her white outfit i.e., an Emerald ring, danglers and a pendant necklace with pink lips. She's looking undeniably stunning in this whole outfit.
Tapsee Pannu
Tapsee is fully enjoying her vacation in Moscow, as we can see from her contented face and her relaxed outfit. But despite being lost in the pleasure and wearing this comfy wear, she still manages to look super adorable and stylish in her look. We can see her wearing a trendy white polka dot button-down shirt paired with black wide-leg pants and a classic leather belt.
This look is totally giving us vibes of how to chill and be fashionable at the same time.