Most Stylish Sheath Dresses for Women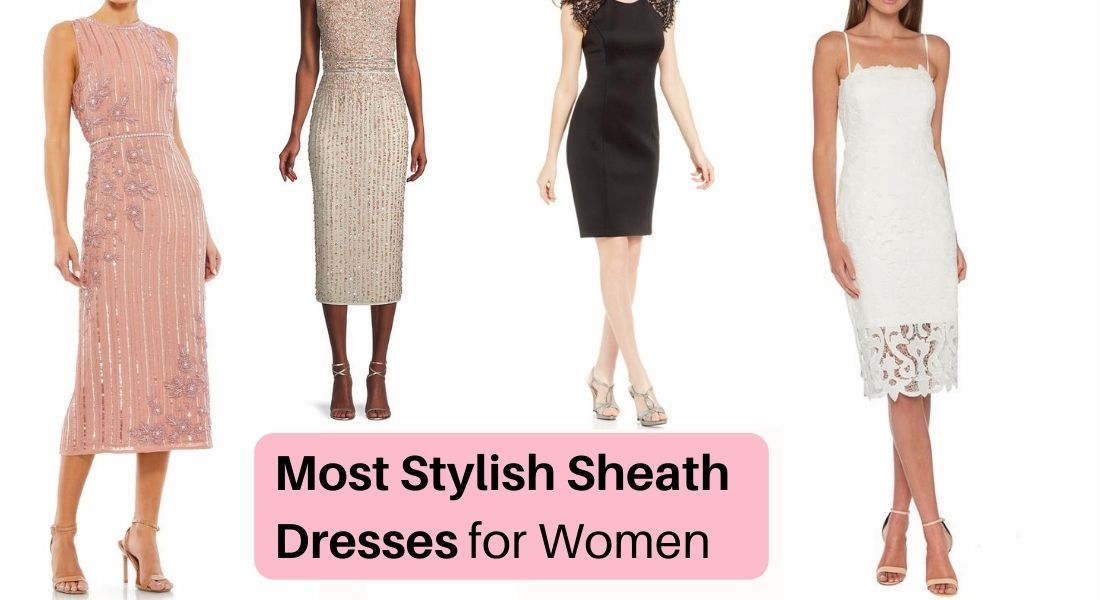 Sheath dresses are meant to give you a perfect fit for your body to accentuate your best curves. Sheath dresses are opted for various occasions like any formal or casual event or can be carried out on special days and parties. Sheath dresses make you look confident and elegant at the same time. Check out some of our top recommendations for the best sheath dresses for women, followed by styling tips.  
Styling Tips for Sheath Dresses
Sheath dresses are one of the most versatile pieces of outfits. These dresses come in a wide variety of patterns, lengths and styles. Find below some useful styling tips for sheath dresses that you must consider while wearing one:
Know the occasion: With its diverse variety of options, be selective while choosing a perfect sheath dress for you as per the occasion. If you're going to a party then a blingy full-length sheath dress with a side slit will add boldness to your look. If you're going for an office meeting then you must go for straight hem midi in neutral or solid colors like beige, white and pink with halter or v-shaped necklines.
Explore layerings: Add a layer to any dress and change your overall appearance. Sheath dresses can also be paired up with any outer layers as per the occasion. For a formal business look, wear a blazer over a sleeveless sheath dress. While for a light daytime look, you can put on a cardigan or cover-up.
Understand body type: Sheath dresses are more viable for some specific body types. Its silhouette is meant to highlight your curves. You must understand your body structure before buying a sheath dress. Sheath dresses are majorly the best fit for hourglass, petite, curvy and athletic body types.
Use belts: Belts are surely a versatile accessory that gives an edge and a defined look to any outfit. If you like to add an extra cinched touch to your outfit, then you can pair a contrasting belt with a sheath dress. Belts come in various patterns, sizes and colors. Choose one that best suits your dress type.
Wear right accessories: Accessories can uplift any outfit. Choose your accessories wisely as per your outfits and the occasion. For office days and business meetings, you can simply put on some dainty jewellery, an analog watch and kitten heels. Further, for date nights, stud earrings, a nice clutch and block heels will add an elegant touch to your look.  
Best Sheath Style Dresses for Every Woman
We've collated some of the most stylish Sheath dresses for women ranging from options viable to everyday looks to special occasions the following section:
Lace Sheath Dress
Laces always look charming and elegant. Lace sheath dresses are best for any romantic occasion. You can choose the length and patterns as per your style and comfort.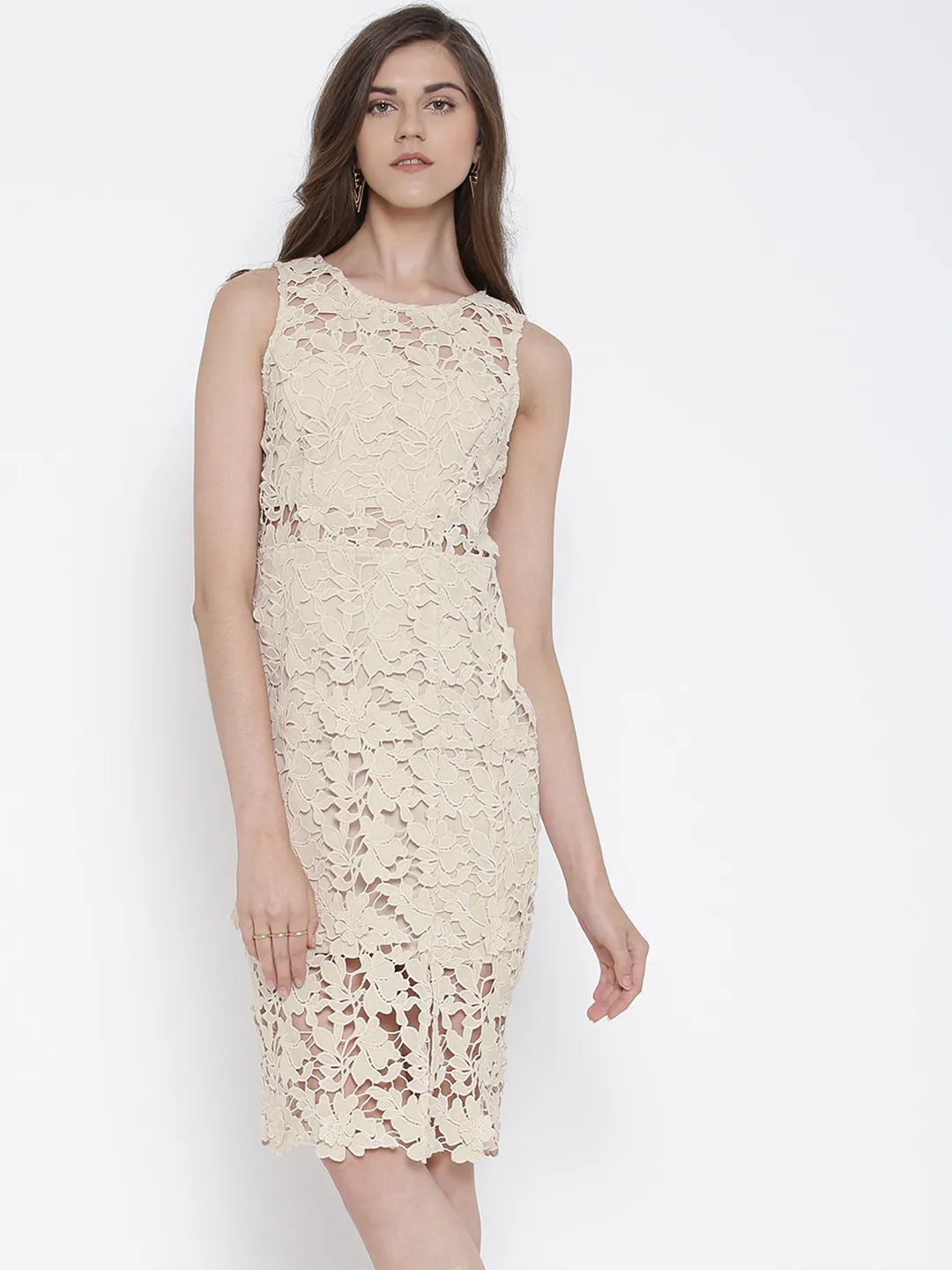 This Beige Lace sheath dress is fully made up of lace fabric and crochets in a flowery design having an inner lining. This sleeveless dress comes with a halter neckline and an open back.
How to style? Use contrasting accessories like footwear and a handbag to pop up the lace detailing and wear minimal jewelleries like pearls.
Midi Sheath Dress
Midi Sheath dresses are perfect to wear on both formal and casual occasions. If you want to keep your look sophisticated and looking for a perfect-length dress that is neither too short nor too long, then you can definitely go for a Midi Sheath dress.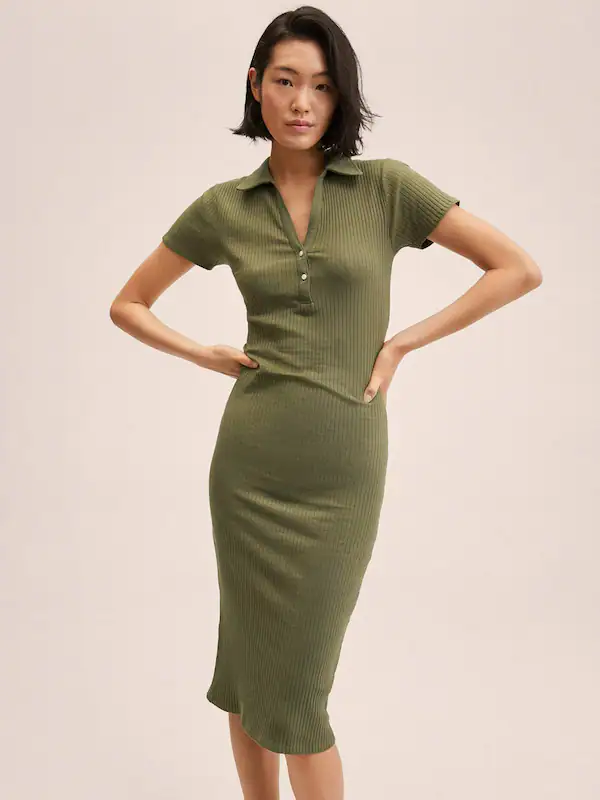 This olive-colored midi sheath dress from Mango comes in a ribbed pattern that lengths slightly below your knees. It is given a chic shirt collar neckline with half sleeves and in the front, you get a button closure to easily wear it.
How to style? Best to pair up with clog boots and baguette bags.  
Long sheath dress
Long-sheath dresses are particularly appropriate to wear on date nights and parties. They make you look elegant and highlight your curves perfectly. You can play with the neckline and different types of sleeves as per your choice. Long sheath dresses come with a straight hem or any ruffles-like flared pattern that is fitted to your thighs and gets flared in the hem as given in our following recommendation.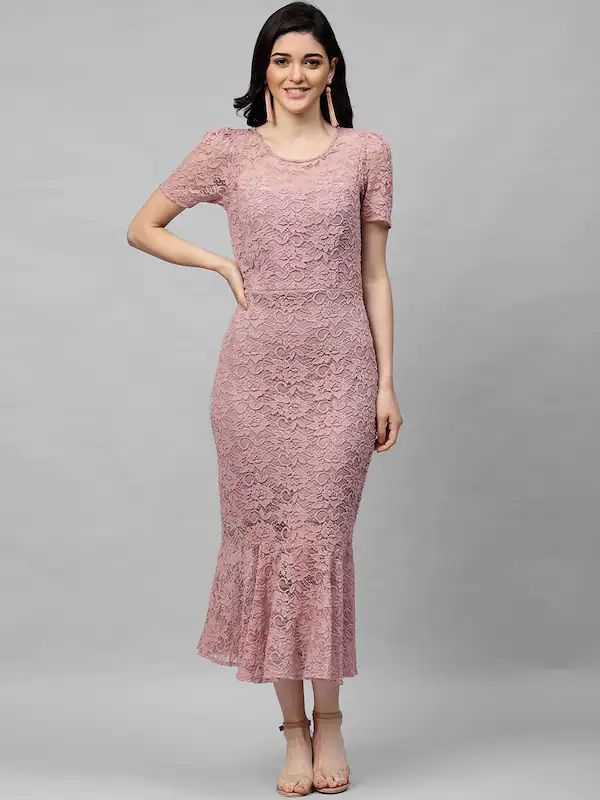 This mauve long sheath dress is undoubtedly looking so elegant as it accentuated your perfect curves and makes you look graceful. In this particular outfit, you can get a round neckline with short sleeves and a flounce hem. On the backside, a concealed zip is given that fits you properly and becomes easy to wear.    
How to style? Pearl is great to wear with laces.
Black sheath Dress
Black dresses always picture boldness and power. A fitted black sheath dress will make you look glamorous while pointing out your best curves. You can choose various necklines out of v-shape, halter or plunging necklines and carry the entire look with the right accessory.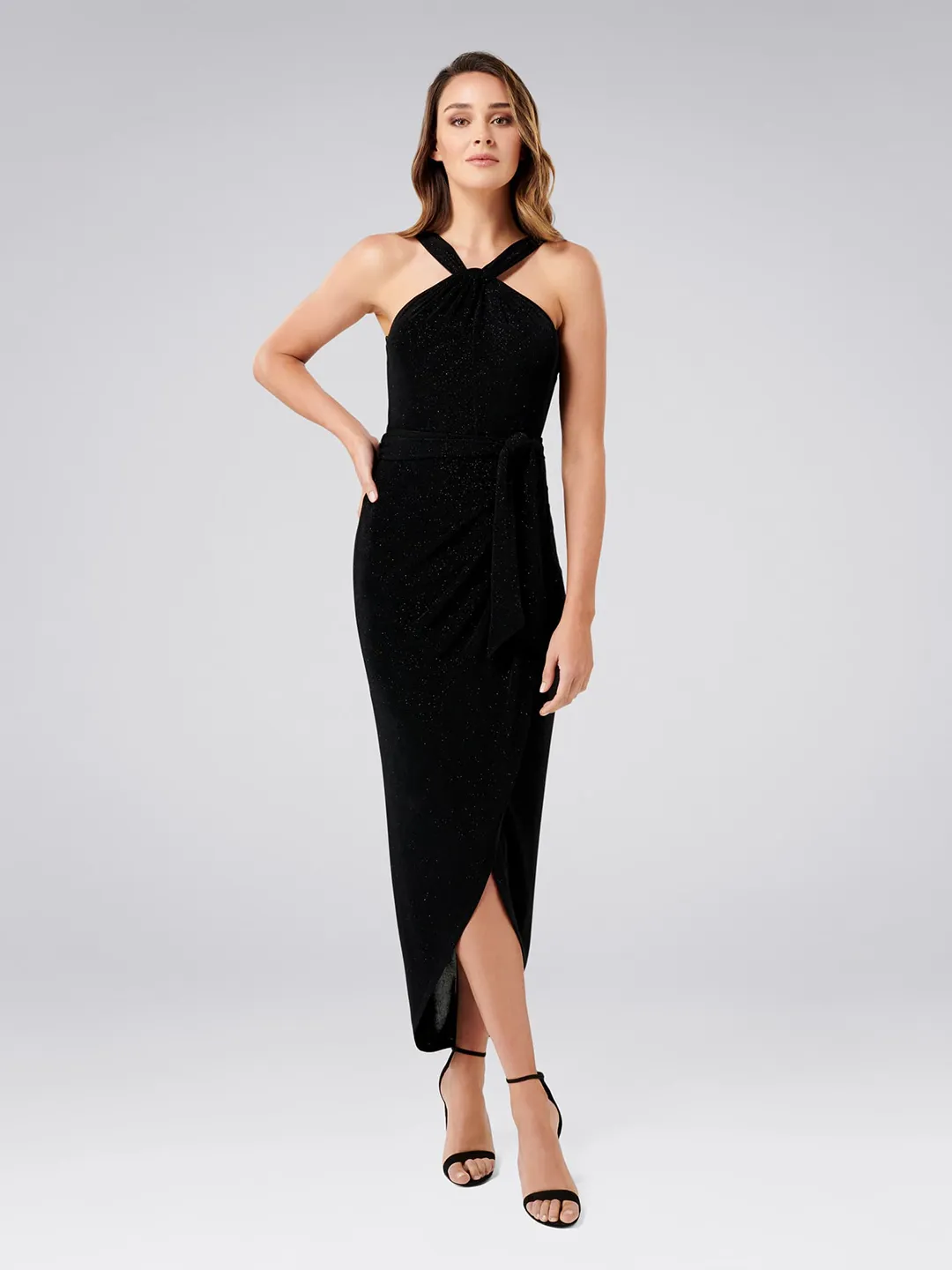 This black color sheath dress from Forever New is ideal for parties. If you possess a good height and have an hourglass body shape, then this dress is totally meant for you. This solid black dress comes with blingy fabric having crossed shoulder straps. A concealed zip is given on the back side of the dress. Its tulip hem will make you feel like a mermaid.
How to style? Wear dainty pieces of jewellery like a sleek pendant, studs and an analog watch.
White sheath Dress
Undoubtedly, white color looks modest and chic in every attire. If you like to go on some subtle options then you can definitely go for a classic white sheath dress.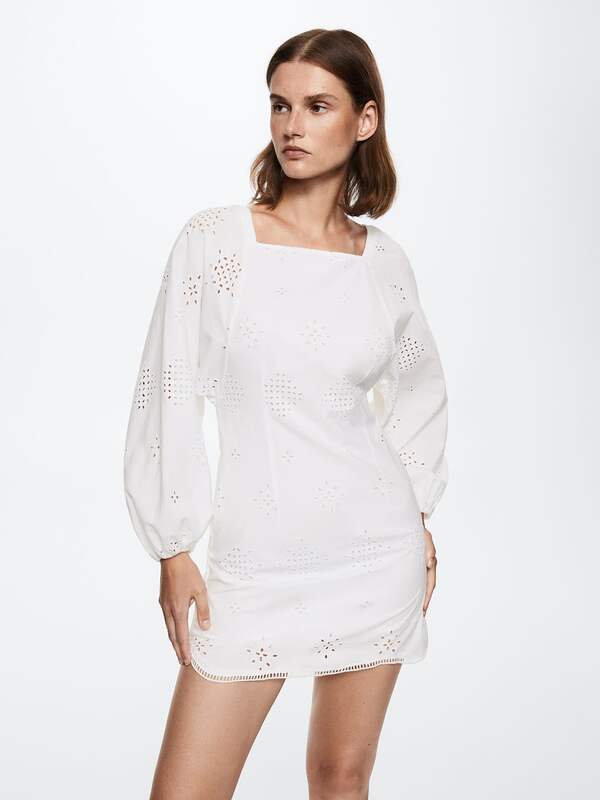 If you're interested to shop for any cute mini sheath dress for a lunch date or any picnic outfit, then this white Sheath Dress from Mango is very appropriate. The dress has Schiffli embroidered pattern with minute detailing that is available with inner lining. Its long puffy sleeves balance out the short length of the dress perfectly. It comes with a square neckline that will draw attention to your collarbone.
How to style? Accessorize it with any hoops and boots. Carry a tote or sling bag as per the need
Red sheath Dress
Looking for a perfect outfit for date night? You can't find anything better than a red sheath dress that looks charming and alluring at the same time. You can try any material like lace, viscose or polyester. If you want to go on the modest side, then a full sleeve midi dress with  V-neckline can be a considerable option.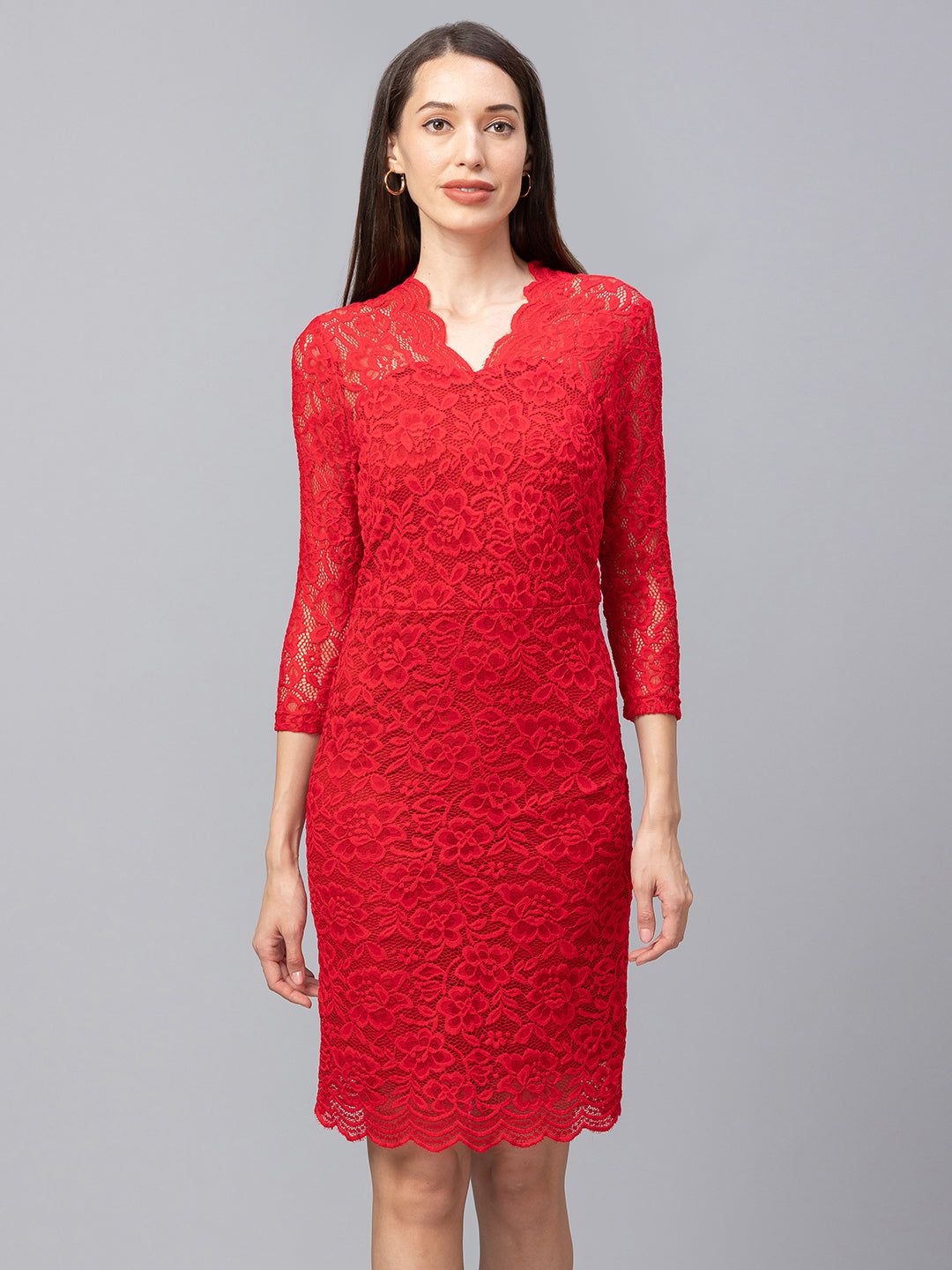 This Globus Red Self Design Sheath Dress is a perfect outfit for your special day. It comes in full sleeves with a perfect length having a curvy hemline. The dress is made with lace fabric and flower designs
How to style? Wear diamond studded earrings with a watch or sleek bracelet. For footwear, choose any pointed heels.
Thank you for reading this article. I hope we helped you to choose among the best styles.
FAQs on Most Stylish Sheath Dresses for Women:
Q. What is a sheath dress style?
A. Sheath dresses are well-fitted silhouettes that are meant to emphasize your best curves and make you look elegant. These kinds of dresses usually come in a single straight hemline but with a variety of necklines and fabrics. As per their well-fitted look, they are enough stretchable to make you move freely. Sheath dresses can easily be found in any length but midi & long sheath dresses are the most opted ones for every occasion.
Q. What body type is best for sheath dresses?
A. Sheath dresses are also called bandage dresses. These are well-fitted dresses from top to bottom. It is meant to flatter your curves and make you look more bold and confident. The best body type for sheath dresses is usually considered hourglass, petite, curvy and athletic body types.
Q. What is a sheath dress vs a bodycon dress?
A. The one clear difference between a sheath dress and a bodycon dress is their silhouettes. Sheath dresses come with a straight fit from top to bottom. These dresses are equal in size for you everybody part. Whereas, bodycon dresses are more body-hugging dresses that cling to your body. Bodycon dresses best come in Lycra fabrics.
Q. What do you wear with a sheath dress?
A. Sheath dresses are extremely versatile and can be worn on several occasions. Choose your accessories and layering as per the event. You can easily pair up leather or denim jackets. For footwear, sheath dresses best go with pointed heels and pumps.