Bollywood Celebrities Workout Routine to Stay Fit at Home During Lockdown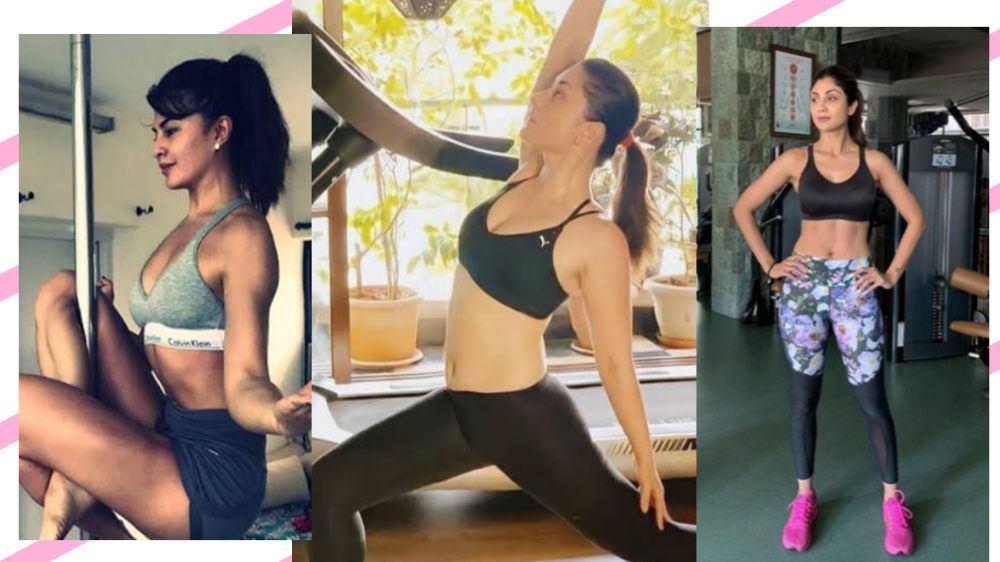 Since this novel Corona virus pandemic has come across the whole world and no one is remain unaffected. At the present scenario when the whole world is facing the outer disturbance and getting themselves locked at their home away from the outer world. The mental, physical or emotional state of our mind is badly affecting.
So to release the tension and keep ourselves healthy, we must have to look towards our body to maintain its health by following a good workout routine. Just like our beauty divas of Bollywood are setting us fitness goals to make our workout session go on, in order to maintain a healthy relationship with our body in terms of physically and mentally in order to survive this depressive phase of pandemic.
As they're utilising most of their time investing in their hobbies, with their loved ones and of course this lock down couldn't make them lazy for their workouts. They shared many pictures and videos on their social media handles, with impactful captions. So, can't we get inspired from our most favourite ladies and follow their tips and tricks to maintain a healthy lifestyle?
There are many forms of workouts followed by the celebs at their home in easier ways without any requirement of trainer – Kickboxing, Power Yoga, Weights, Squats, Pull ups, Stretching or even plain simple Cardio – there's one common favourite among all the big celebrities.
So scroll down more to see your favourite Bollywood ladies and their favourite exercises.
KAREENA KAPOOR
The 39 year old actress Still manages to hold her glam by her fit body and radient skin. She seems so dedicated towards her fitness and motivates us as well in this lock down to calm our body and muscles by stretching. Get a look at her picture and her caption as well to see what tips she has in store.
By her picture and her caption, she shares her favourite part of exercise that is " stretching" which helps us to maintain our flexibility and reduction of stress as well.
KATRINA KAIF
The hot diva of Bollywood who always mesmerise us by her fitness, this time also how can she stay behind. Many time we've seen her sweat shedding videos from gym, but on this period of getting locked at home, how can she compromises with her fitness. Checkout her video in which she's with the famous celebrity fitness trainer Yasmin Karachiwala, they both are doing their workout at her terrace.
In her caption she's mentioned a routine workout plan for us to maintain fitness while staying at home and in the videos she's practised that as well.
SARA ALI KHAN
A simple and fun- loving actress that always amaze us by her dedication level towards her fitness whenever we saw her past pictures. The hard work and limits she pushed to gain this perfect shape always inspires us. This lock down period and these lazy days couldn't stop her following her fitness regime. She shared a video in which she's gaining more strength in her body by doing super hard Pull-ups.  
In her video and caption as well she motivates us to make our self more strong. She's been doing pull ups, that helps to stretches  your spine, increase your body strength and enhance your cardiovascular health as well.
KARISMA KAPOOR
A 46 years old actress, who still manages to look like she's in her 30's and retains her glow  by her healthy fitness regime. She always steals the position whenever we talk about Bollywood fitness lover divas. Right straight away in the picture she's seen enjoying her yoga time to fulfil all the positivity.
Karisma is getting inspiration from her surrounding during her yoga time, as shown in her caption " Loose your mind find your soul".
JACQUELINE FERNANDEZ
Another hot actress of Bollywood, always charms us by her looks. Proper balance between her work and health is the reason of her strong features. She always believes to do yoga as a source to release stress and heal anxiety, which is the thing affecting all of us the most nowadays. She shared a video in which she's sharing her yoga routine to heal and retain her mental and physical well- being.
The actress shown her state of mind that she's dealing with from past few days, in the caption that is anxiety. Yoga makes her learn to feel the gratitude towards life and repair her mental issues. Taking inspiration from her yoga routine we can also deal with our mental state in phase.
BIPASHA BASU
Bipasha  always been in the fame for her toned body and abs. As being a strict fitness  lover, she never skip her routine no matter what. Same in her videos she is showing the way to make our lower abdominal more stronger, in an enthusiastic way which can be seen by her caption.
In her video she's doing a hard exercise for a a stronger butt which leads to  healthier knees,  as well as help to make lower back and hips pain-free. She's making it hard for herself to be more stronger.
SHILPA SHETTY
The actress is mostly famous for her healthy and dedicated fitness lifestyle. She is one of those people who knows the importance of exercise in our daily life. Shilpa has a simple thinking behind her fitness is , "I keep my heart happy, stay active and make sure that I eat right, and chew my food. When your heart is happy, your mind is happy and vice versa". She always stay enthusiastic in her life and  never stays back to make others aware fitness as well.
As she's quoted in her caption "health is wealth", which she proves in her dedication towards her fitness. Your body is your asset if you want to make it beneficial for life long than you've to invest in it today, that is what she meant.
URVASHI RAUTELA
The beauty pageant won actress always prioritise her fitness to maintain her beauty. She currently holds the Indian record of having won the most number of beauty pageants at a tender age. She always look perfect with her makeup with her looks, but on the matter of her beauty and glow she never compromise with her exercise routine, which gets the whole credit. It makes her feel beautiful in both terms inside and out.
As the power of yoga can never be underestimated for maintaining our internal and external glow with a good health, which is clearly visible on Urvashi's face.
Now, As it shown every celeb maintaining their health issues by their own favourite exercises, these ladies are all set to looking forward to build up a positively strong mental and physical health to overcome this phase. Are you ready to start your routine?