How To Store Oxidised Jewellery?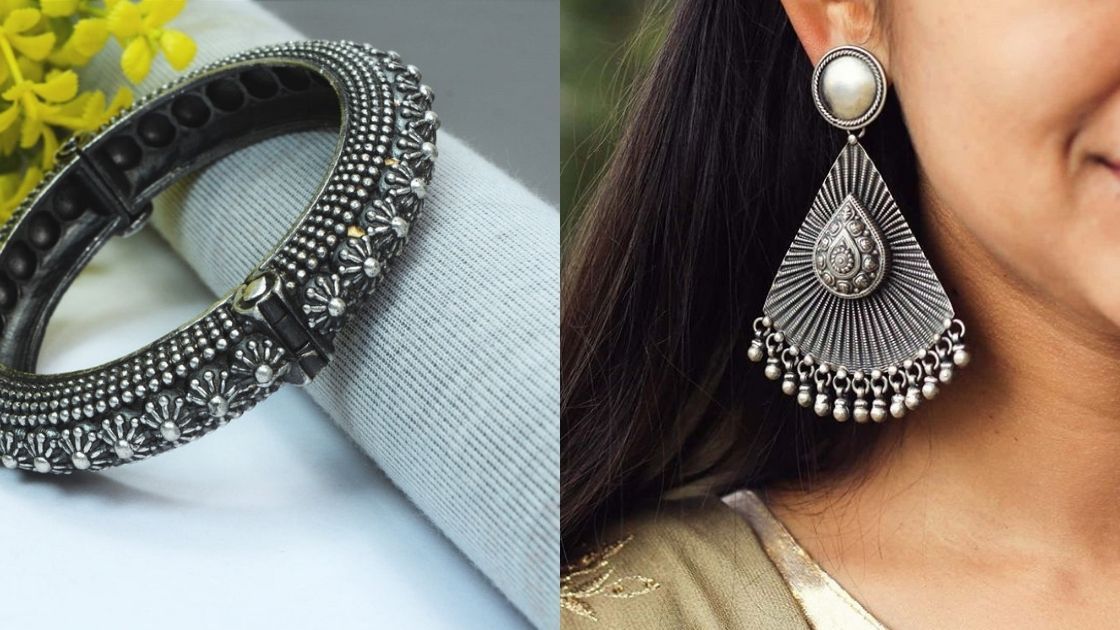 What is meant by Oxidised Jewellery?
Oxidised or Junk jewellery is sterling Silver Jewellery that is intentionally given an antique or tarnished look with a black patina by using a chemical (liver of sulfur). These can also be found in golden polish jewelleries, but this article will solely be focusing on Oxidised junk Jewellery only.
Nowadays, Oxidised pieces of jewellery are quite popular among every age group of women. These are a kind of such versatile pieces that are widely known to create a Bohemian look. They are easy to pair up with every outfit as they have no particular color. If you like to give your look a perfect antique touch then you certainly don't need to ponder about any other jewellery pieces. BUT, Silver is a very delicate and fine material that needs special care. To make the most of their use you must know how to take care of your Oxidised jewellery to make it long-lasting.
Take out some time and get our suggestions to take care of your Oxidised jewellery:
What will you learn from this article?
What is Oxidised jewellery?
How to make your Oxidised jewellery last longer?
How to keep Oxidised jewellery?
How to clean Oxidised jewellery?
1. Clean your Oxidised junk jewellery after every use
Whenever we come from outside we surely put off our makeup and clean ourselves, the same thing our jewellery also requires. When we wear the jewellery and go outside all the dust particles and sweat are set on their surfaces. The salt and other dirt particles react with the metal and affect its shine.
So, right after removing them take a clean and dry soft cloth to wipe them while being gentle, as too much harshness can leave scratches.
2. Store in zipped and tight places
Now you've got aware of the fact that why should you store your jewellery, now it's equally important to know "how to store oxidised jewellery" in the right place to increase its longevity. Whether it is Oxidised or any piece of jewellery, you must preserve them as they are extremely delicate to handle. Further, their direct contact with air or oxygen can rust their surface. Preserving your jewellery in air tights, cut the direct contact of jewellery with oxygen that tarnishes jewellery and loses its shine.
For storage purposes, you can use zip-lock plastic bags or pouches or else, or anti-tarnish bags and unbleached cotton muslin can also work.
3. Keep the moisture away
One of the biggest reasons for the faded shine of your jewellery is its direct contact with moisture. You should avoid wearing Oxidised Jewellery while bathing or doing activities such as cooking, swimming, or performing any household chores. Also, while dressing up, you must wear your jewelleries after 15 minutes of applying lotion or perfume.
4. Keep the distance
Be it real Gold or Diamond jewelleries or any artificial statement pieces or junk jewelleries, they are very delicate and require your full attention. Whenever you store them, you must use separate boxes and pouches to keep them. These kinds of jewelleries come with intricate patterns and designs that can make them easy to tangle with each other. Also, never keep different types of accessories with each other. Keep small earrings and rings separately and your bangles and neckpieces in different storage.
5. Say no to jewellery cleaners
Now, that we are all aware of the ways to take care of our silver Oxidised accessories, it's essential to understand how to clean Oxidised jewellery? One thing to note here is that you should not use jewellery cleaners to clean your pieces of jewellery, as they contain harmful chemicals. Instead of bringing back their old shine, they can make them affect in a really negative way. The best way to clean them is to use cleaners such as Baking Soda or Toothpaste.
Final words on 'How to Store Oxidised jewellery':
Our love for jewellery is unexpressible but to retain this love we've to make some effort. Oxidised jewelleries are quite delicate and require a little care. If you consider the above-suggested pointers, surely it will not only increase the shelf life of your jewellery but also keep them as bright as new.
Thank you for reading this article. I hope we are able to provide the answers to all your queries.