How to Wear a Scarf- 5 Stylish Ways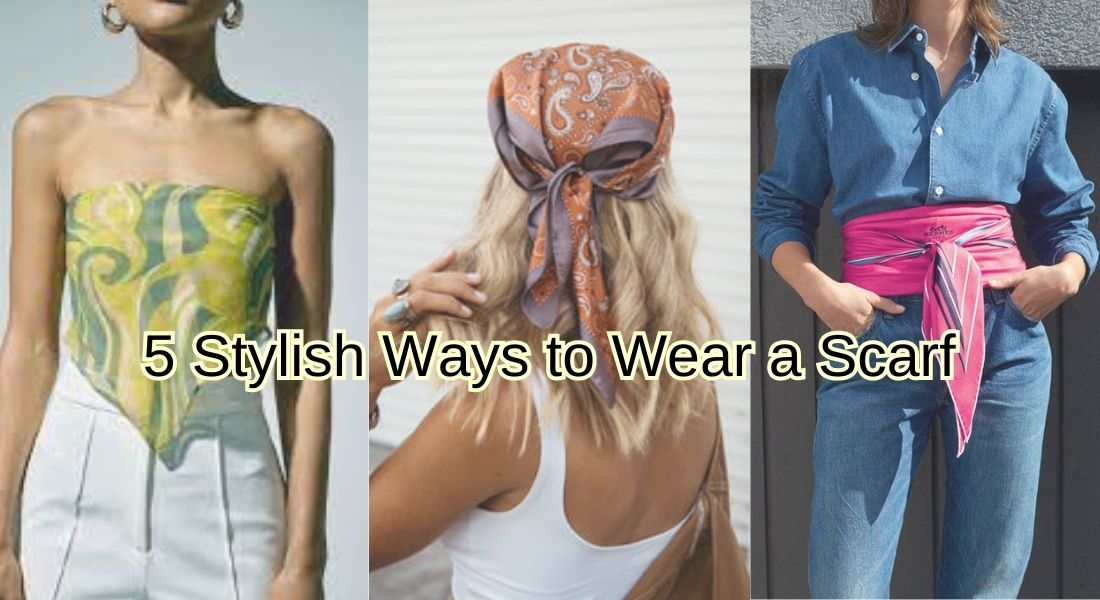 Scarves are indeed a most versatile piece to accessorize with your clothing. You can explore different ways to wear a scarf on multiple occasions. A silk scarf is a must-have for every women's wardrobe. We've curated 5 stylish ways to wear a scarf that will go with your every outfit on every occasion.
How to wear a scarf on your head?
This is one of the most worn styles by women of every age. You can tie a scarf on your head in multiple ways, despite your hair length. Let's find out some of the most stylish ways to wear a scarf:
Tie with Pony
With this style, you can give yourself a chic yet classy look. Scarf ties with ponytails are one of the most adapted styles. You can wear a silk scarf by tying it in your ponytail, no matter the length of your hair.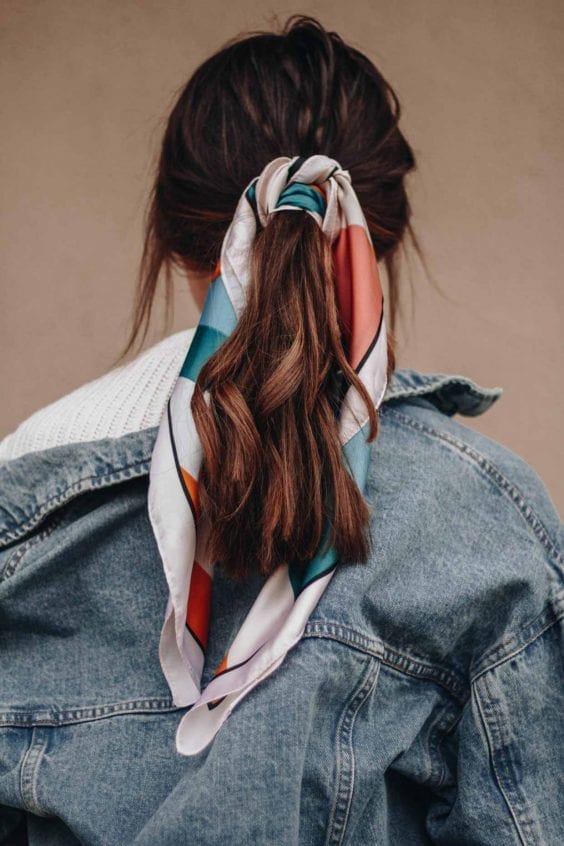 To tie this style you need to fold the scarf into a triangle shape. Put the scarf beneath your pony and lift the straight edges to secure them around the ponytail. You can also go for scarf-style scrunchies, which can reduce your labor and look adorable on the same side.  
Braid it
Our next way to style a head scarf is to braid it. This will add a pop of color to your hair. You can choose any printed or solid color scarf and braid it with your hair strands.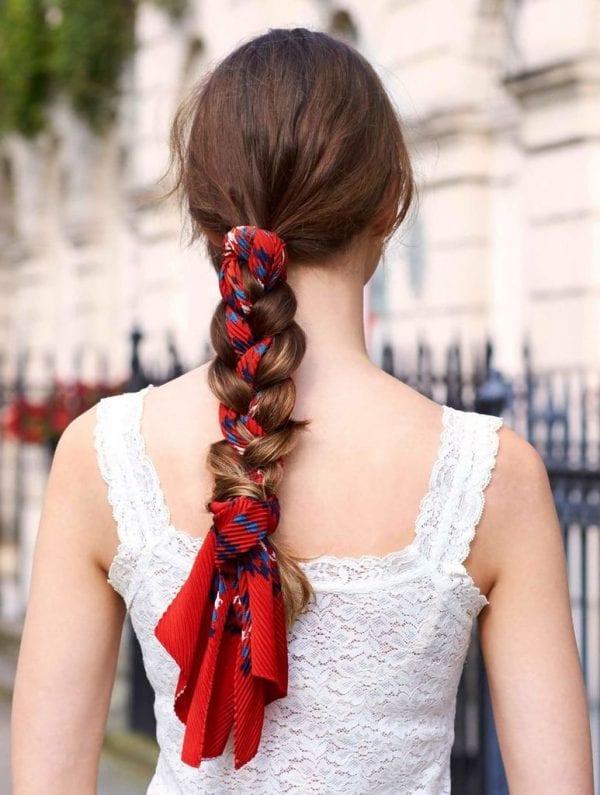 You can create this style in any of the braids of your choice. This will look more cool specifically with three-strand braid, French braid and Fishtail braids.
The Bandana style
Bandana-style scarf drapes are also looked at as Truban style. In this style, you can cover up half of your head with the scarf. This scarf style gives you a badass look, that originated around the '70s. This style is quite among street-style fashion lovers.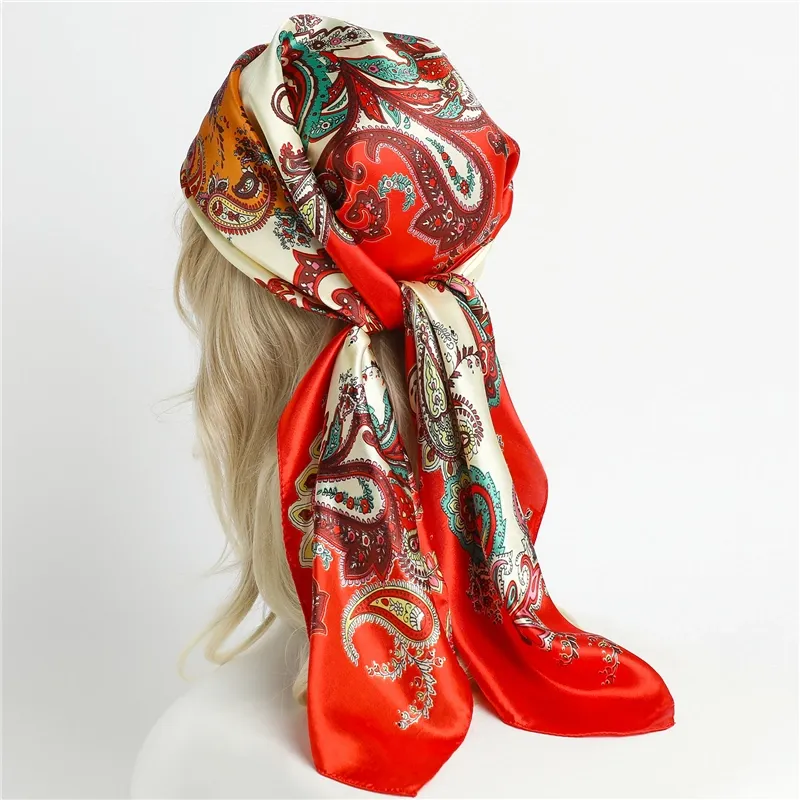 To wear a Bandana-style scarf, you need to get a small scarf and drape it on half of your head. Next, tie the knot on the back side of your head but above the hair and roll the remaining fabric inside the knot to clean the drape.  
The Babushka
Babushka is one of the easiest and most adopted styles by French ladies. This classic style is best to protect your hair from bad windy days and keep them intact.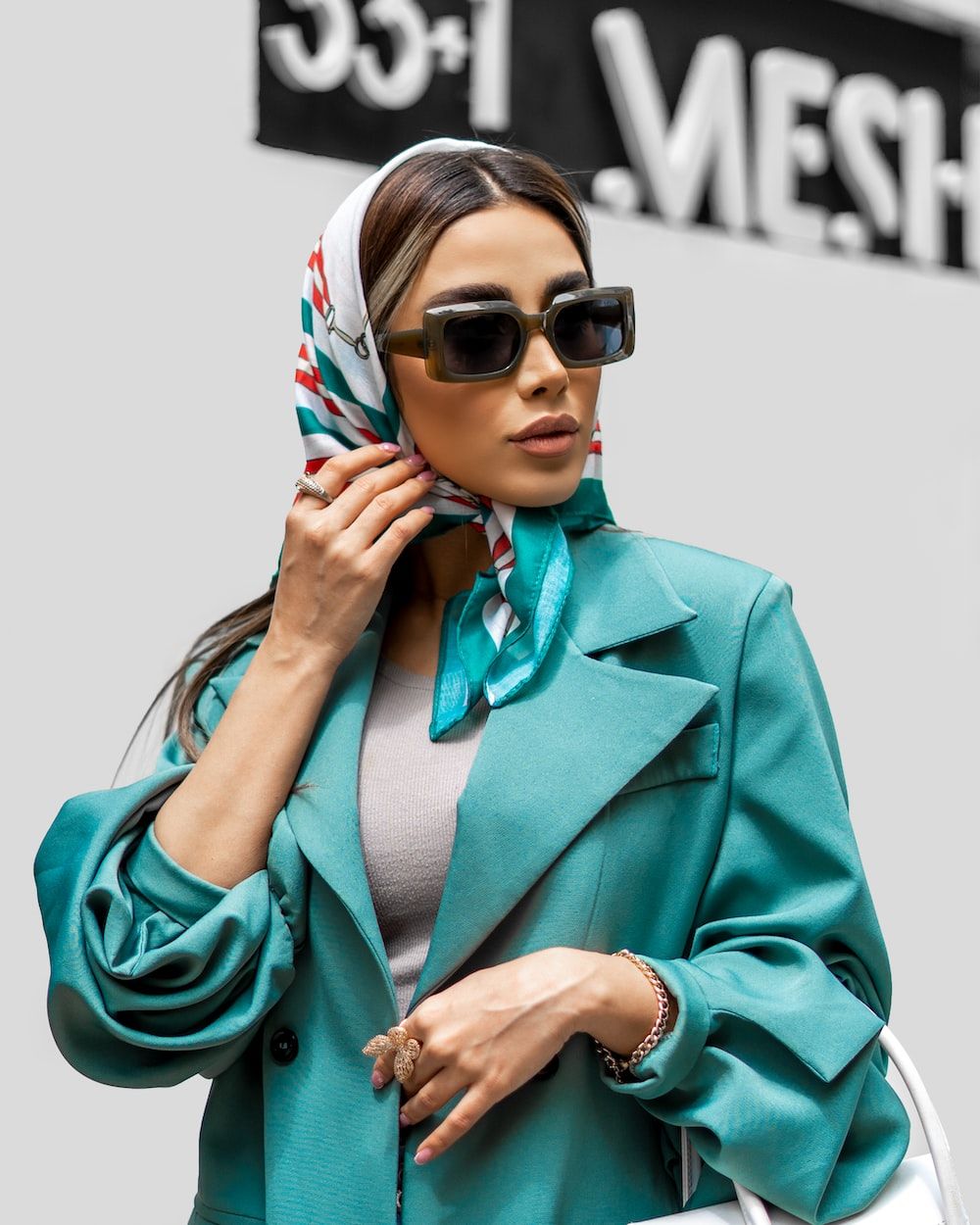 You can easily wear this style by taking a square scarf and folding it in a triangular shape. Next, wrap the scarf around your head and tie the two open ends of the triangle into a knot under your chin.  
Twisted Headband
One of the cute ways to accessorize the headscarf is to wear it as a twisted headband. This style is mostly adopted by teenagers to females in their late twenties. You can easily find pre-made twisted headband options online or in stores.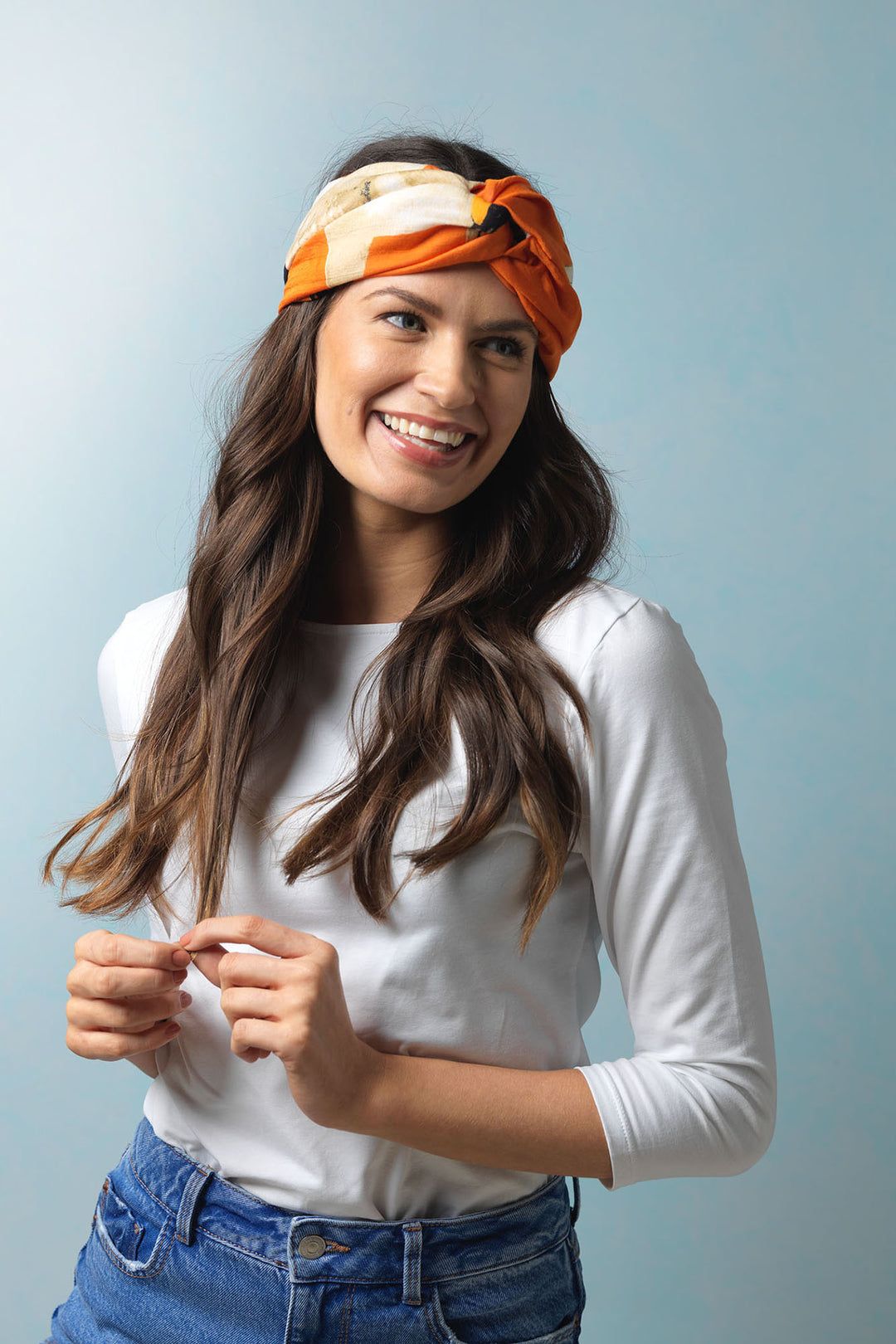 But if you want to wear it as a headscarf, then you need to select a short scarf and fold it half diagonally. Next, start rolling the scarf and put it under your hair and tie a small knot above your head.
How to wear a scarf as a top?
This is one of the most cool and creative ways to use a scarf. There are different ways to wear a silk scarf as a top but the most popular styles are Halter, Bandeau and Triangle scarf styles, which we've covered below:  
Halter Scarf Top
The Halter Scarf Tops are wrapped around your neck and go to your backside. These tops can be worn under light shrugs and coats. For bottoms, flared denim or shorts can be picked up with them. As these tops come in a variety of styles, you can either pick a semi-coverage or full-coverage style as per your comfort.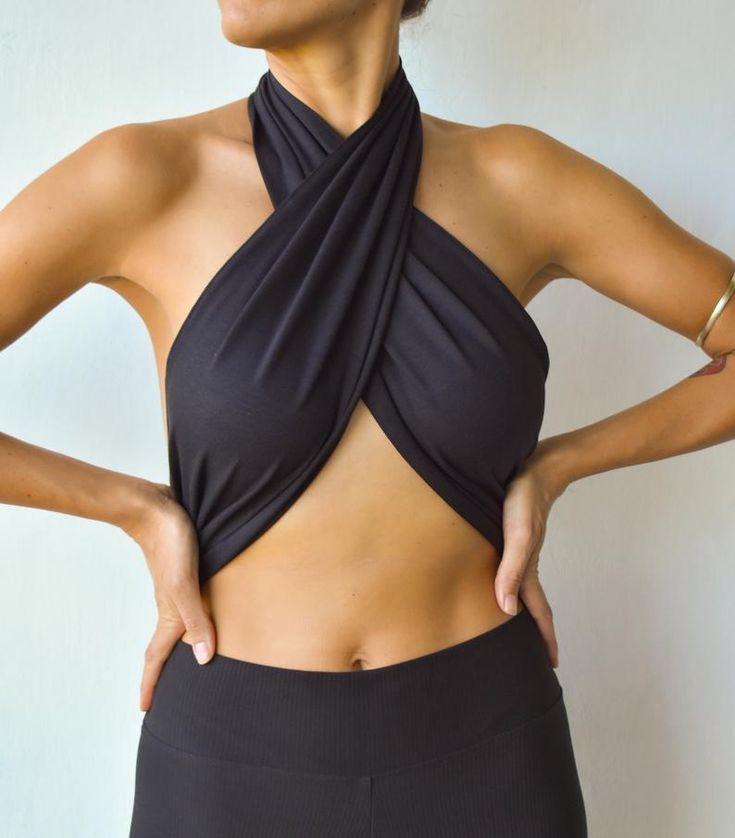 Bandeau Scarf Top
Bandeau Scarf tops are strapless tops that are tied around the torso. These tops can be tied with a cute nice bow either in front or the back. Bandeau tops can also be given a twisted style from the front. It's a bold look, you can style these tops with long skirts and prefer to wear them on beaches on your summercation.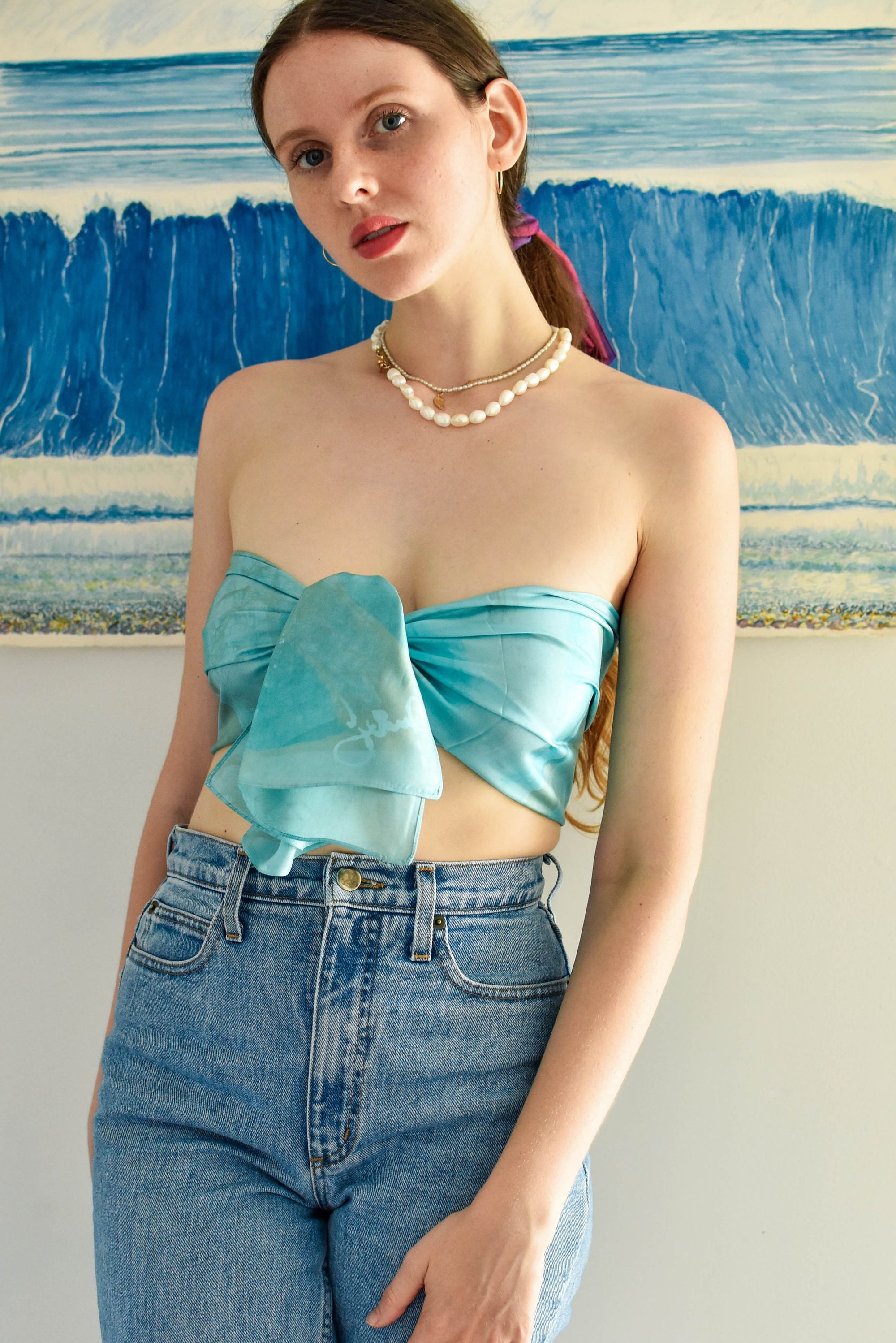 Front-triangle Scarf Top
Triangle tops are classic, you can easily find these kinds of tops with straps or strapless patterns in stores around you.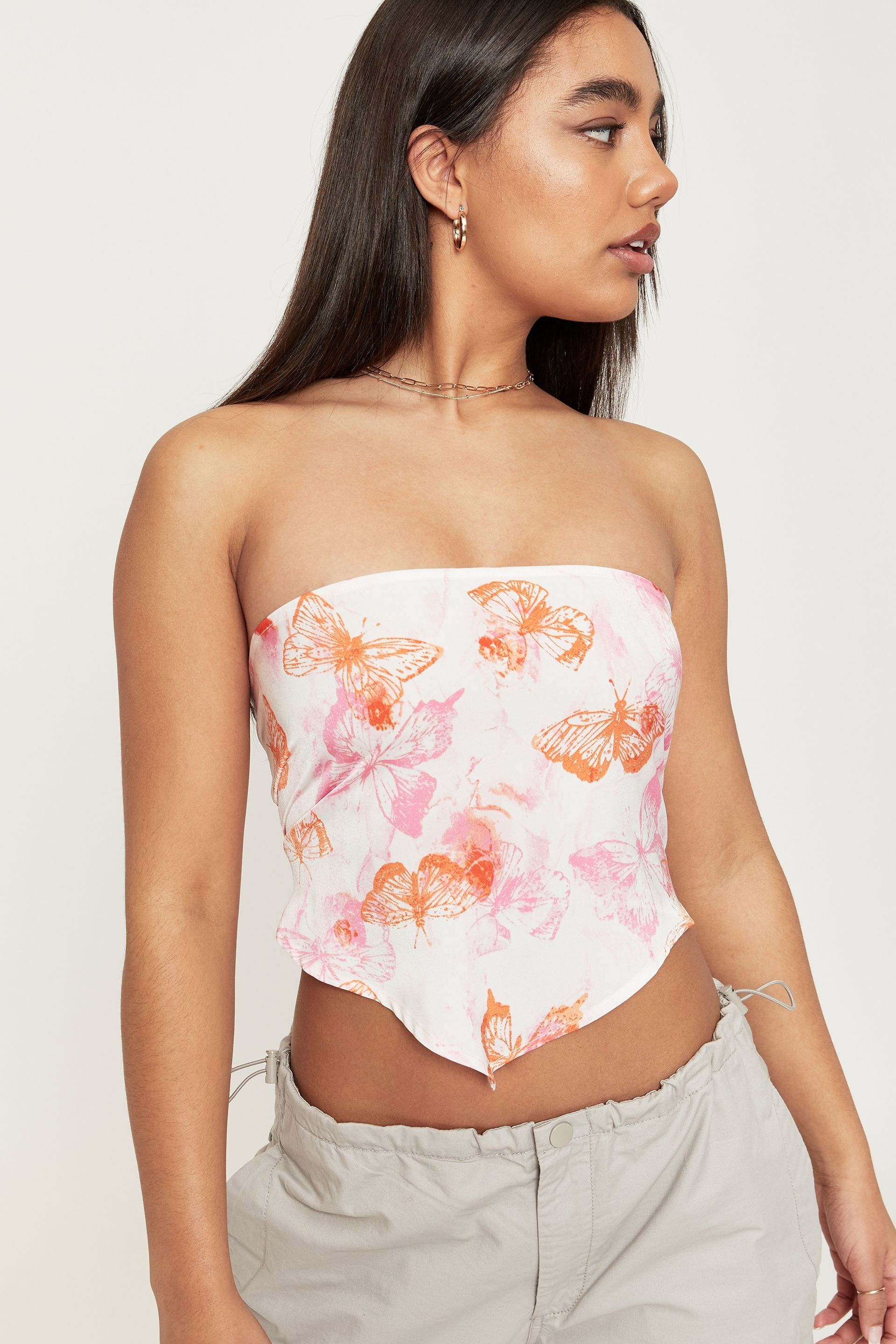 You can also drape these tops with simple steps. First, take a good size of the scarf as per your body, then fold the scarf diagonally. Drape it around your bust area and tie the two edges of the triangle behind the back. You can also secure these tops with safety pins.  
Cami Scarf Top
Cami Scarf tops are camisole-style crop tops. These tops are usually open from the back and come with a sleek strap.  Cami scarf tops are best to pair up with jeans. You can wear shrugs over them as a cover-up. You can try out cami tops in different prints for the best summer looks.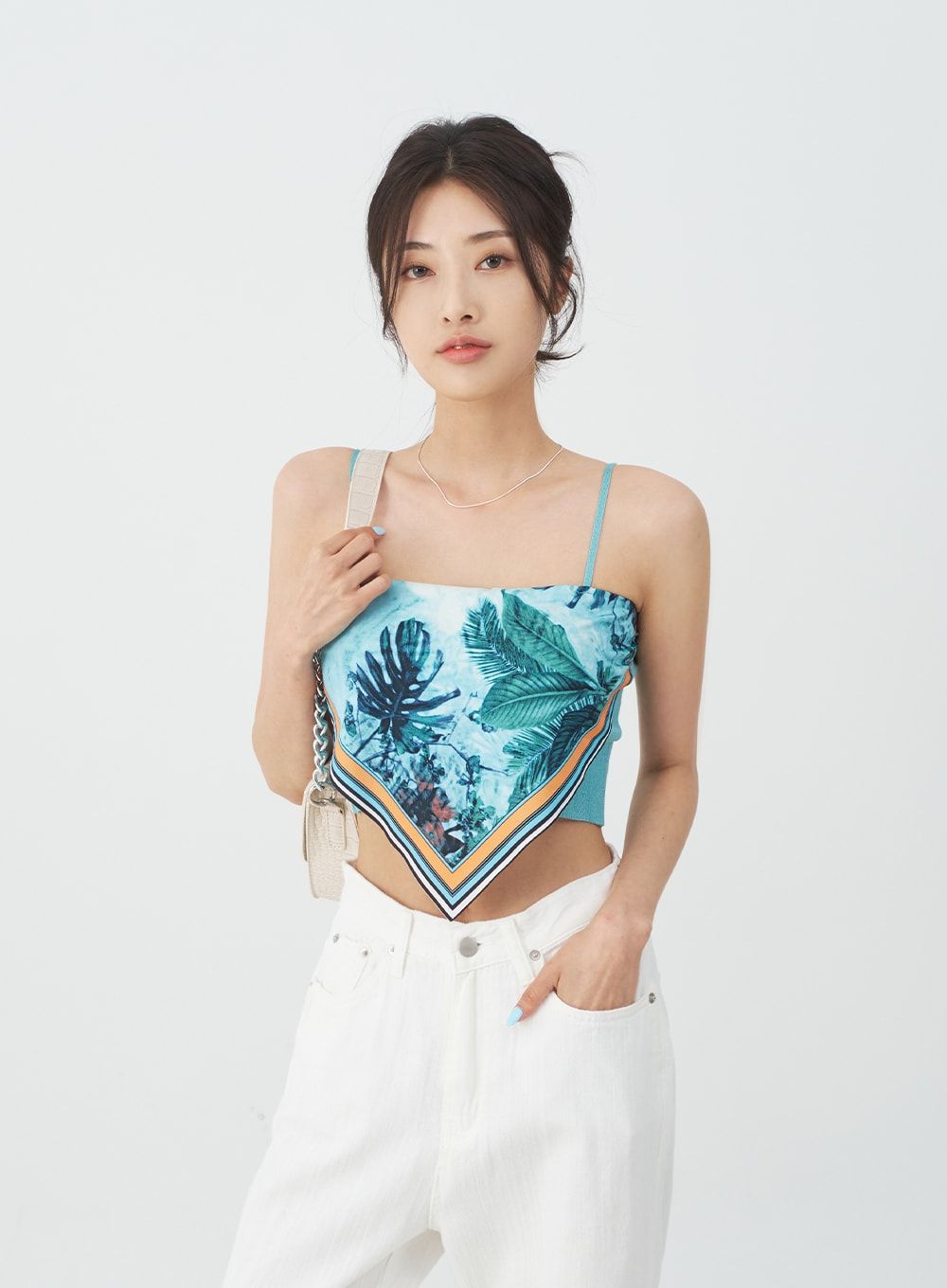 How to wear a scarf with a dress?
If you don't like heavy embellishments and looking for ways to enhance your look, you can definitely add scarfs to your styling. Combine a plain or printed silk scarf with your dresses to create an elegant look. Some of the best ways to wear a scarf with a dress are listed below:  
Tie it with Belt
The scarf is a piece of clothing that can be paired up with any kind of dress either formal or casual. You can pair up any printed scarf with a solid color dress to give it a pop of color. Wear the scarf equally from the neck and cinched it with a sleek belt.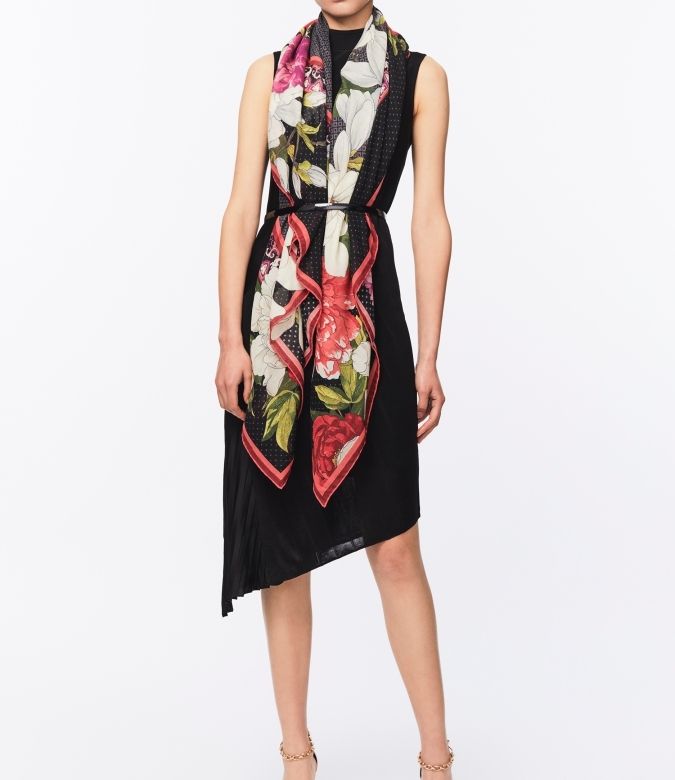 Wear as cover ups
The easiest and most comfortable way to style scarves is to wear them as cover-ups. You can simply wrap the scarf around your shoulders to give it a chic look. Also, if you wear something bold or strapless, it can help you to cover your arms and look elegant too.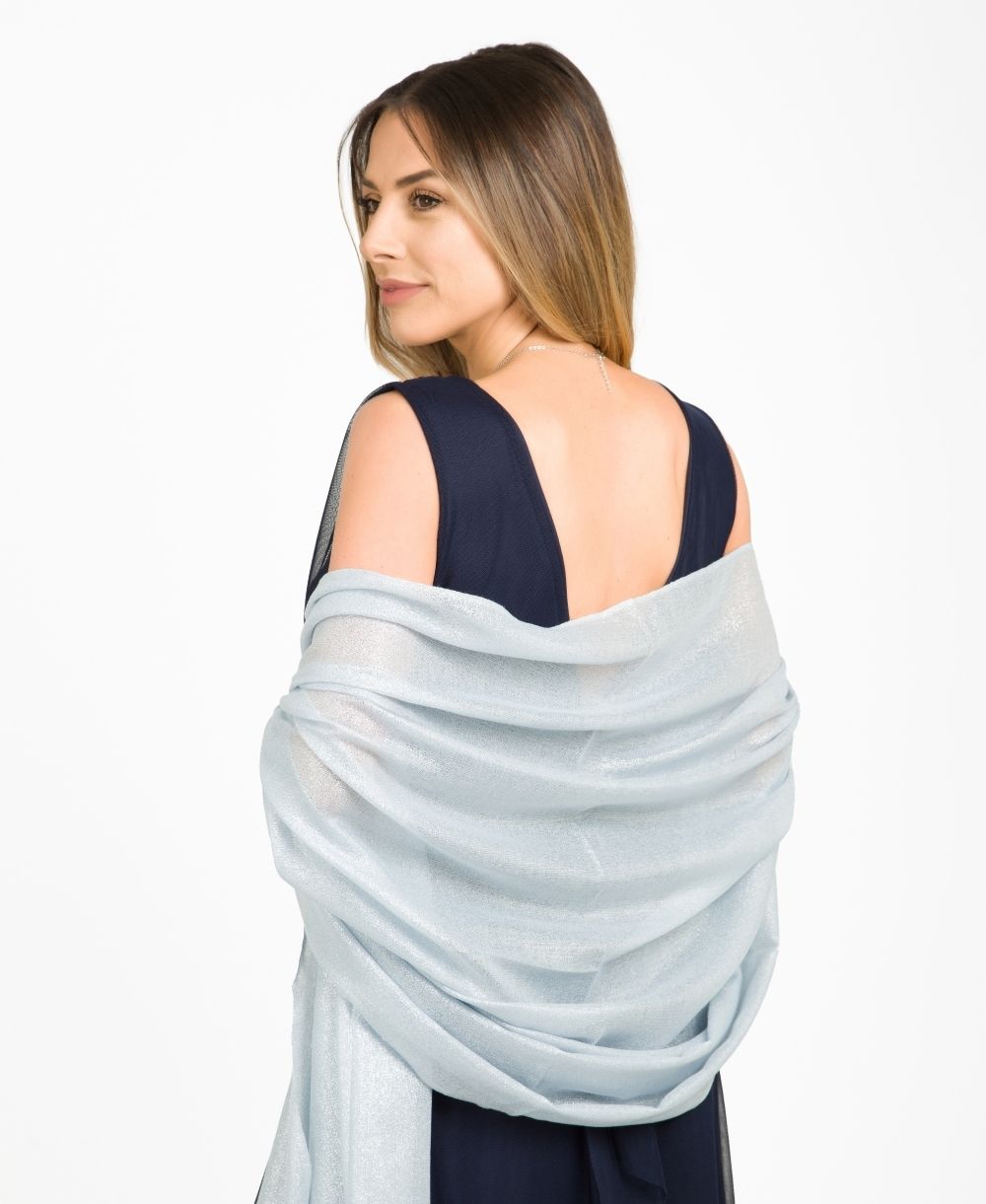 Wear on waist
Yes, you got it right! The scarf is one of the most versatile accessories. This time you can ditch the belt and use the scarf in its place instead of wearing a scarf as a  belt. You can use the scarf as a belt on the dress by draping the scarf around your waist either with a simple loose knot or giving it a twisted look.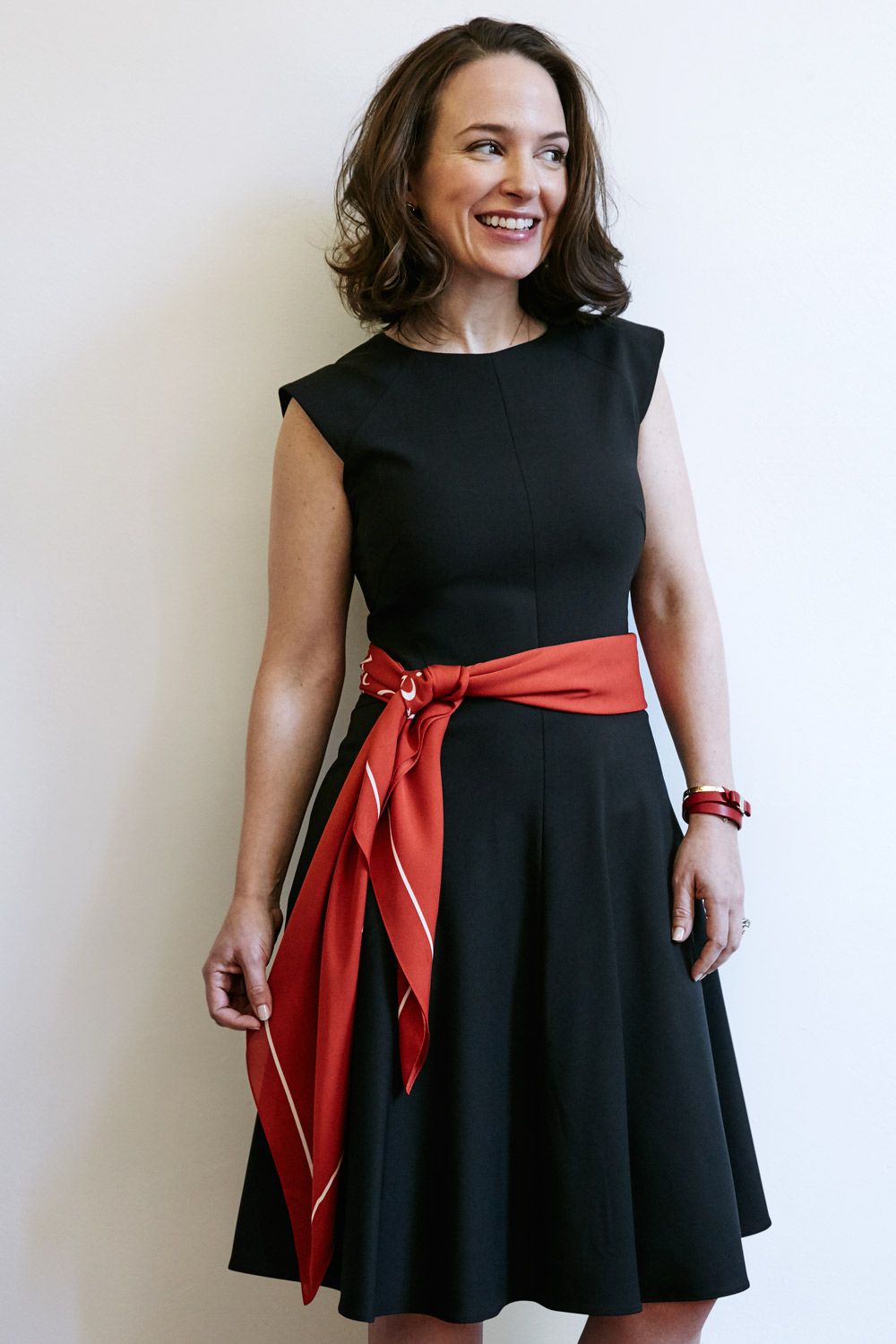 How to wear a square scarf?
Square scarves are mostly worn with professional attires. Whether you're going for an office meeting, lunch or for any event, this little piece of clothing can completely change your basic look. By wearing square scarves you can add a touch of sophistication to your look. Check out some of our favourite ways to wear a square scarf:
Knotted Necklace
Get bored of wearing neckpieces? Then this style is particularly for you. Take a plain or printed silk scarf and tie it around your neck with a small knot.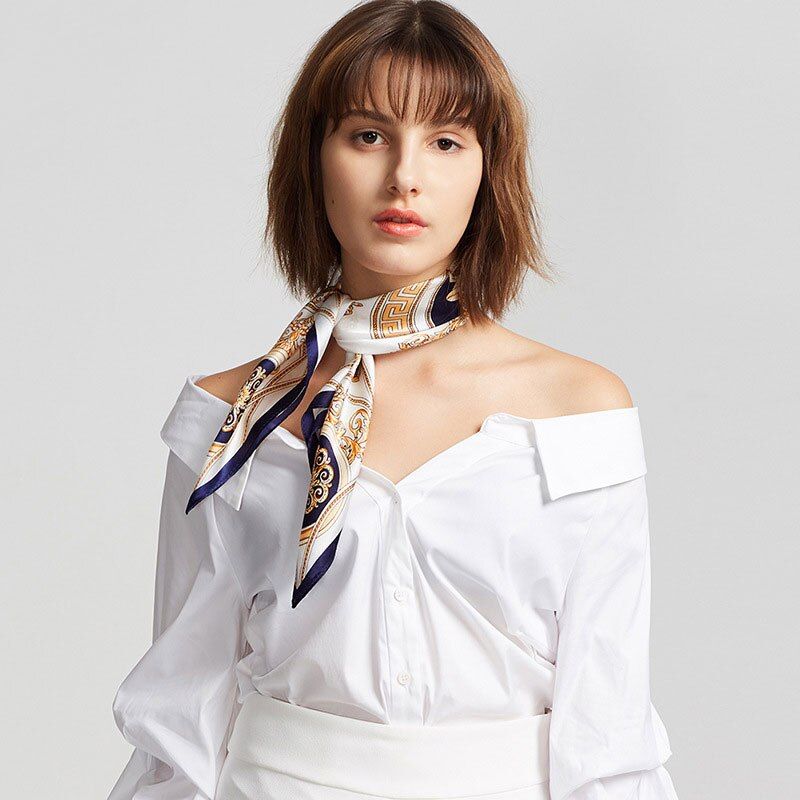 To create this look, you need a small-length square-shaped scarf and wrap it roughly around your neck. You can adjust it as per your comfort. This look is very easy to attain and seems equally pretty on off-shoulder dresses and tops.
Wear as a loose tie
This is a popular style among professional ladies, who love to wear formal at their workplace. With this style, you can easily ditch your regular ties and replace them with square silk ties. You don't need to dress up particularly to wear this style, you can simply add it to any of your formal dresses or blouses.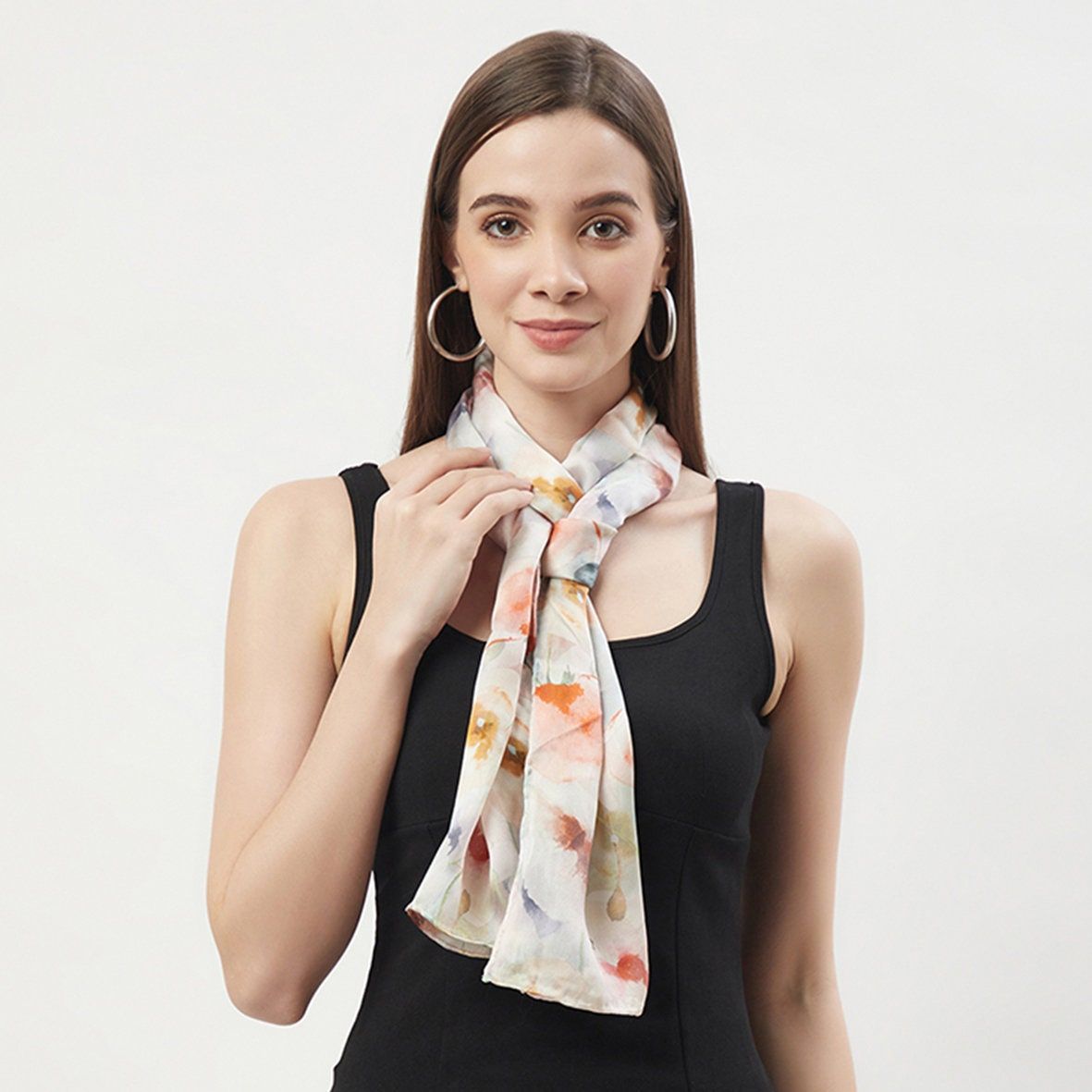 Draping square silk ties is equally the same as tying the regular tie knots. To drape this style, you're required to take a square-shaped scarf and roll it inward in a straight line and the rest of the process is as same the regular ties.
Create Half-bow
Half-bow scarf styles are quite popular among French ladies. You can enhance the look of your attire and give it a defined & polished look by draping a half-bow scarf.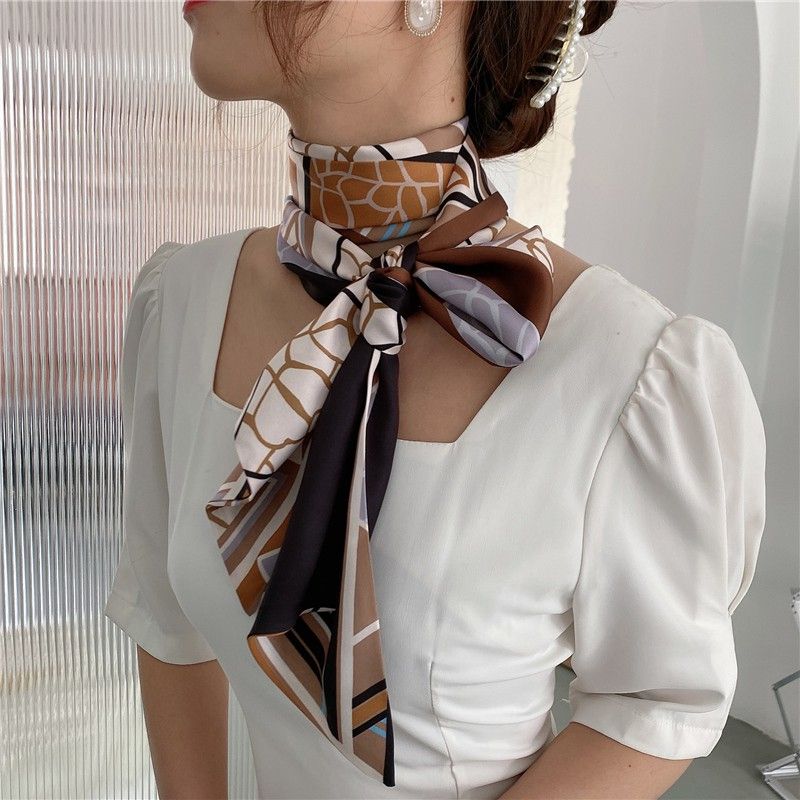 This style is worn around the neck. To drape a half-bow style, you must take a square-shaped scarf and roll it inwards. Then wrap the scarf around your neck in a way that you get two equally hanging ends. Next, tie a bow and leave it open from one side. You can also secure it with safety pins.
Thank you for reading this article. I hope we helped you to choose among the best styles.
Also read: