Top Branded Backpacks for Women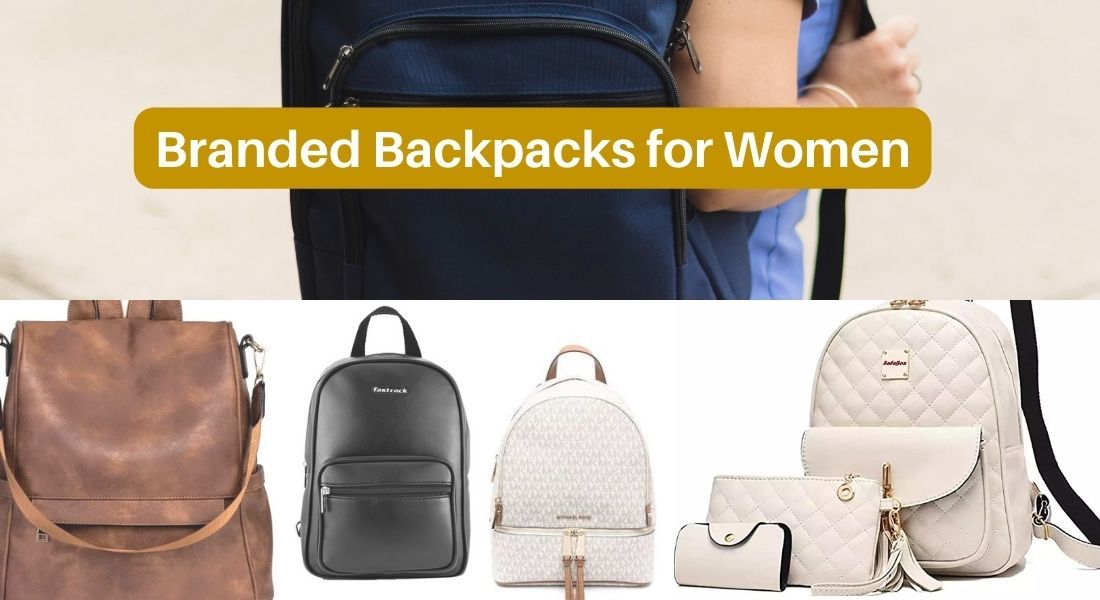 Backpacks are certainly the most reliable options to carry your minimum to maximum stuff with ease. You can carry backpacks at school, college, workplace or during travels. Due to its versatility, backpacks are not only chosen to give you comfort and provide good space but also look stylish at the same time.
If you seek some good quality backpack options then you must invest in branded backpacks for women. Branded backpacks come from affordable to premium ranges. One thing that is great about all good bag brands is that they emphasize quality with sustainability. Most top-branded bags are made with recycled materials to promote sustainable practices and protect the environment.
Find out some of the stylish and top branded backpacks for women ranging from affordable to luxury options in the below article:
Choose among the Best Backpack Brands for Women:
Nike
Puma
Tommy Hilfiger
Adidas
Michael Kors
Wildcraft
American Tourister
Nike Backpack for Women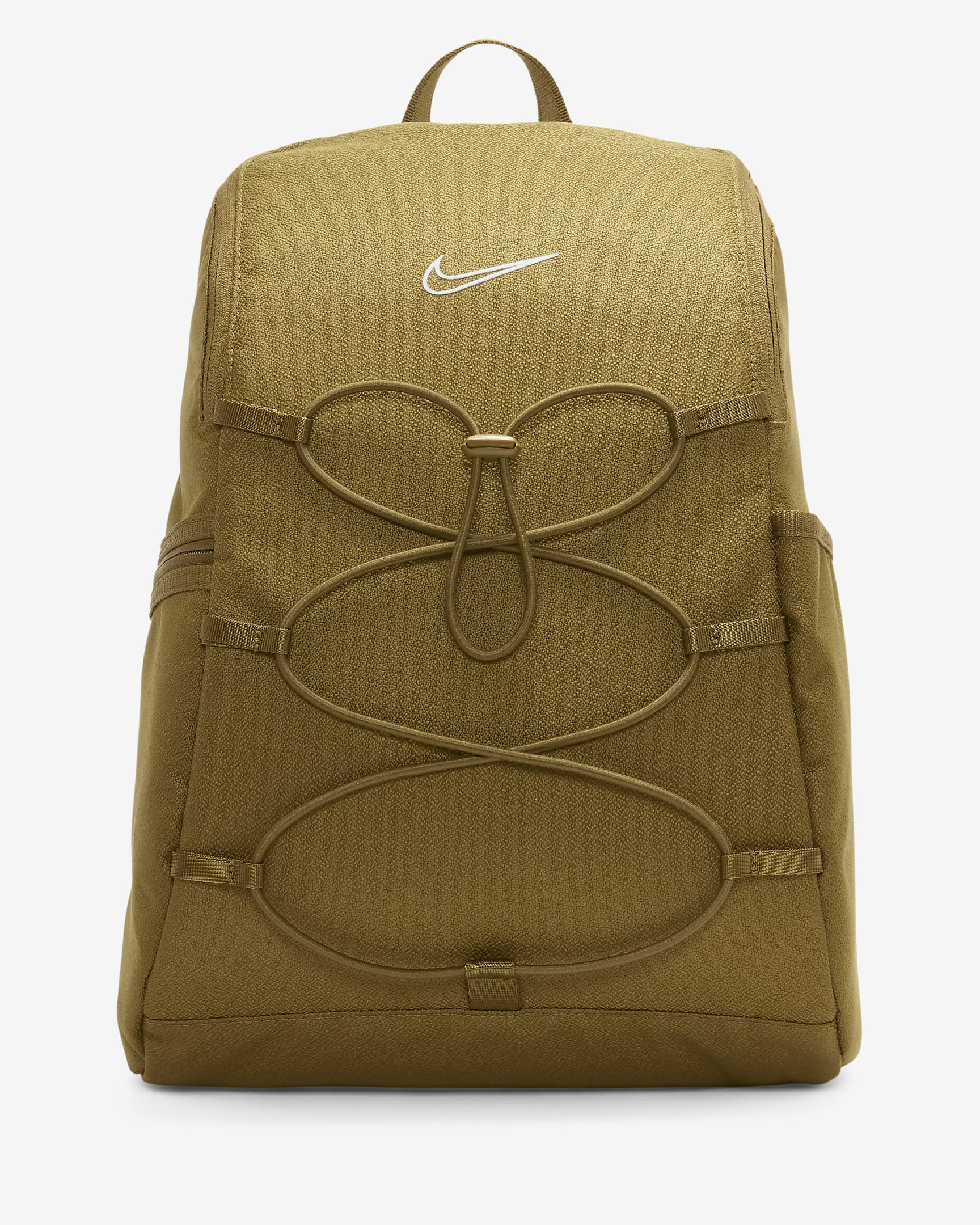 This Nike One Women's Training Backpack is all in one bag for every occasion. Whether you want to pack your essentials for college, school or gym, this backpack has enough space to keep all your stuff. For the extra space, multiple outer zips are given to keep little things well organized. Further, you can safely keep your laptop inside the backpack, as it comes with a supportive padded sleeve. The Nike backpack for women is made up of a minimum of 50% recycled polyester fibers, which promotes sustainability.
Price: Rs. 3,607 | Color: Olive Flak
Recommendation:
Nike Heritage Backpack (Price: Rs. 1,995)
Nike Sportswear Futura 365 Women's Mini Backpack (Price: Rs. 1,995)
Nike Grd School Unisex Backpack (Price: Rs. 2,005)
Puma Backpack for Women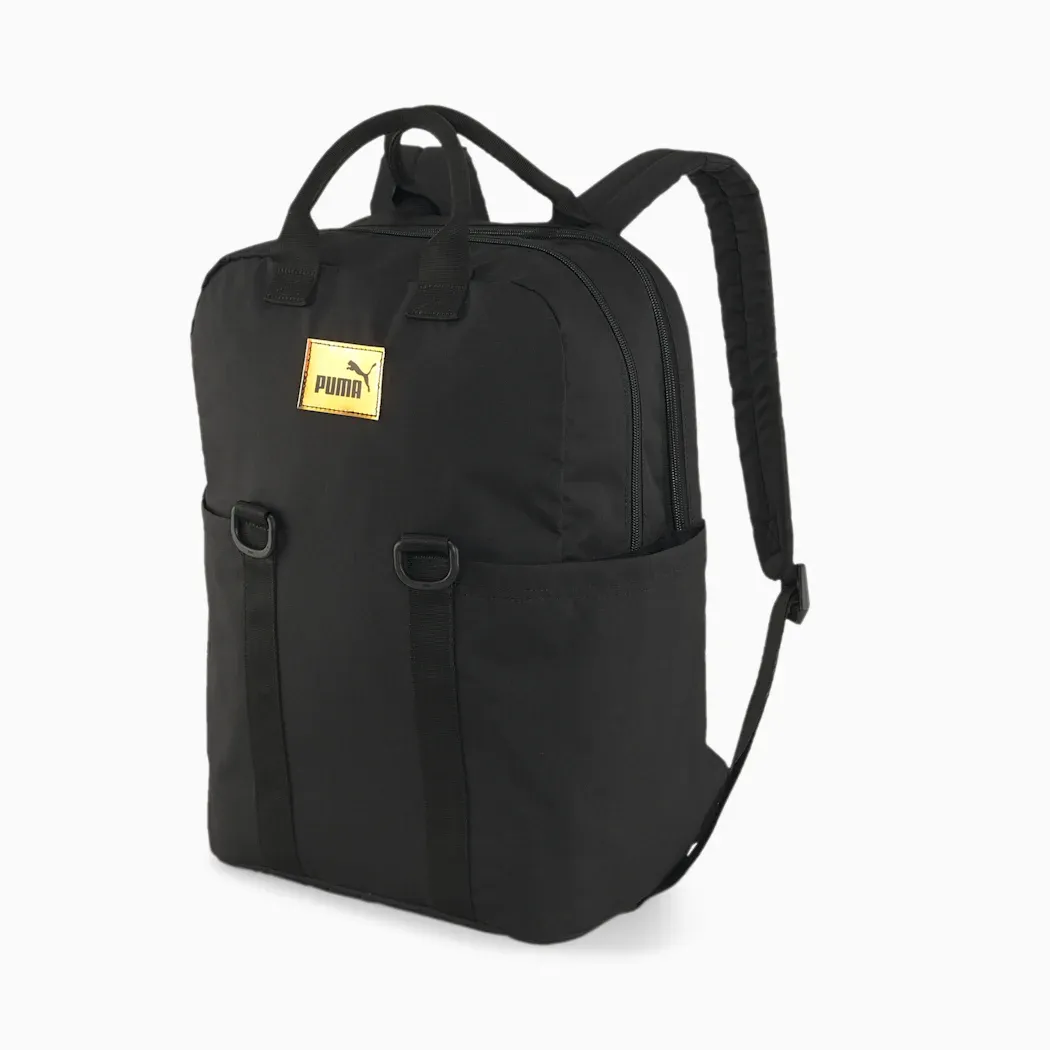 Puma College Backpack is a perfect option if you're looking for a compact-looking and structured backpack to carry at your college. This backpack comes in deep black color with a highlighted Puma logo on the front. The bag has two compartments out of which one is given a padded laptop compartment. Further, shoulder straps are used with soft padding and ergonomic designs to carry heavy baggage comfortably on shoulders. This Puma Backpack for women has used 100% polyester material in the lining and shell part of the bag from which 20% is recycled material.
Price: Rs. 2,999 | Color: Puma Black
Recommendations:
Puma Phase Unisex Backpack (Price: Rs. 1,299)
Unisex Black Phases Printed Backpack (Price: Rs. 1,499)
Puma Core Up Minime Women's Backpack (Price: Rs. 1,799)
Tommy Hilfiger Women's Backpack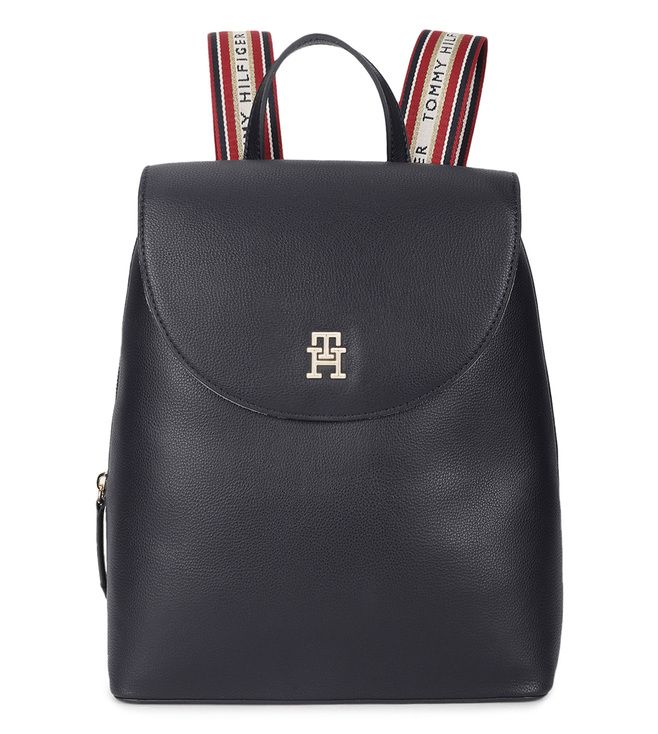 Tommy Hilfiger Women's Backpack is made up of supreme quality material that provides durability following style. The brand itself is popular for its unique and cool designs. This Tommy Hilfiger Space Blue Life Medium Backpack is made with PU leather, which is a synthetic leather type. If you're looking for a compact-size bag then you can go for this option. The bag only has one compartment with a zip closure.
Price: Rs. 10,499 | Color: Blue
Recommendations:
Women Brand Logo Self-Design Small Backpack (Price: Rs. 6,499)
Women Geometric Small Backpack With Quilted Tasselled (Price: Rs. 7,499)
Women Solid Small Backpack With Striped Applique Detail (Price: Rs. 7,499)
Adidas Women Backpack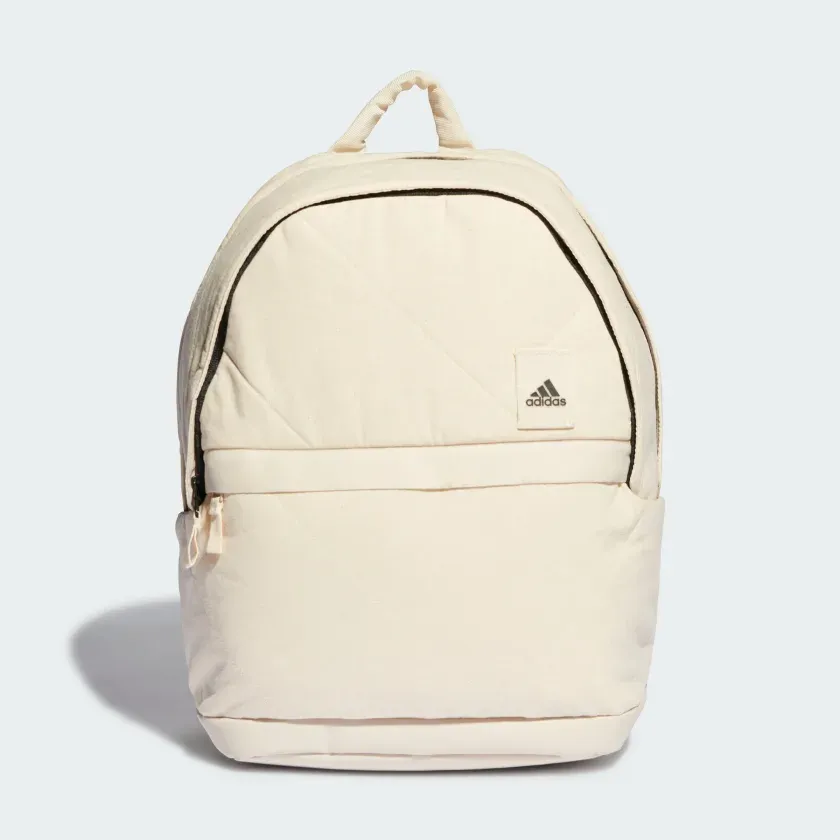 There are many options available for Adidas Women Backpacks but this Adidas Lounge Backpack is certainly a great deal if you're looking for a compact and cute-looking backpack. This bag is appropriate to carry in schools and colleges. The bag has a cotton quilted textured body and used a minimum of 40% recycled content in the production. This Adidas Lounge Backpack contains multiple zips to carry your maximum stuff. You get two main compartments along with two side slip-in pockets to carry water bottles. Further, a zip is given on the front mid-section of the bag with an additional zip at the back side of the backpack to carry the miniatures.
Price: Rs. 5,999 | Color: Non-Dyed/ Black
Recommendations:
Adidas Her Studio London Backpack (Price: Rs. 2,999)
Adidas Rifta Backpack (Price: Rs. 4,599)
Adidas Women's Airmesh Mini Backpack (Price: Rs. 8,951)
Michael Kors Backpack for Women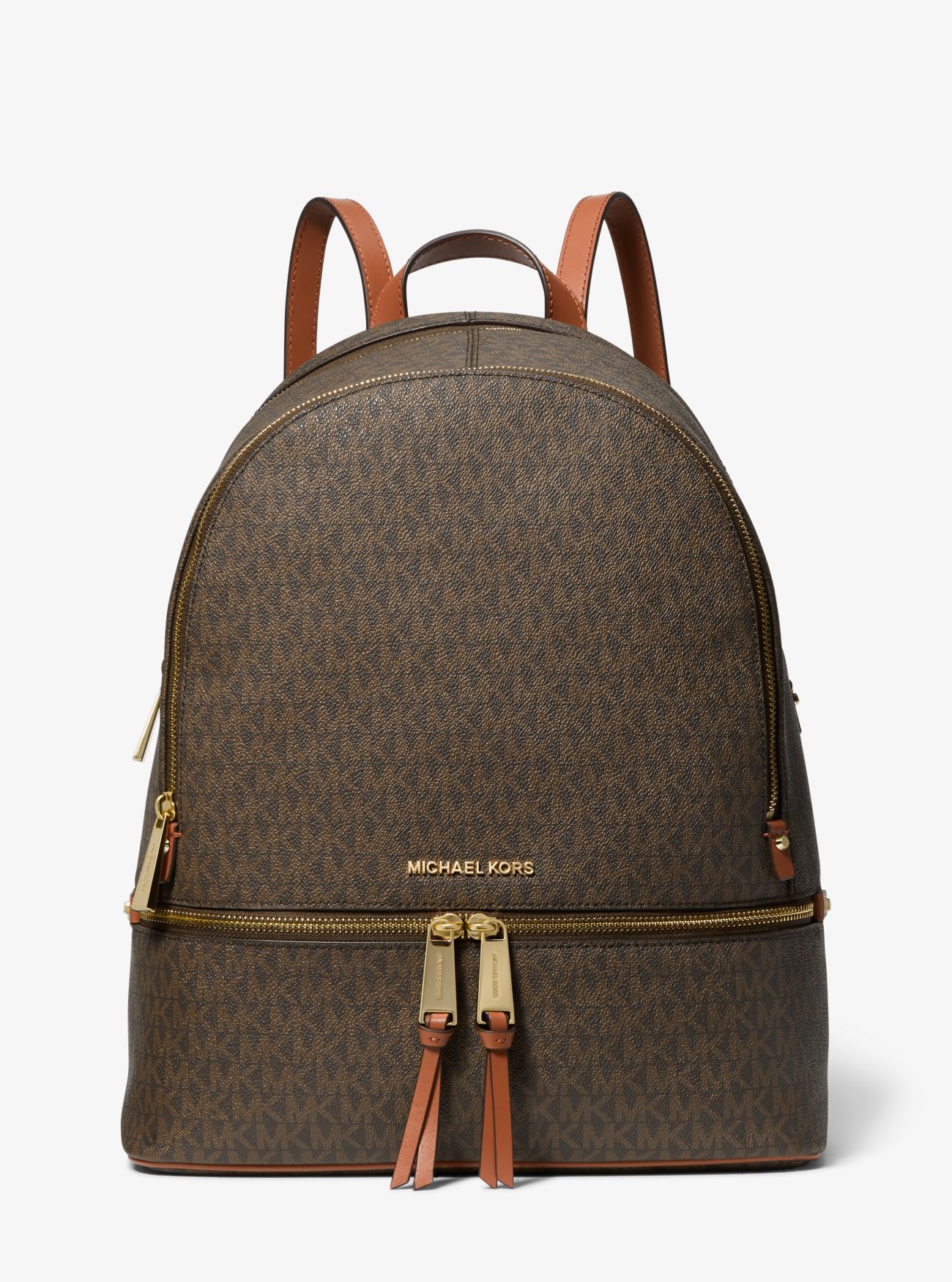 The Michael Kors Rhea Large Logo Backpack is truly luxe for quality and style seekers. This stylish Michael Kors backpack for women is used big Signature-print canvas on the entire body. For sophisticated buyers, the backpack is made with premium quality material and fine detailing. The bag has multiple zipper pockets and thin shoulder straps. It has 2 front zip compartments in the outer size along with back zip and slip pockets and 4 front slip pockets inside the bag. Michael Kors Rhea Large Logo Backpack is made up of 69% coated canvas/17% polyester/13% cotton/1% polyurethane and is available in brown and vanilla shades.
Price: Rs. 39,000 | Color: Brown
Recommendations:
MICHAEL KORS Slater Leather Backpack (Price: Rs. 43,000)
MICHAEL KORS Small Backpack RHEA ZIP (Price: Rs. 13,655)
MICHAEL KORS Prescott Large Nylon Backpack (Price: Rs. 22,671)
Wildcraft Backpack for Ladies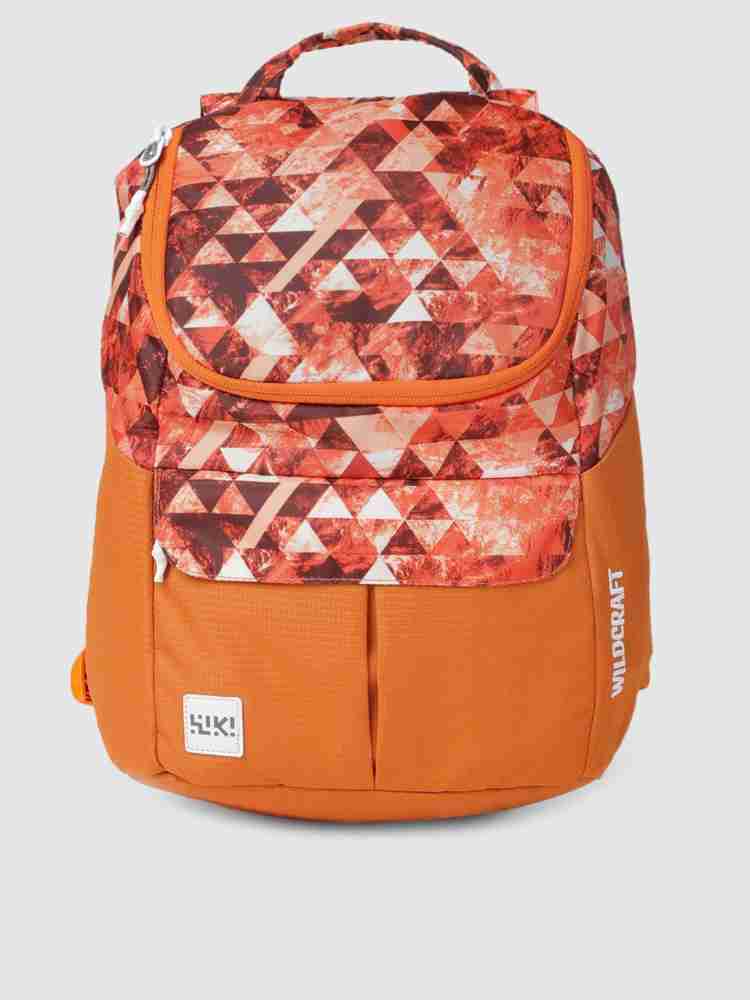 Wildcraft Backpack for ladies is best for outdoor travelling. This medium-size Wildcraft backpack for women is made with polyester material and has a graphic pattern. The bag has a single compartment with a front zip enclosure. For additional support, shoulder straps are given extra padding. This bag is an affordable and appropriate option for carrying your little stuff here and there.
Price: Rs. 1,599 | Color: Orange
Recommendations:
Women Grey Melange & Red Colourblocked Backpack (Price: Rs. 1,599)
Wildcraft 35 L Pink Backpack  (Price: Rs. 1,299)
Wildcraft Evo Khaki 45 L Backpack with Rain Cover (Price: Rs. 2,699)
American Tourister Backpack for Ladies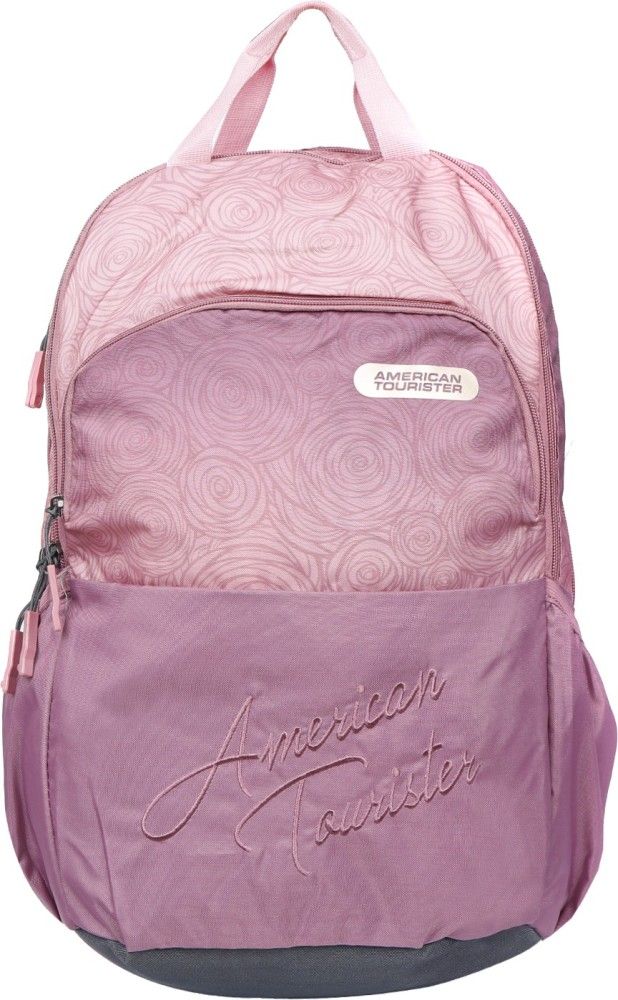 Americal Tourister Backpack for ladies is perfectly designed to carry at college or for travel purposes. The bag is given a decent pink color and is also available in other soothing colors as well.  This Americal Tourister backpack is extremely spacious with two good sizes compartments and an extra one to carry the laptop. The bag is made with 100% polyester material that can save your belongings from light rainy weather.
Price: Rs. 1,800| Color: Pink
Recommendations:
American Tourister 26L Zumba Backpack Lavender (Price: Rs. 2,200)
Polyester Air Blue Bella 01 American Tourister Backpack (Price: Rs. 1,110)
American Tourister SHAW Unisex Laptop Backpack (Price: Rs. 2,850)
Thank you for reading this article. I hope we helped you to choose among the best styles.
Also read: