21 Types of Handbags for Women
21 types of handbags, choose your favourite type.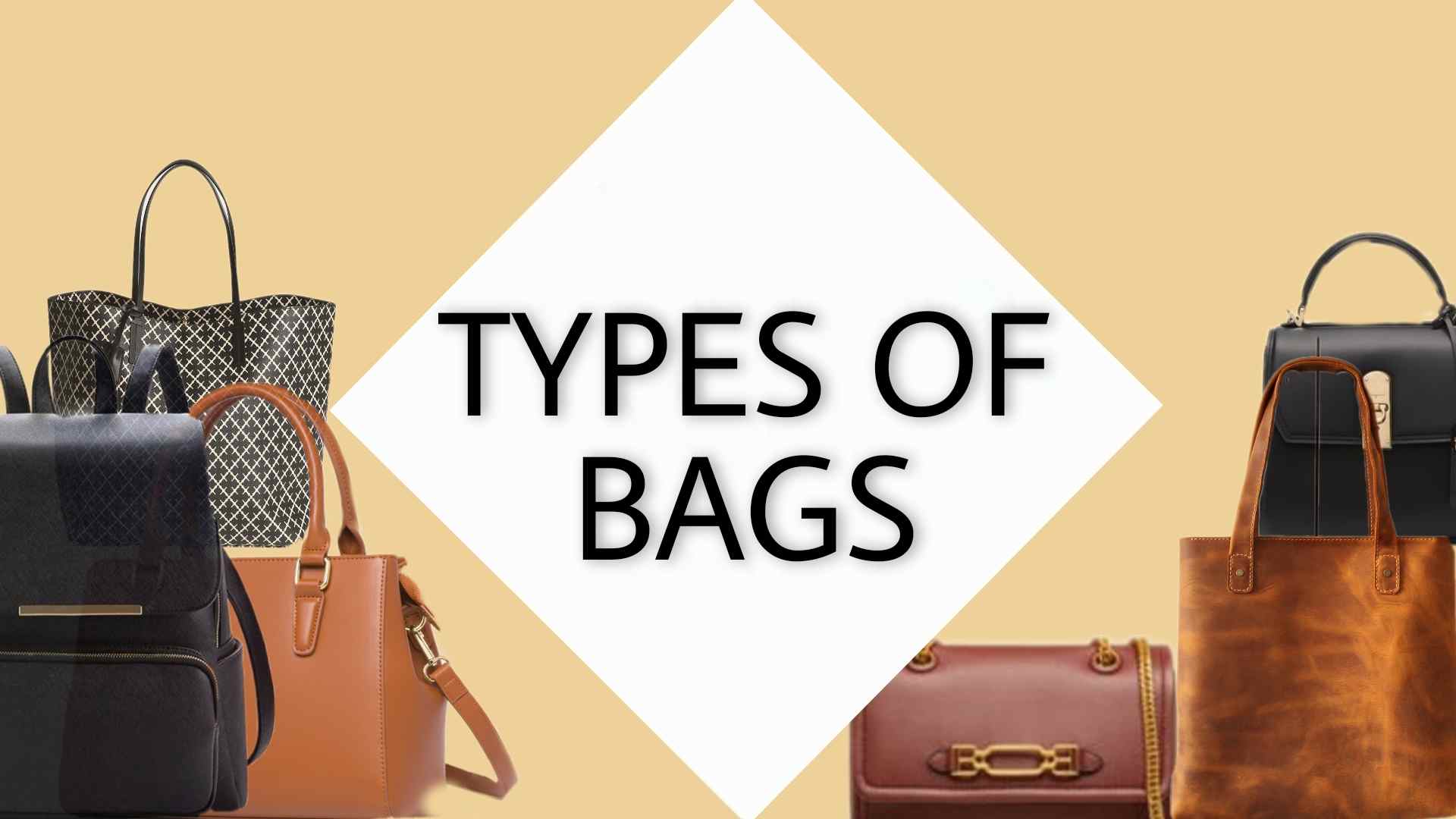 Handbags are one of those necessities which can never be fulfilled. From styling to managing our stuff in one place, bags work as a helping carrier to us. There are endless different types of bags for women that come in various shapes, sizes & patterns; follow our requirements with the latest trends.
So why rely upon just one or two regular types of purses, when we have bunches of options for every occasion?
The list can never end but still, here we've curated some most popular 21 types of handbags for women, that are currently in vogue and should be on every girl's next shopping list.
Carry small things/ Accessories
There are a number of little things that we carry with us. Often times when we are not in the mood to carry heavy bags or sometimes they feel like unnecessary baggage and we often get confused among different types of bags and which one to choose from. For that, these bags come into being as a comfortable option that is small in size, light in weight, and perfect to carry your mini stuff.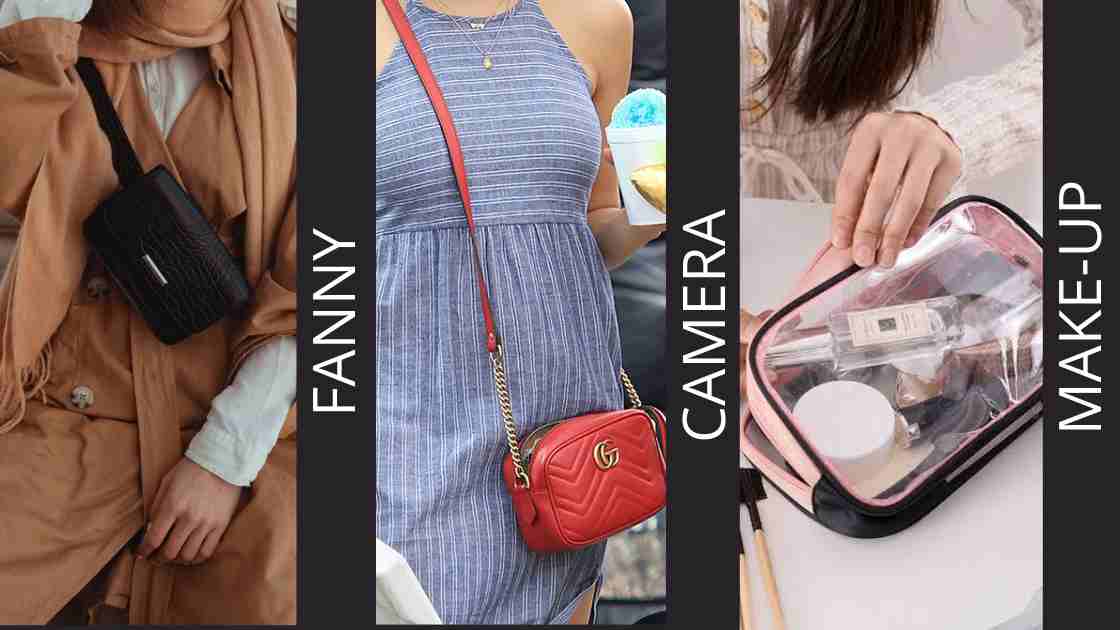 Fanny/Belt Bag
This is a type of bag that comes in a small pouch-like structure, they have a strap that can be worn around the waist or sometimes styled around the shoulder.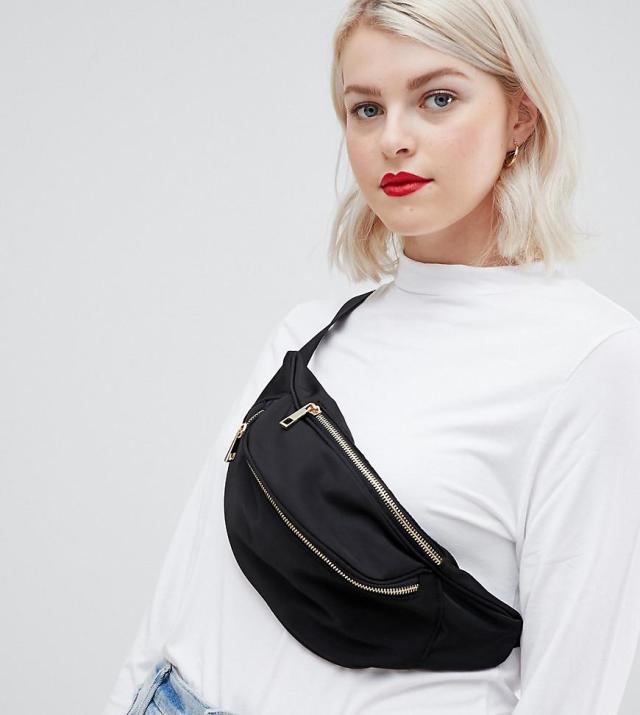 Camera Bag
Camera bags are meant to put the camera and other related accessories inside it. This kind of bag usually comes with multiple compartments that make them more useful to carry extra little things.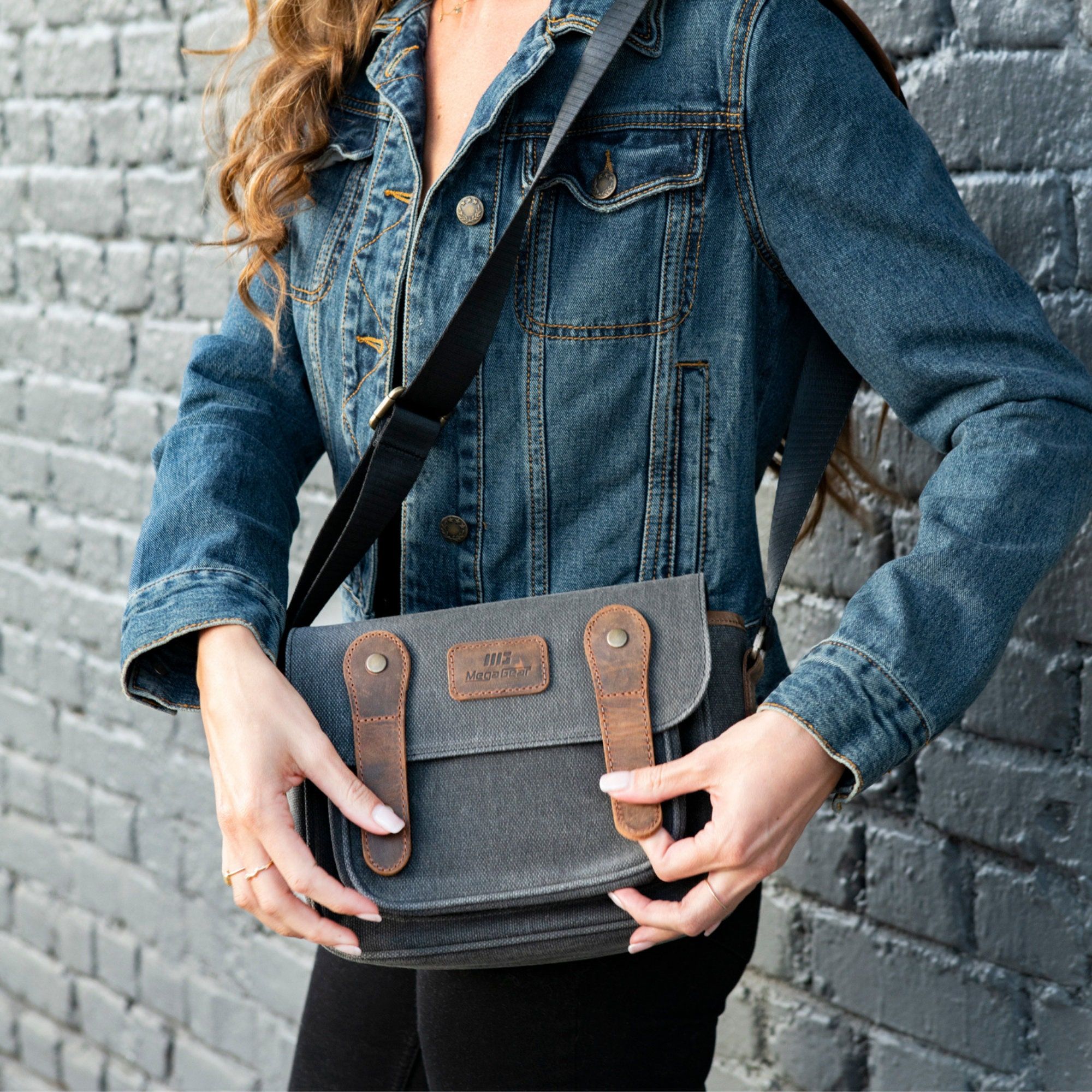 Make-up Bag/Pouch
These small zipped bags are a common find in every girl's travel bag. These bags mostly have single compartments but differ in depth and size. They are very useful to carry a lot of things from our make-up to our essentials. These little bags are mainly used for travelling purposes that are supposed to be kept inside your main handbag.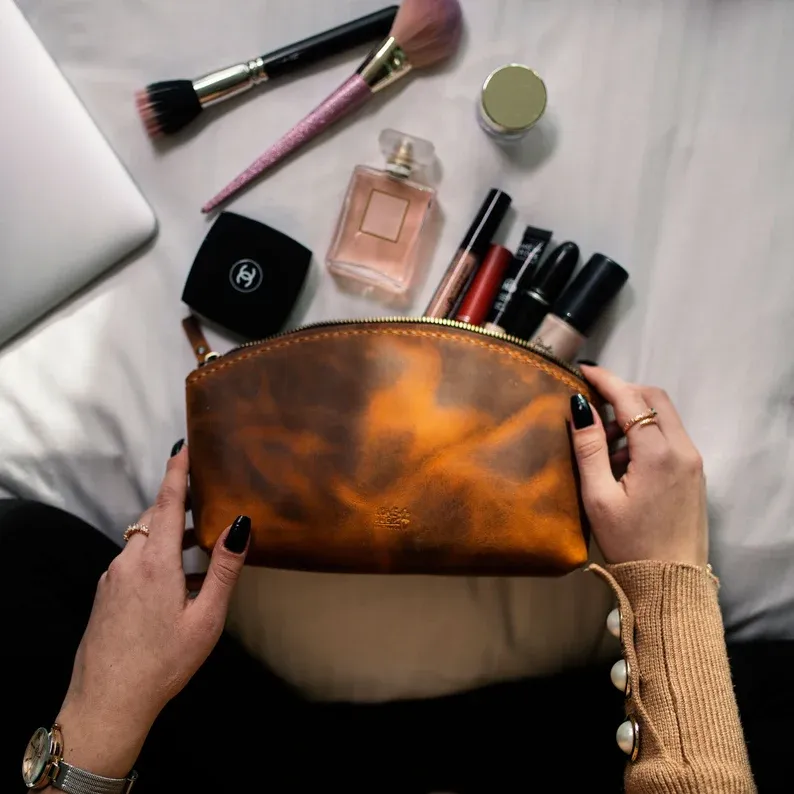 Cross-body Bag
Cross-body bags are quite useful and easy to carry at small events. These bags are a good replaceable option for pockets, where you can put your little yet essential stuff such as phone, tissues, car keys, cosmetics, cards, etc. There are various types of Cross-body Bags for women that come in various designs, materials and sizes. You can opt for a Black Cross-body bag that can easily go with every outfit. Sling Cross-body bags have adjustable straps that give you cool and casual vibes.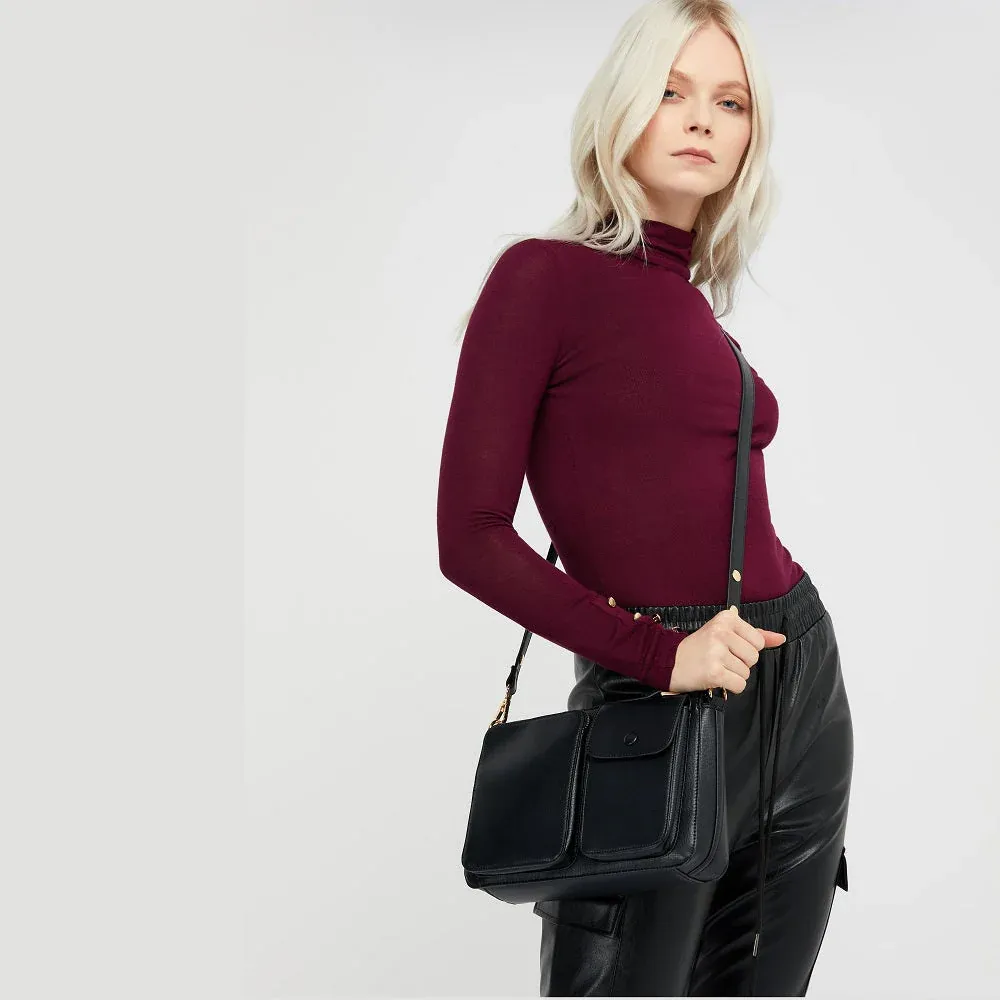 Sporty Bags
The bags that come into this category are known to carry heavy things for travelling to distant places. They usually come in quite different sizes and are very spacious according to the requirement. They can be carried on the shoulder or in your hands so you can move a lot of stuff in these bags.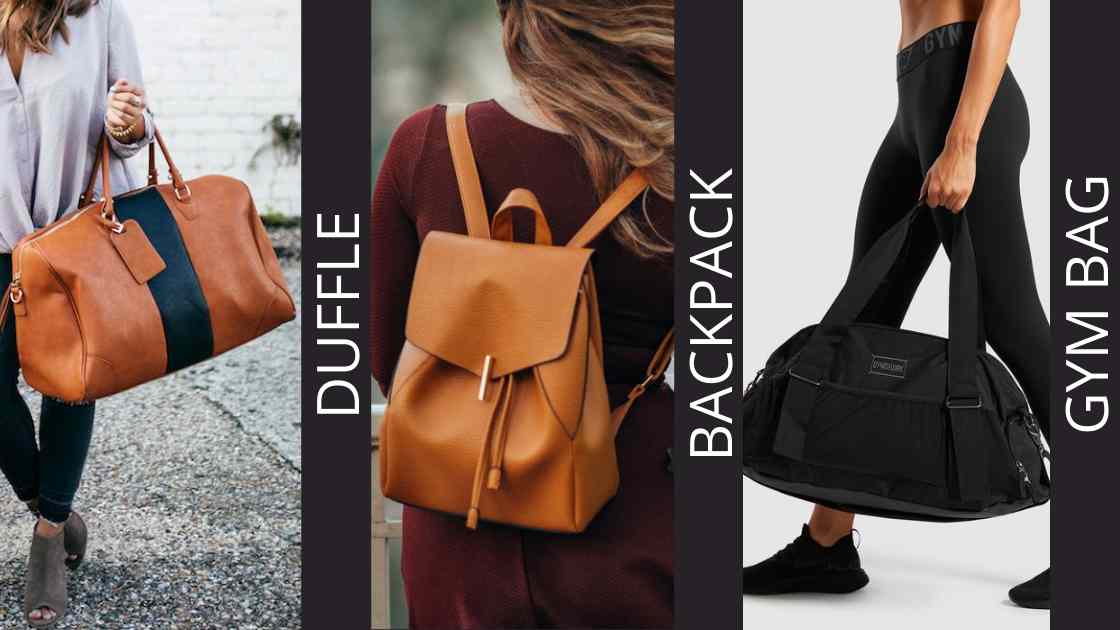 Duffle Bag
Duffle bags are cylindrical in shape with a flat base, made with heavy material. They are good and convenient to carry your belongings safe while travelling.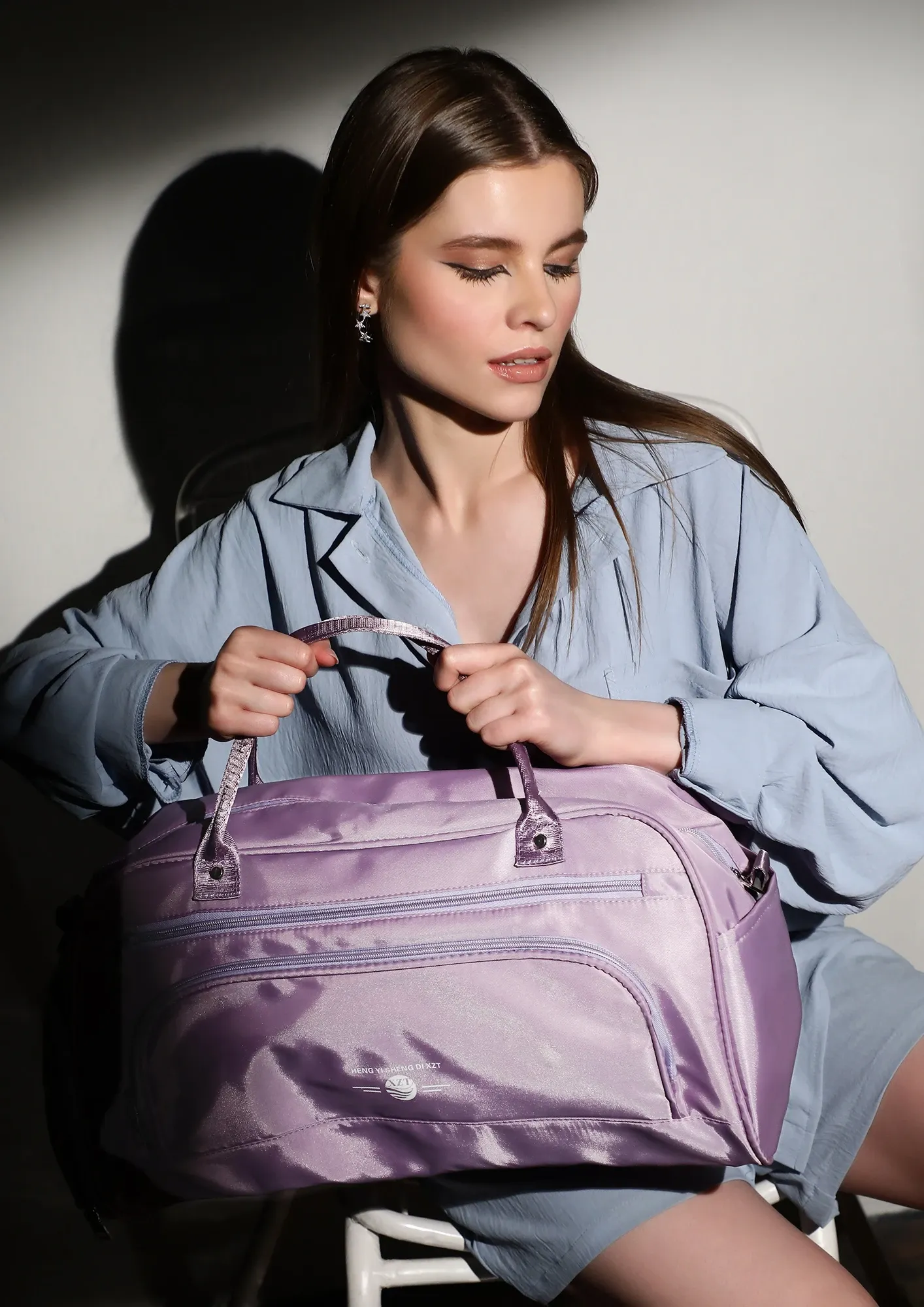 Back Pack
The myth of carrying backpacks only at school has vanished, as backpacks are so cool nowadays among youngsters to adults for carrying at casual places or events. They are now available in small, extra small, and large sizes with a wide variety of stylish patterns and materials. Leather backpacks are widely popular for their versatile use.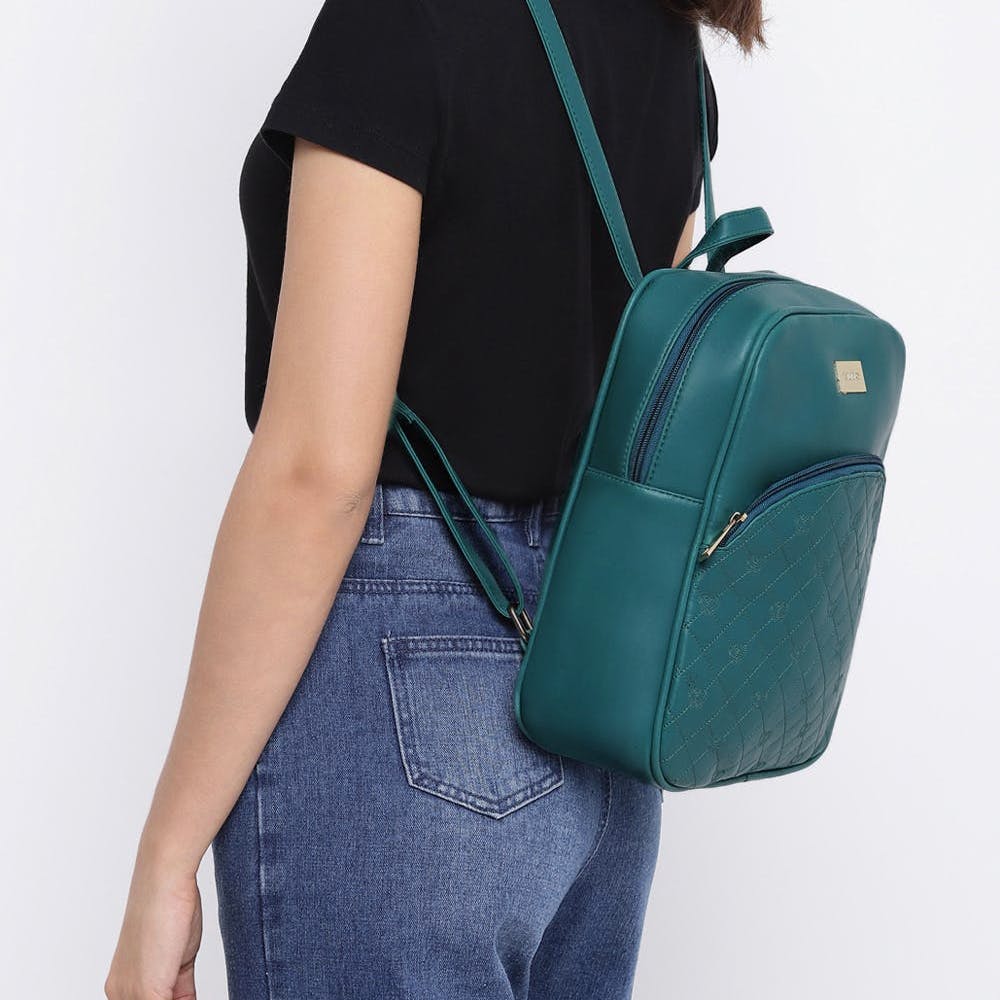 Barrel Bag/Gym Bag
Apart from just focusing on work some outdoor activities are necessary. So these kinds of bags are perfect to carry out your stuff for outdoor sports or adventure and to be followed with a stylish look.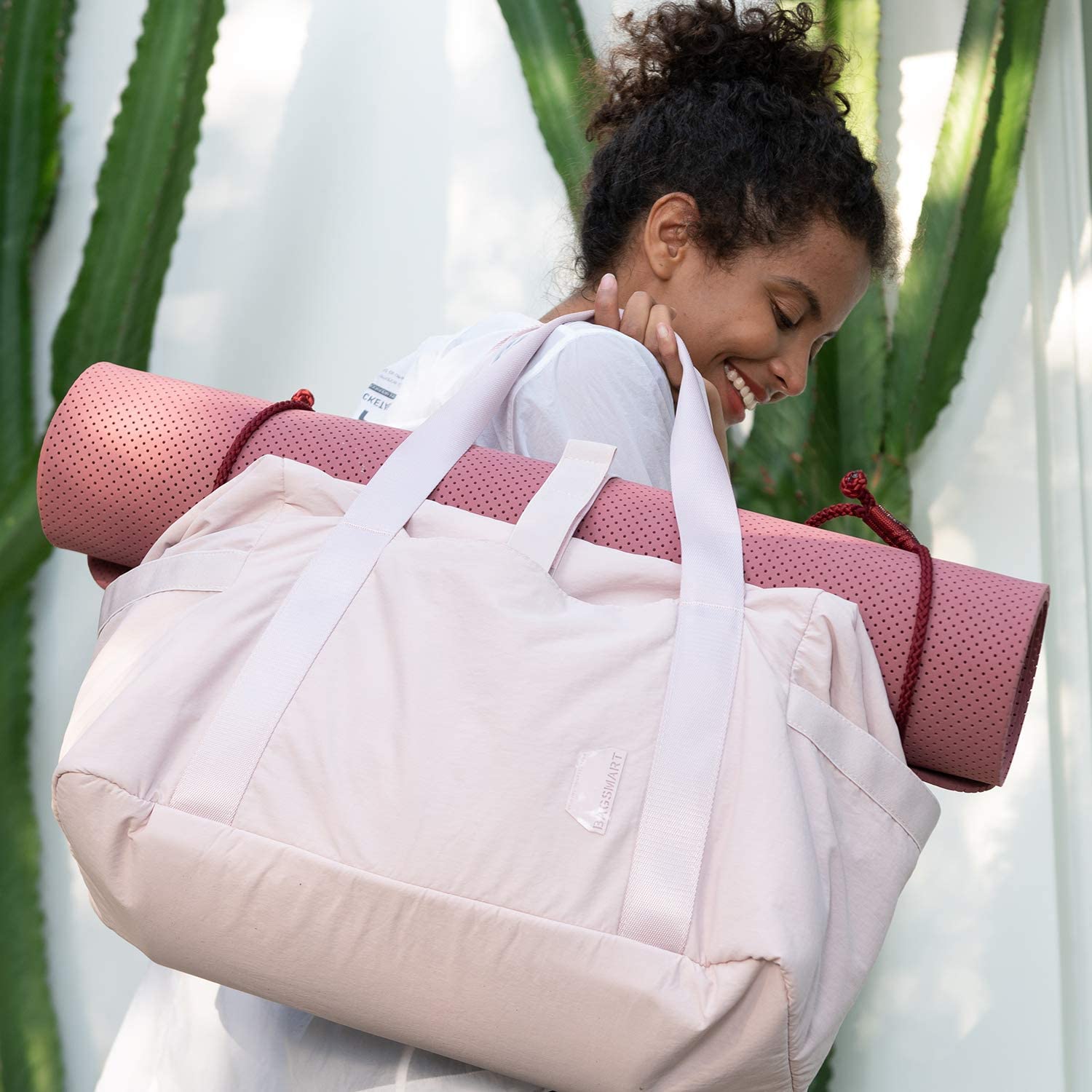 Storage Bags
Our bags can always be seen as a mystery or magic box which can store n number of things, sometimes useful or sometimes unusual. If you always feel to carry every next thing and want a good spacious bag, now this can be a good option for you. These bags usually have good storage capacity to fulfill your every requirement. They are an ideal option for both formal and informal events.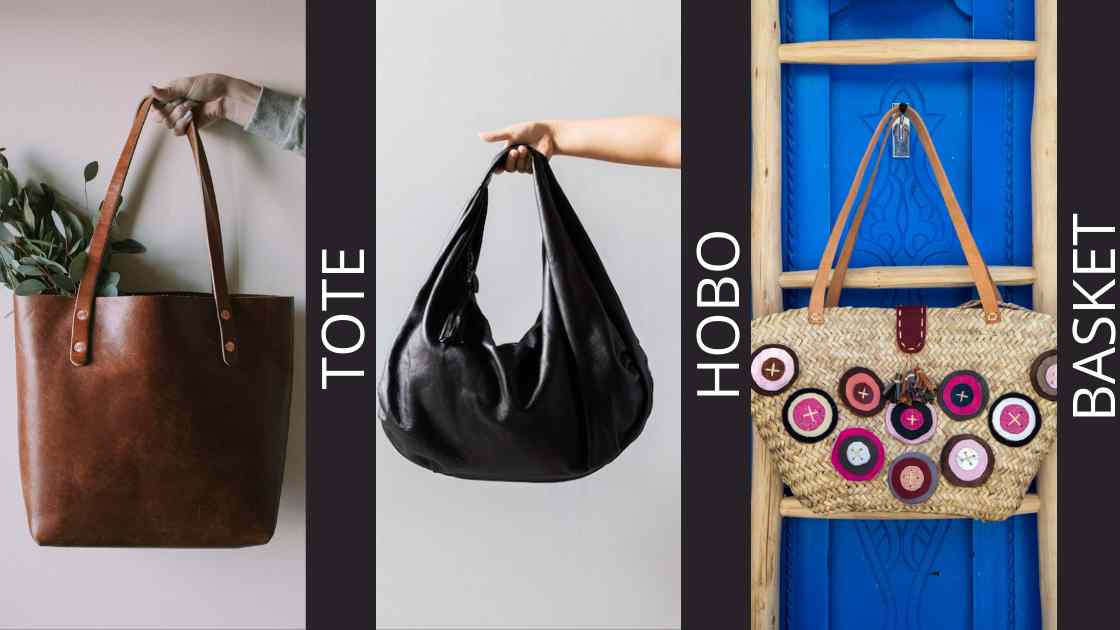 Black Tote Bag
A multi-purpose bag that is usually larger than a regular bag. Due to its medium strap and long body, it's meant to carry on the shoulder. Like its structure, Tote Bags are made to carry like every next thing you wish to keep with you.
Black Tote bags is a must-have for every girl. It is a perfect choice to take along to college, office or shopping, to manage unlimited stuff with ease. If you're looking for a durable option, you can definitely try a good quality Leather Tote Bag that adds elegance and sophisticated touch to your look. Leather Tote handbags are the best option for working women.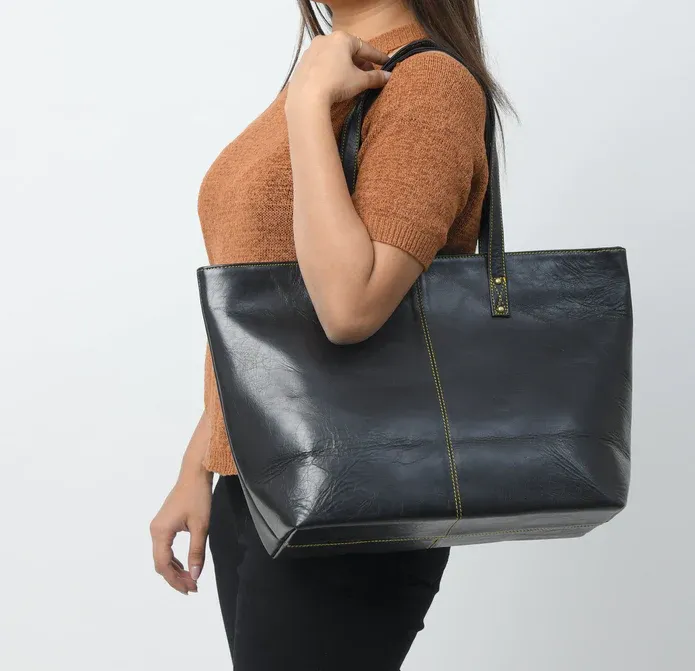 Hobo Bag
Again the big slouchy bags are on the list which has to be comfortably carried on the shoulders. Despite of its bulky look, which is round at the bottom with wide straps, a heavy weight can be easily carried with these bags. Hobo bags can be styled with relaxed shorts and jeans, even with flared skirts to give you a soft and chic vibe.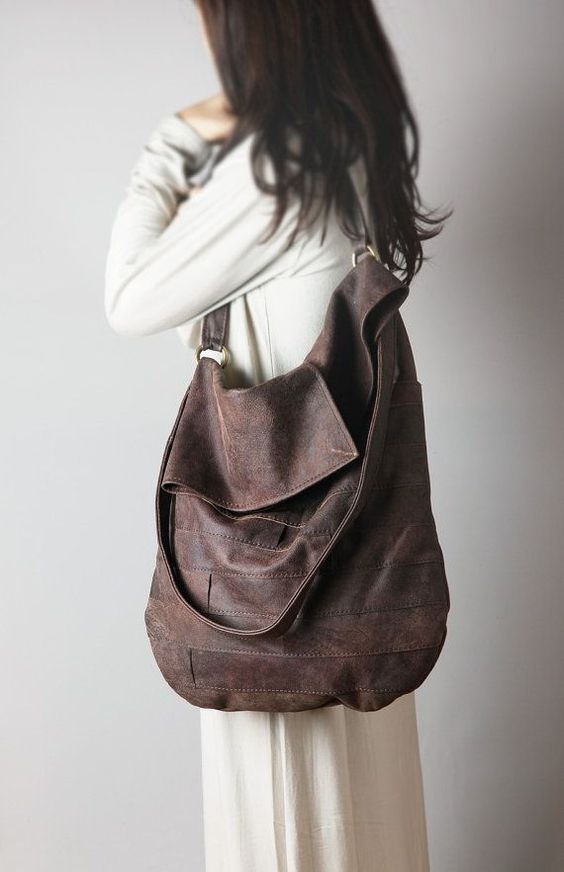 Shopper Bags
What do you think about a bag that looks stylish as well as useful to make your regular shopping experience joyful?  Shopper bags are all made for that purpose. They're super comfy, lightweight and very useful for a regular basis. You won't feel like carrying an extra burden with them.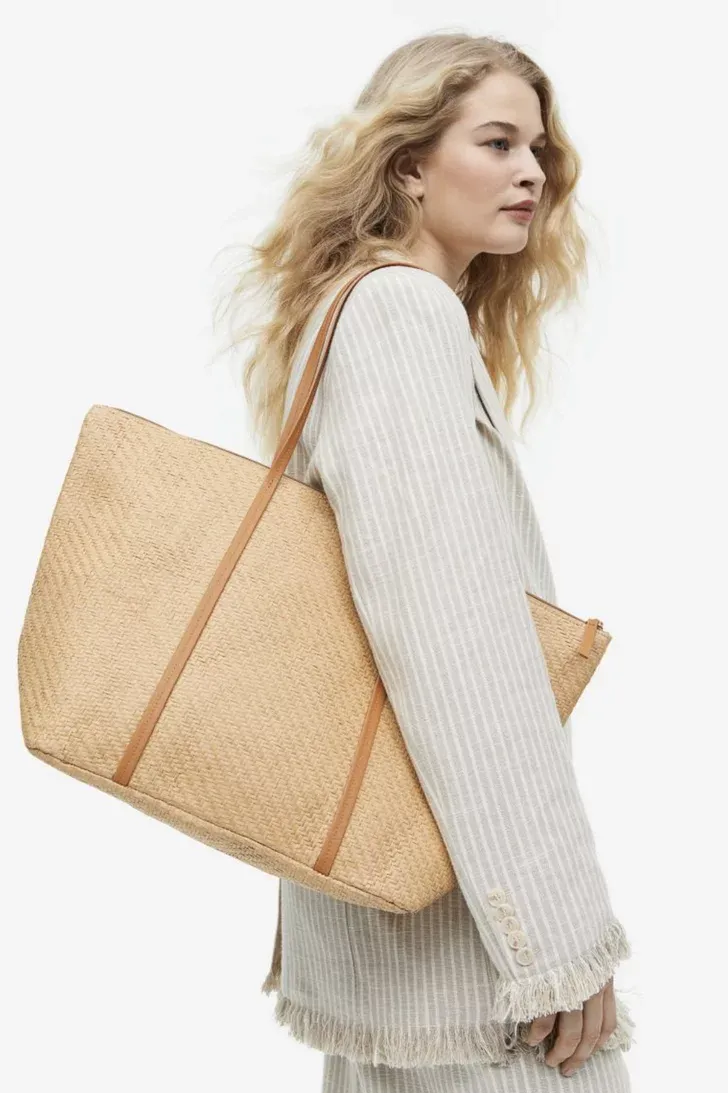 Shoulder Bags
Shoulder bags mainly have big handles that can be hung. Their bigger straps and lightweight make it easier for you to carry these bags. They come in a wide variety and have always been most comfortable and stylish at the same time. They are also popular as the 'Sling bags'. A most preferred type by women at informal events.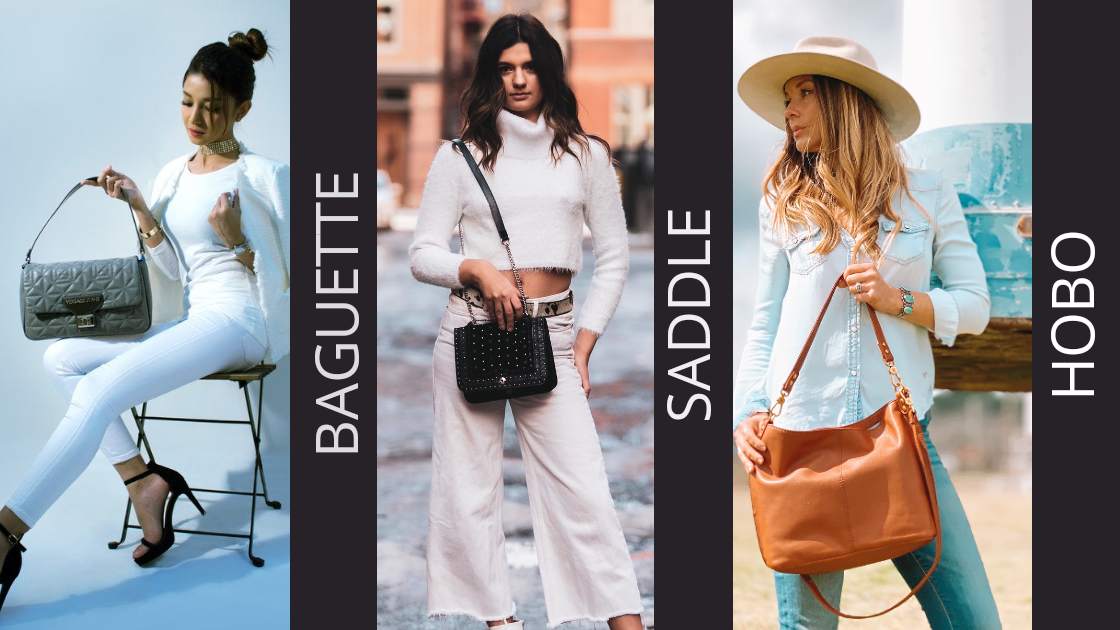 Baguette Bag
A compact size bag with a big strap comes in medium length. This style widely popularized by celebs from the '90s till now. Due to its short size and comfortable strap, it's easy to carry on the shoulder with comfort.
A classy design compliments a retro look.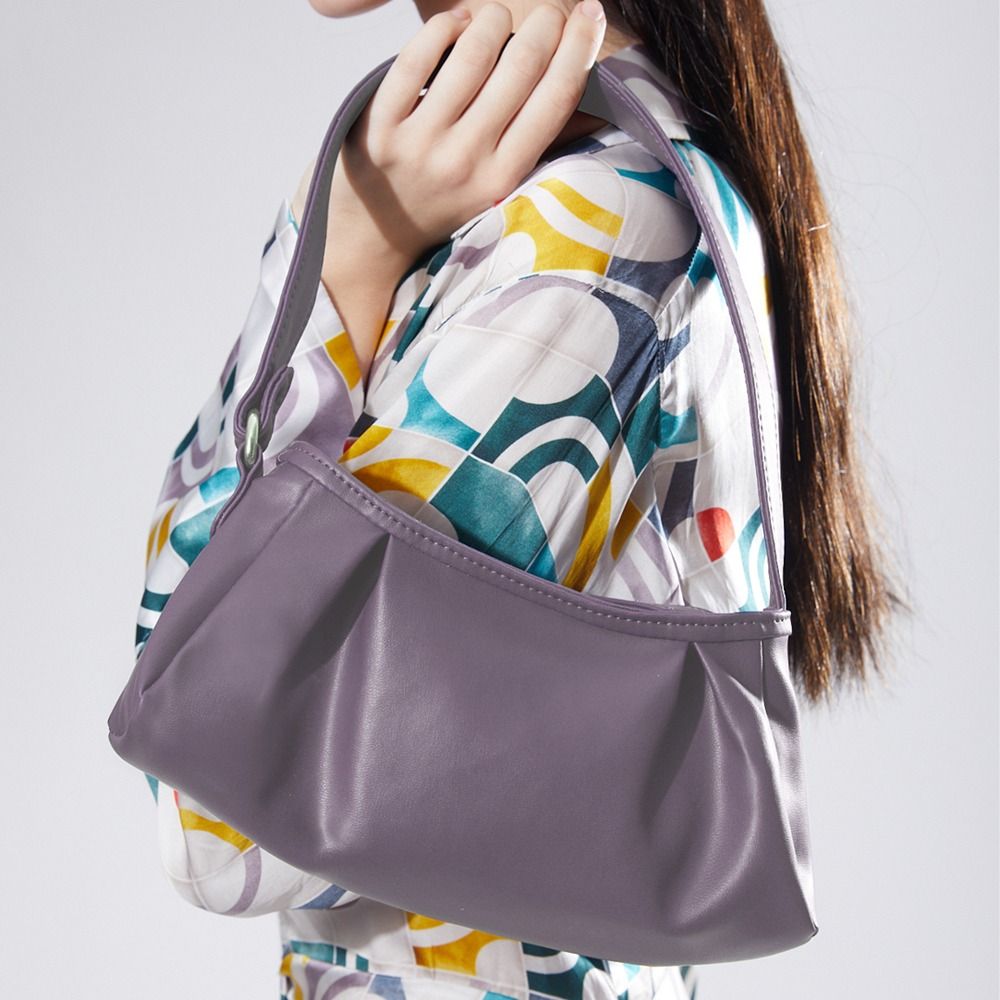 Saddle Bag
Similar in look to the Baguette bag but it comes with a flap, easy to wear on the arm and to get a chic look instantly. They are also known as crossbody bags and are made to use for small purposes. Saddle bags are a timeless type that never goes out of fashion. You can take these bags on friends' meet-ups, lunch dates and for any normal day outing.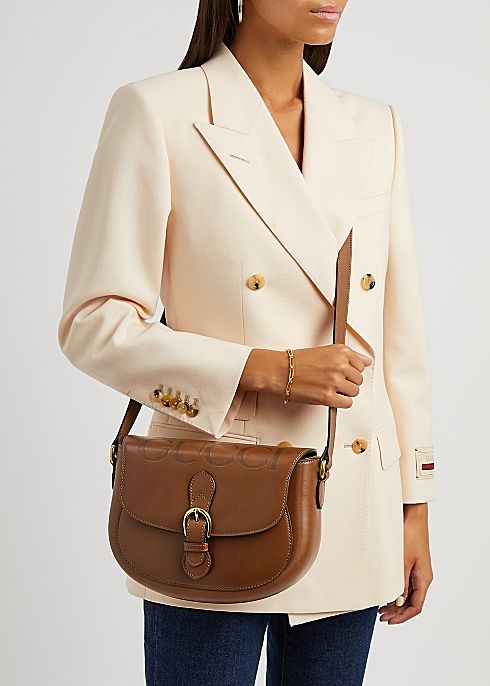 Messenger Bag
A popular type of bag that is widely used by men, but now they can be seen carried by women as well at formal events. Its material and strong straps make it adaptable.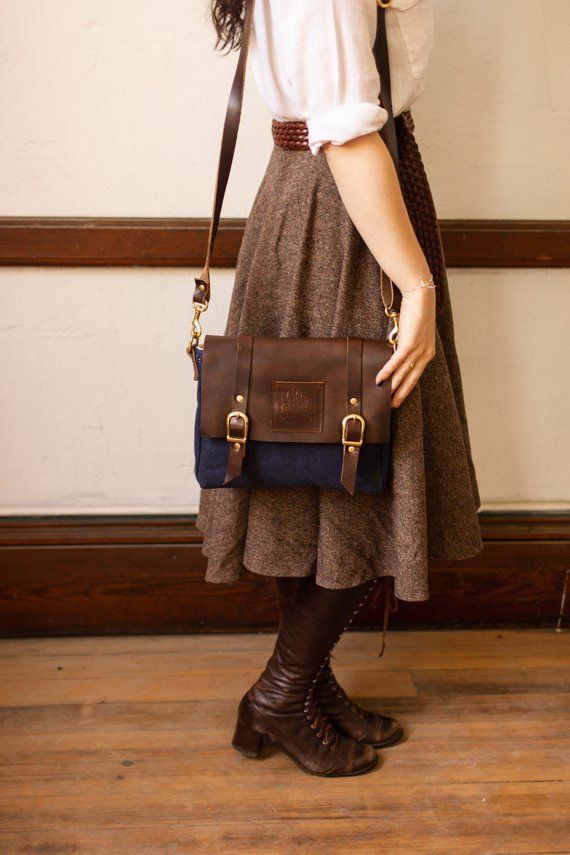 Sling Bag
Sling bags are used as Shoulder or Cross-body bags. They have long adjustable straps. These Sling Cross-body bags come with hidden pockets and lockable compartments. The easy accessibility, lightweight, stylish look and versatility make it a must-have handbag for every woman.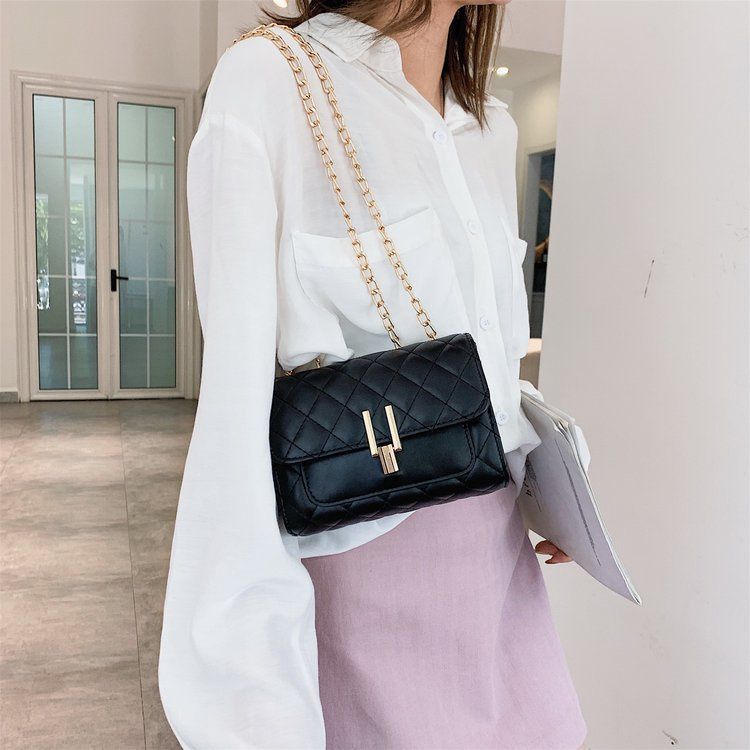 Handheld Bags
These bags are carried in hands or on the wrist. They have small handles and come in mini to medium sizes, but still have enough space to manage our essential stuff. A preferred style to carry on formal events.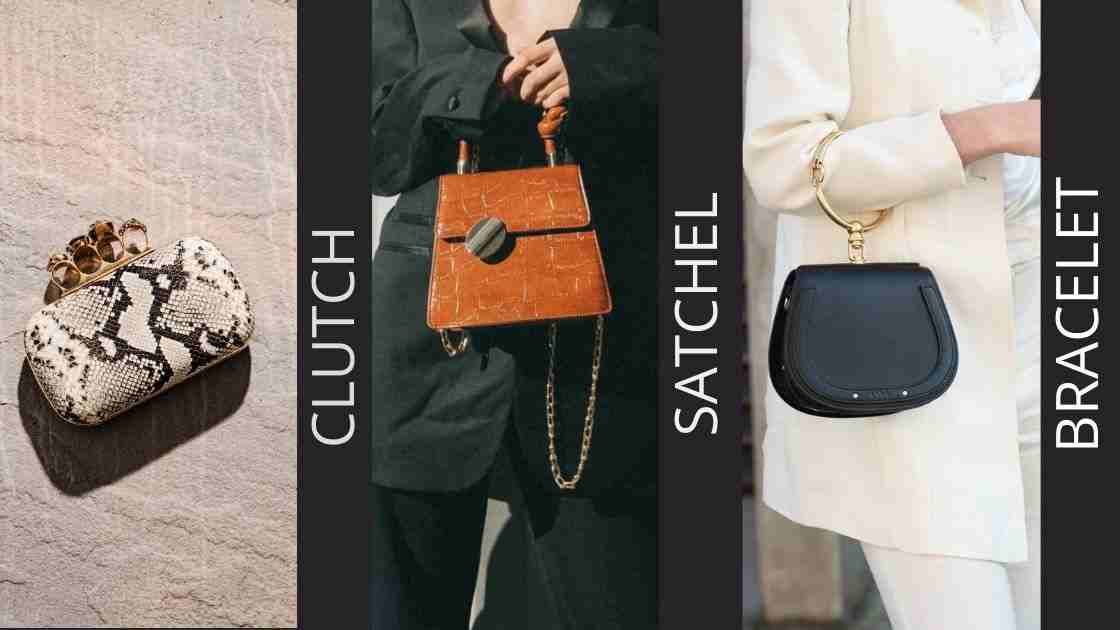 Clutches
Clutches come in various shapes and sizes, and according to events. It can be found in a basic envelope like a purse to carry out regular little kinds of stuff like money, cards, and so on. But on the other hand, little stylish or embellished ones can be styled at parties and special events. A very popular type of purse among girls for its versatility.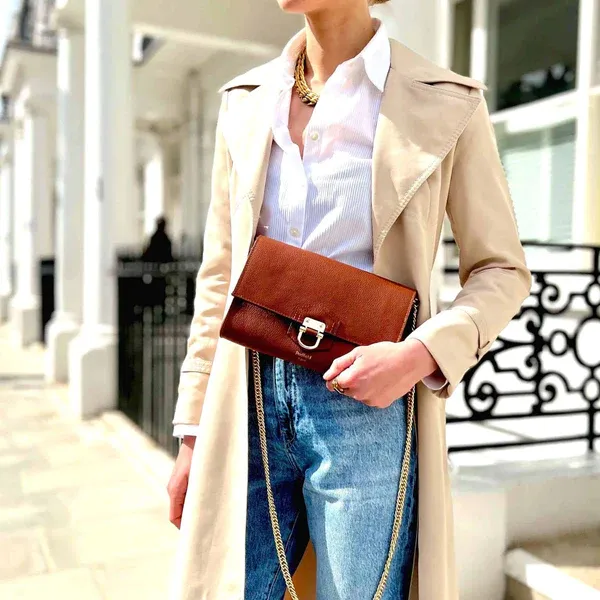 Satchel Bag
These bags acquire a boxier, square, and straight firm shape and look like mini briefcases. Sometimes also comes with a large strap with multiple compartments, chains, or a flap. A nice option for small purposes and can be styled with almost every outfit.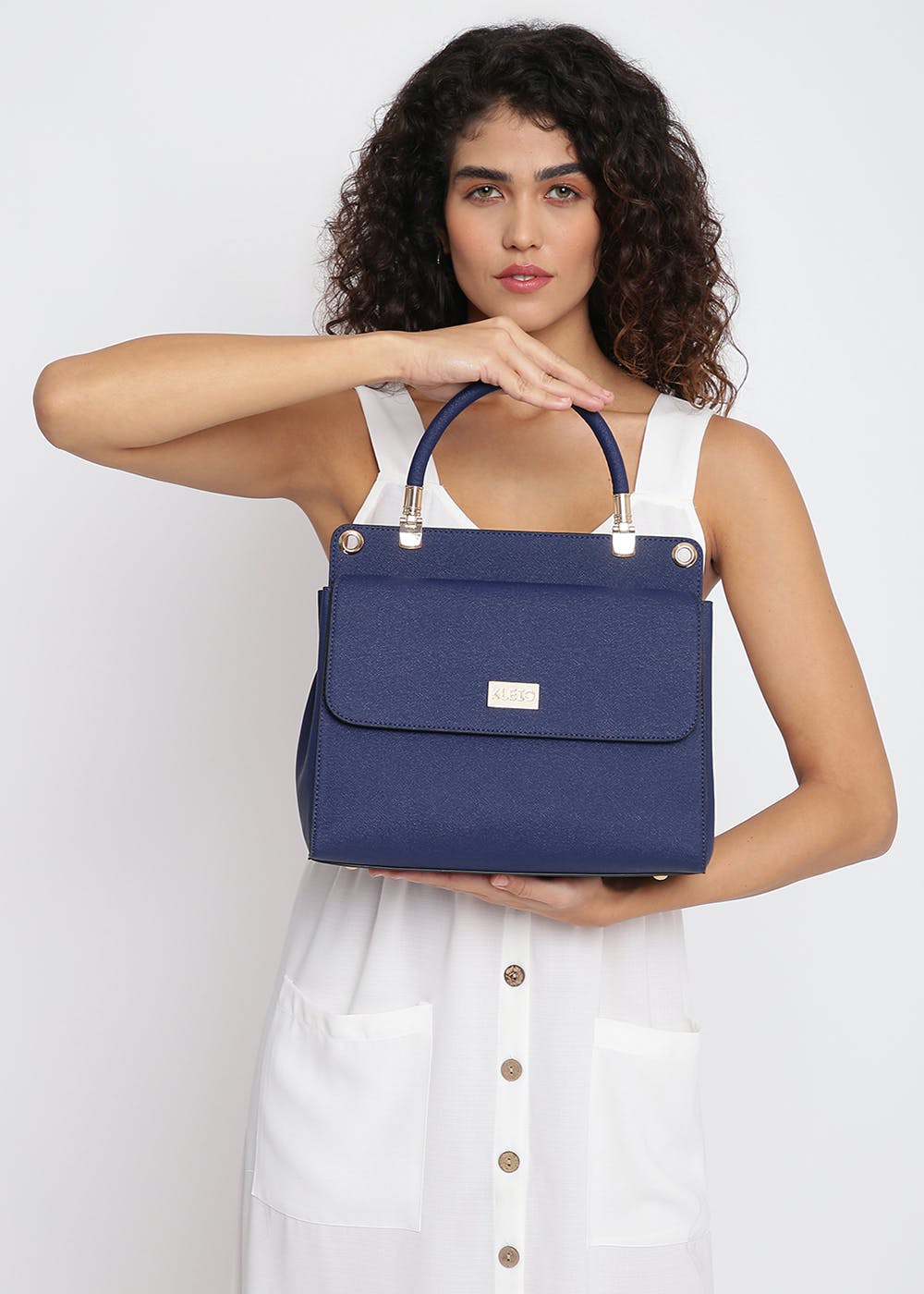 Bracelet Bag
As the name suggests, it has a round bracelet-like structure on its handle that is carried in the hand seems like you're wearing a bracelet. This compact-size bag is a classy piece that looks very elegant on special occasions.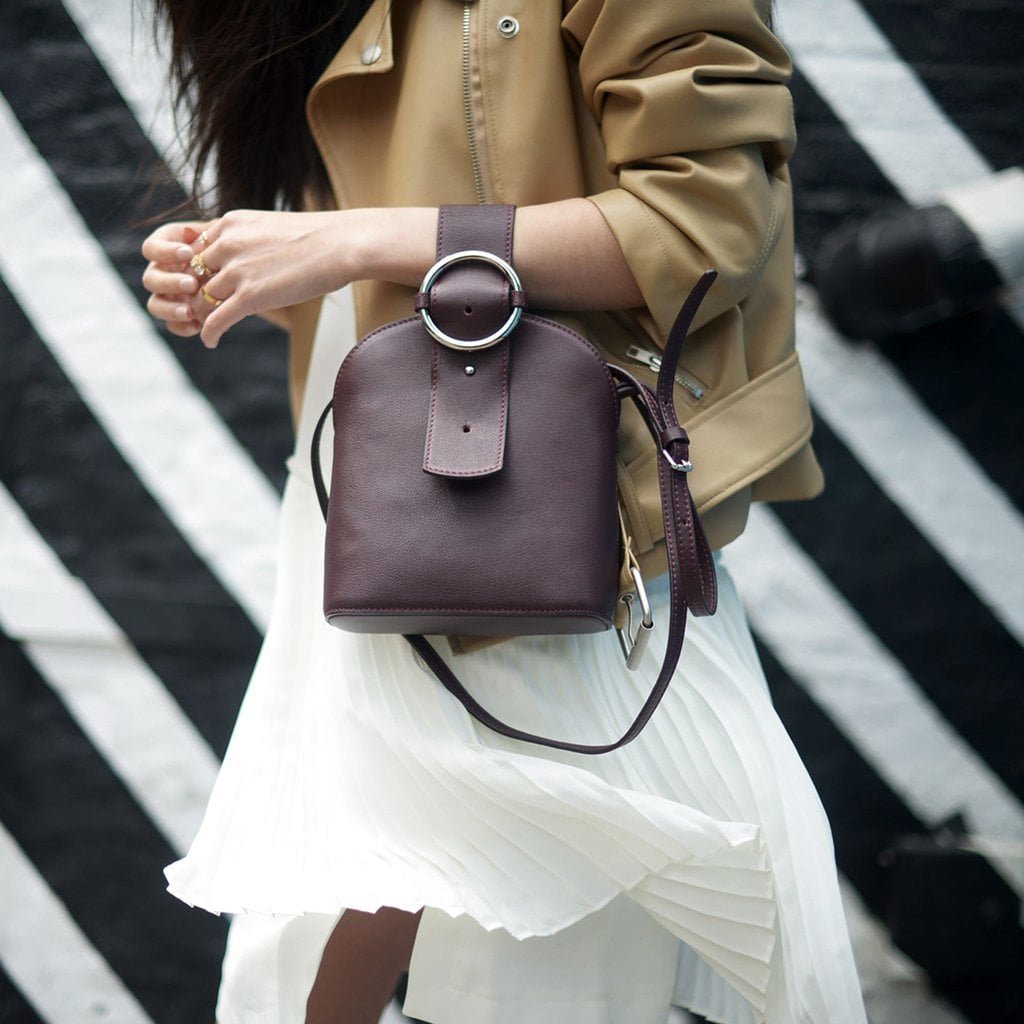 Other Trendy Bags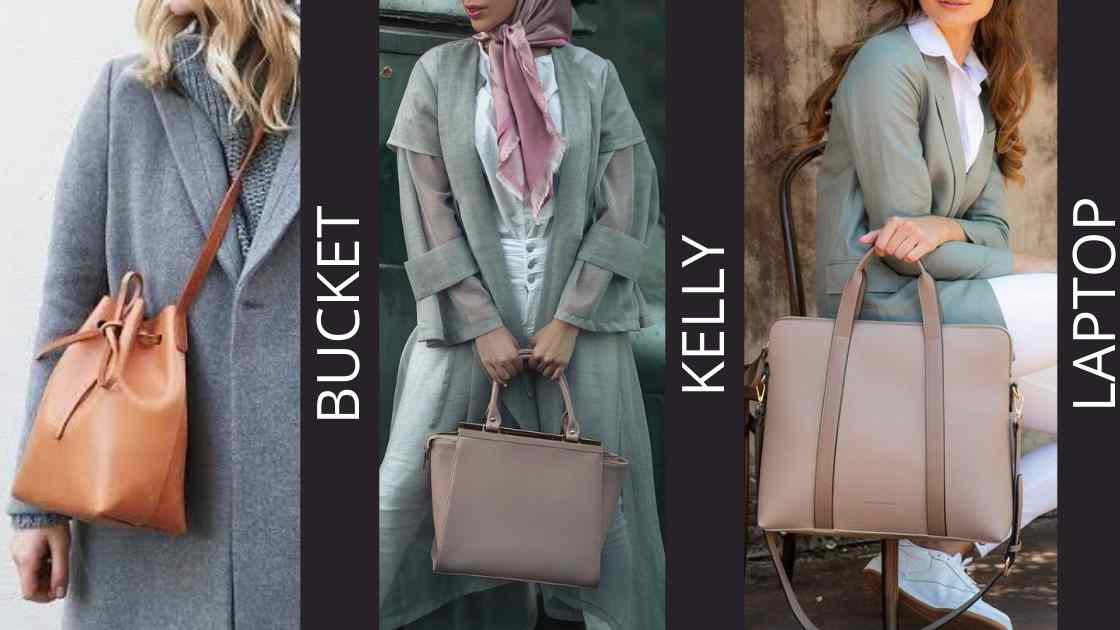 Bucket Bag
These bucket-shaped bags came into fashion around 4-5 years back but still can be seen carrying by celebs as well. As the name tells itself about its structure which is bucket-shaped, a timeless piece that can be found in a decent variety of colors and from materials like leather to denim.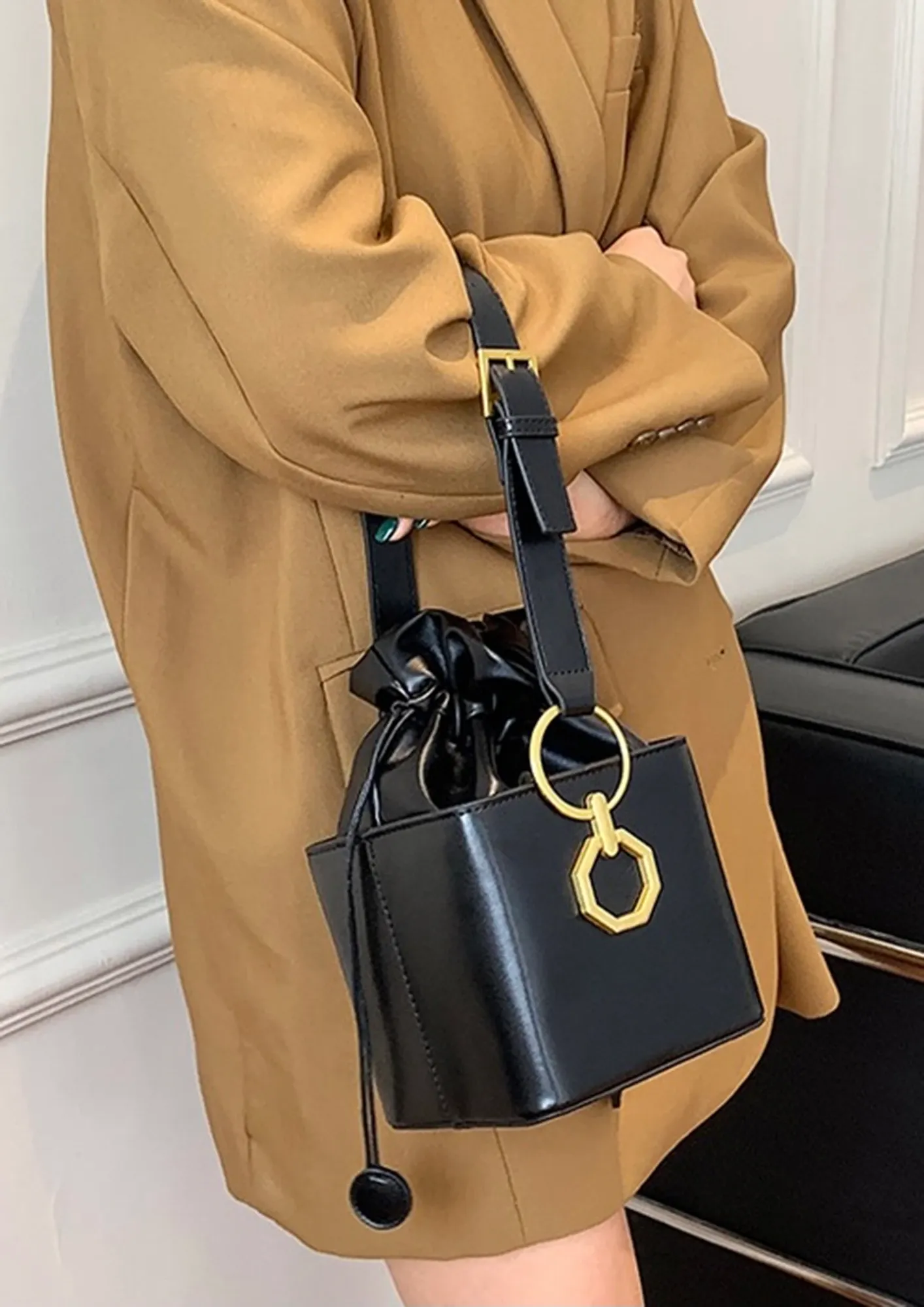 Kelly Bag
These are the bags that commonly can be found in every next girl's collection. They're best carrying on formal events and apart from that these bags add a charm of boldness and bossy vibes to your entire look.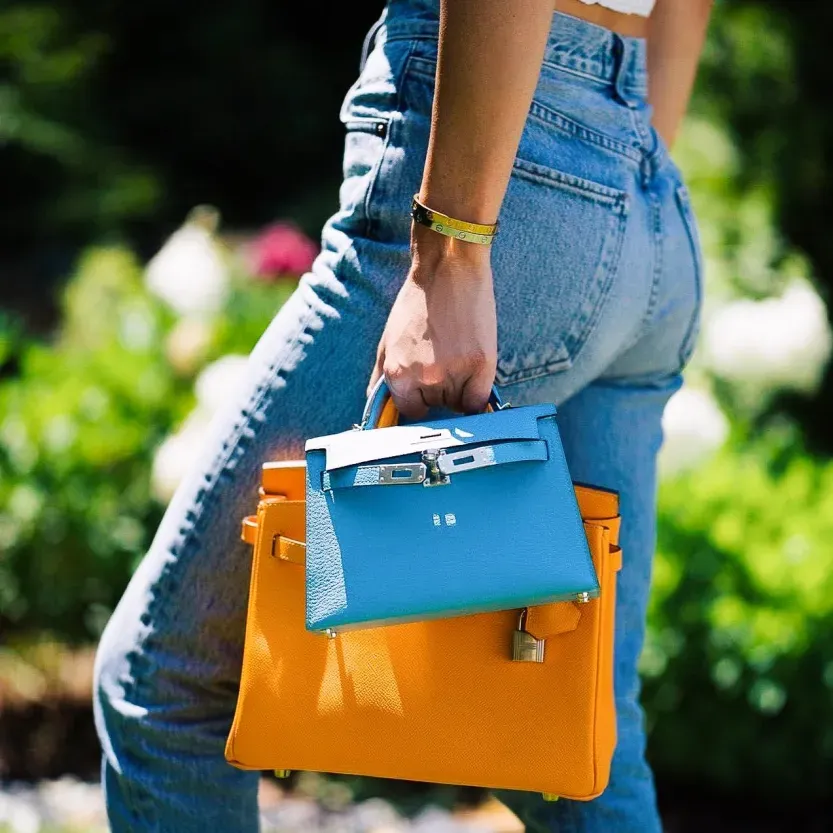 Laptop Bag
A laptop is an important gadget that needs to be carried with proper safety. A good laptop bag not only ensures its safety but makes it easy to move it to different places.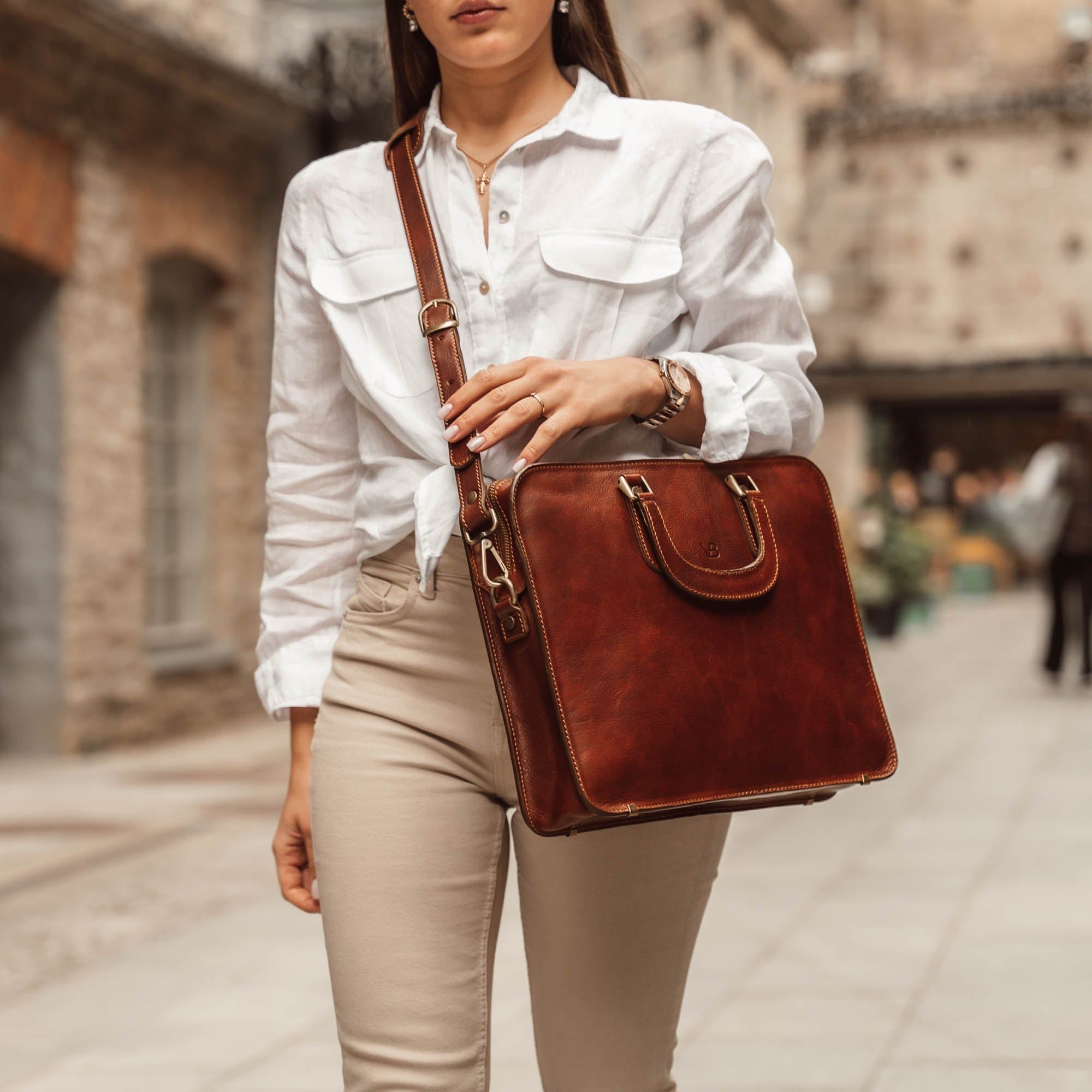 Crochet Bag
Crochet Bags gets attractive because of their handmade artistry. You can design your own Crochet Bags or can buy them in different types of Color palettes, sizes, and pattern. In summer, Crochet bags bring color to your entire look and gives you a cool and funky vibe.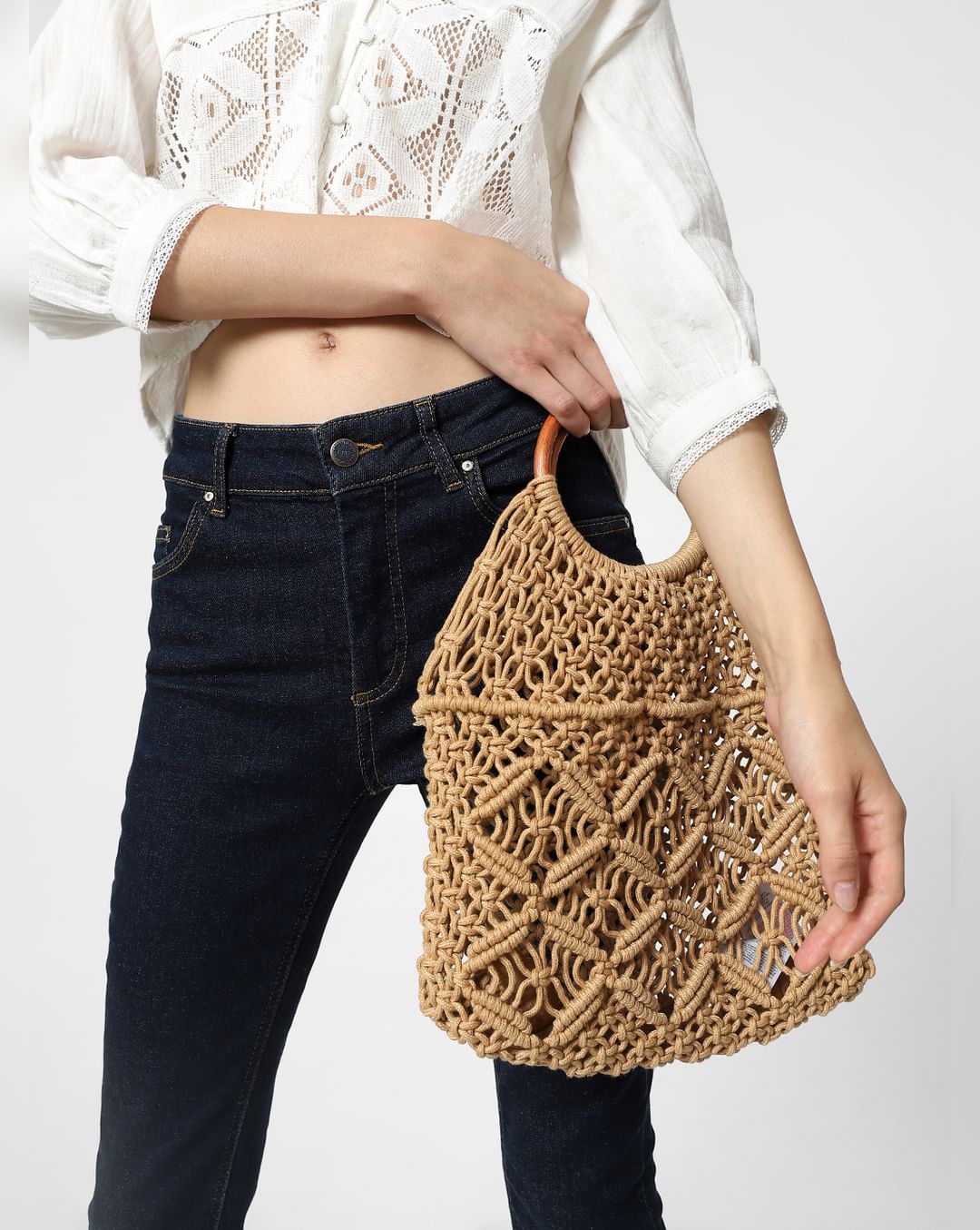 So now, you've got a fair idea about the different types of handbags for women. Now it's time to quickly choose your type and add it to your next shopping list.
Thank you for reading this article. I hope we provided answers to all your queries.
Also Read:
13 Different Types of Women Jeans- A Guide to Pick Your Style  
9 Websites to Buy Ethnic Wear Online for Women