Kanjivaram Silk Sarees for Brides- Wedding Inspiration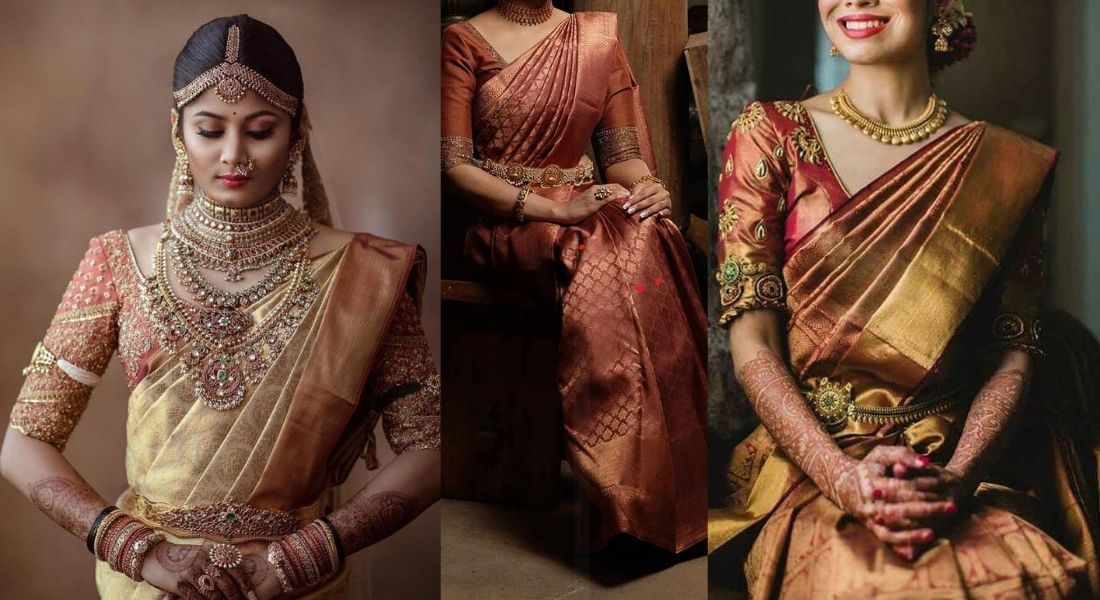 Kanjivaram Silk or Kanjivaram Pattu sarees signify true grace when styling them on special occasions. The fabrication of these sarees is done with pure Mulberry Silk that contains fine detailing of the Zari work. These Kanjivaram Silk sarees for brides are perfect for the big day and also apt for other related occasions such as pre or post-wedding rituals, and poojas as well. If you are a bride or a non-bride, coming from North India or South India, either belong to the Modern era or like to follow the traditional fashion, Kanjivaram Sarees can be the go-to option for each one of you.
What is special about Kanjivaram Silk Sarees?
The specialty of Kanjivaram Silk sarees lies in its pure Mulberry woven silk originating from Kanchipuram town in Tamil Nadu. These sarees are made with Zari, Gold and Silver threads using intricate weaving methods that make them unique and expensive. Kanjivaram Sarees are meant to be worn on big occasions such as Wedding, Poojas or Festivals as they come in vibrant colors, top-notch material quality and unique designs along with a touch of Golden and Silver color across the border that make you feel none less than a "Maharani" (Queen). Their designs are inspired by traditional scriptures and images of South Indian Temples.
Traditional vs Modern Bridal Kanjivaram Sarees
The time has gone when Kanjivaram Sarees for bride was only ruling in South Indian fashion. Many new brides and celebrities are showing their love for this gracious attire for their big day. Celebrity brides in Kanjivaram Sarees can be spotted on their before and after wedding rituals. To attain a Kanjivaram Bridal look you can definitely pick either Traditional or Modern Kanjivaram Sarees for wedding as per your choices. Let's spot a difference between Traditional vs Modern Kanjivaram Silk sarees:
Traditional Kanjivaram Sarees: These types of sarees are the bridal pure Kanchipuram silk sarees, which are designed with traditional patterns using themes such as Coin, Chakra, Checked Motif, etc., along with classical colors such as Yellow, Red, Orange, Green and Blue. The threadwork used in these sarees are heavy, which makes them a prime choice for brides for their wedding.
Modern Kanjivaram Sarees: Modern Kanjivarams are the best Kanjivaram Sarees for wedding guests. These sarees come in lightweight, followed by trendy patterns and designer borders. One can get these sarees in fresh and fusion colors. Brides who want to get an amalgamation of both Traditional attire with a modern touch can go for this option.
Different Types of Kanjivaram Sarees for Wedding:
We've curated a list of some options of best Kanjivaram Sarees for weddings that can be considered while shopping for any of your wedding occasions right from the beginning of the ceremonies or after wedding rituals as a bride or a non-bride:
1. Red Kanjivaram Saree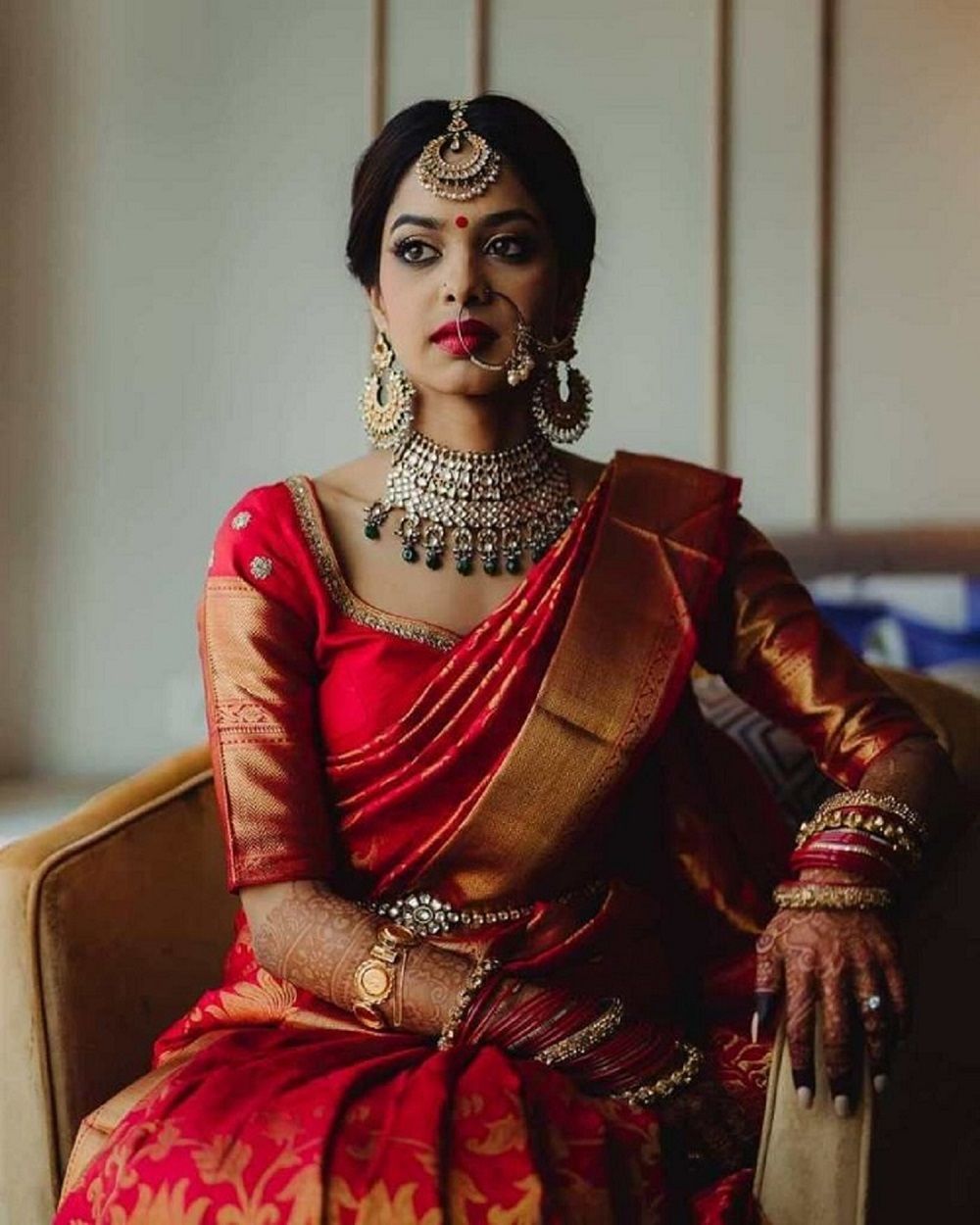 Red Kanjivaram Sarees for brides are the most popular ones. These sarees come in red base and golden color borders. As per your choice, you can choose a shiny red or a matte one. The shimmery golden Zari work pops up on the saree and gives it a gracious look.
2. Kanjivaram Blue Bridal Saree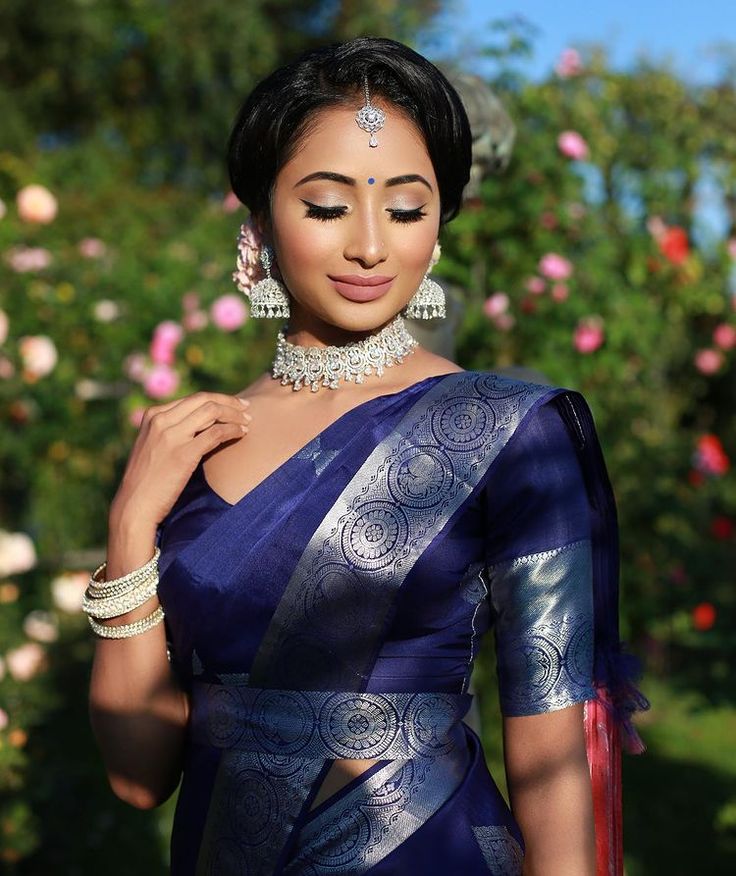 Kanjivaram Blue Bridal saree is best in contrast with the pink color. The silver border enhances the saree's vibrant look. This saree can be worn on several other occasions apart from the wedding. After all, the royal blue color is the ultimate choice for Indian ethnic wear that adds a touch of richness to any attire.
3. Yellow Kanjivaram Saree for Bride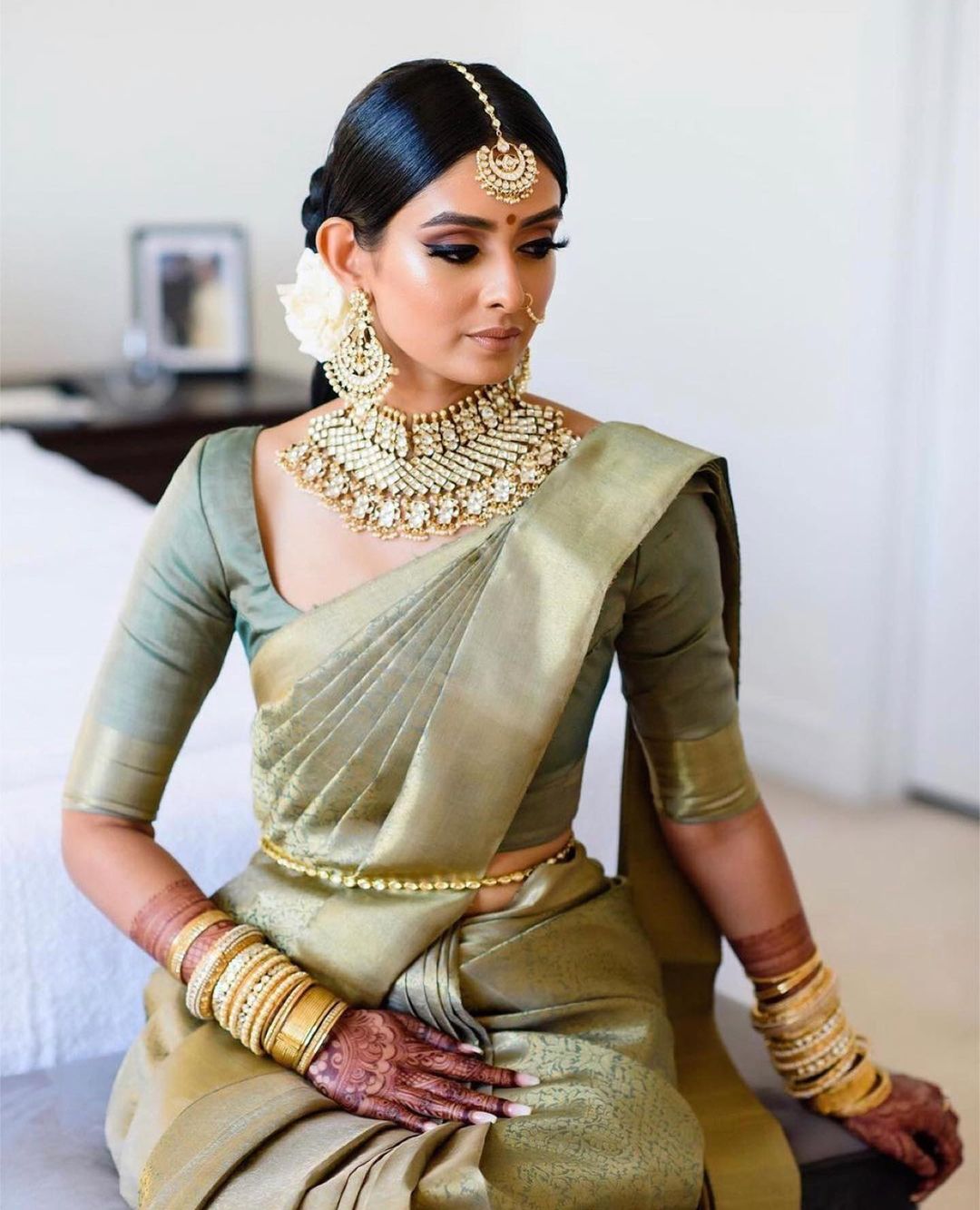 Brides in Golden Kanjivaram Sarees can look like a true regal beauty. A traditional look can easily be carried out in this classy attire. You can try different shades of golden as per your preference. The blouses can be worn in light shades or in contrast to add a pop of color. Add yellow jewelry to elevate the whole Kanjivaram Bridal look.
4. White Kanjivaram Silk Saree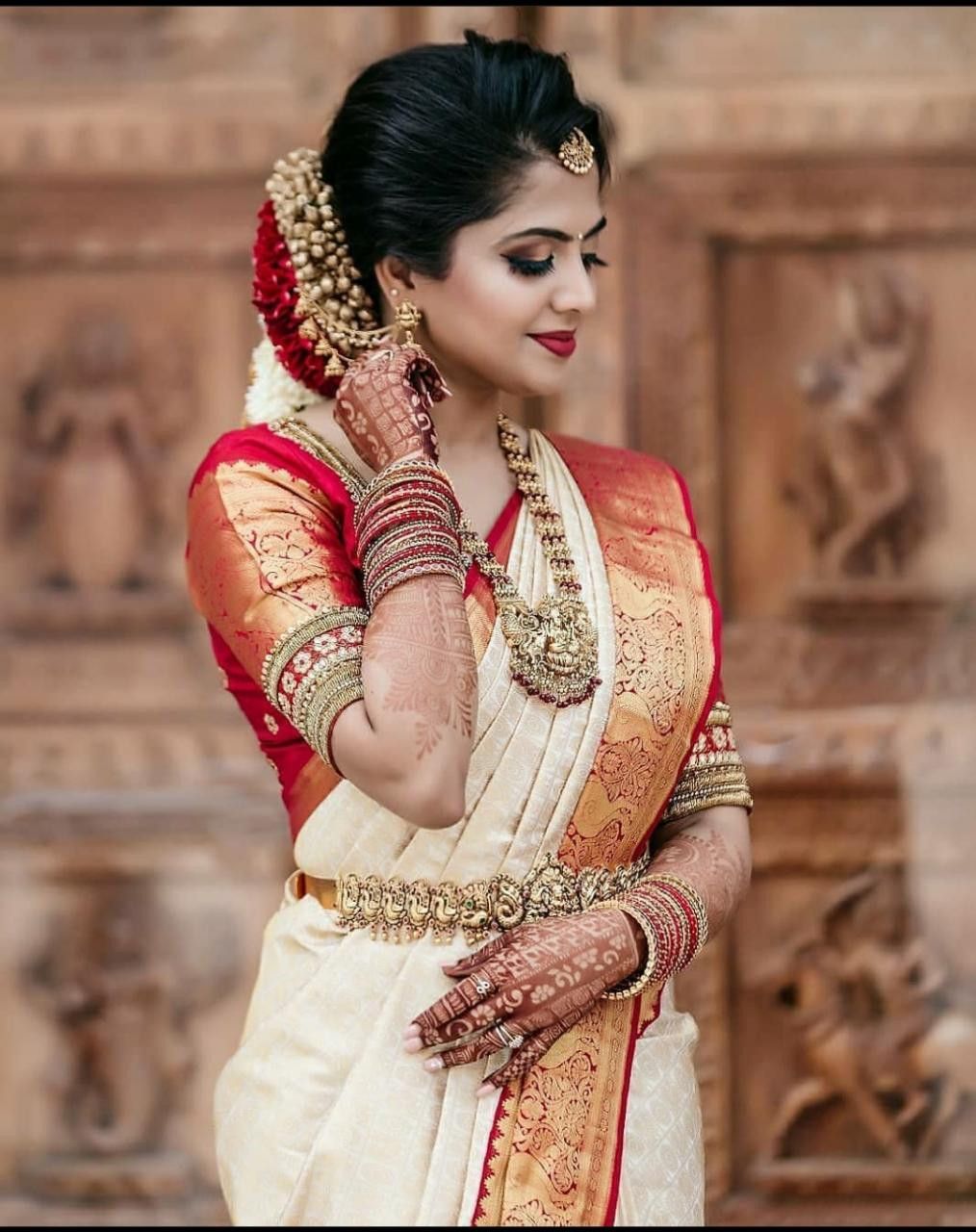 If you want to go out on a little subtle yet modern side of the trend then you can opt for White Kanjivaram Sarees. These sarees come with a chic yet wide golden border. Kanjivaram sarees for brides also come with contrasting borders such as pink or red to make them more apt for the big day.
6. Floral Motifs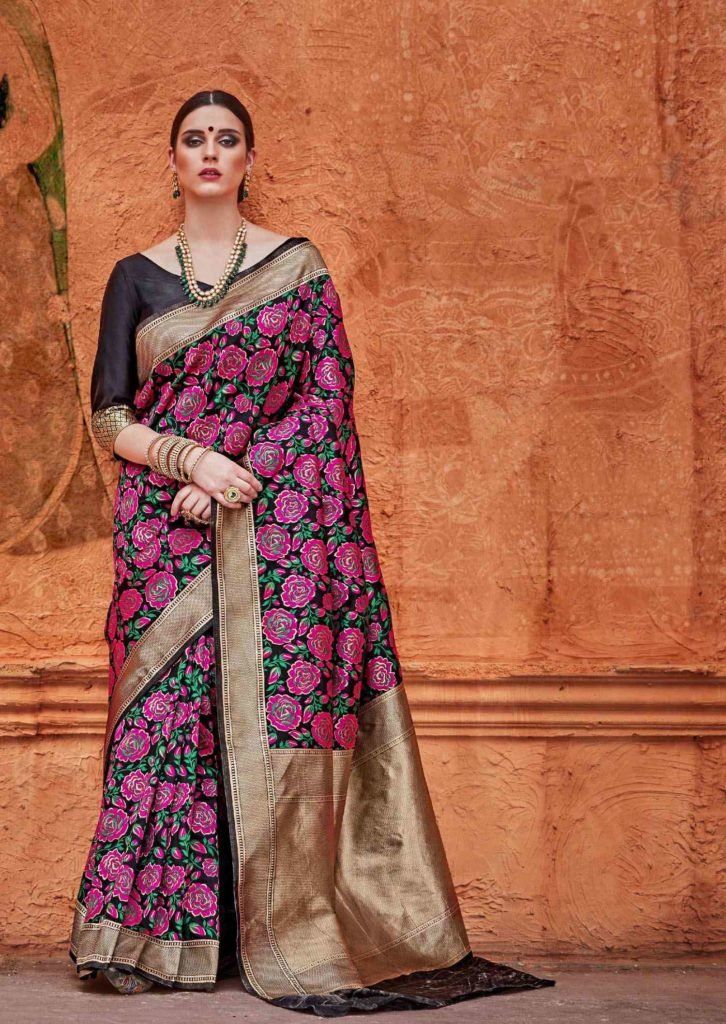 Both traditional and modern Kanjivaram sarees can be seen as having floral motifs, which are intricately woven with the Zari work. The sarees can be found in lighter to deeper shades and come up with wide heavy borders to make you stand out on your special ceremonies.
7. Temple Borders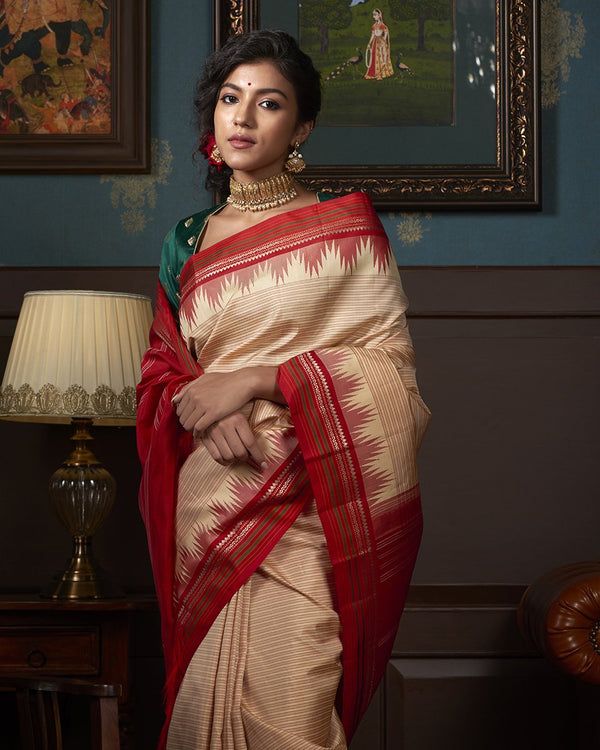 The Temple border Kanjivarams are also quite popular designs, followed by other patterns. These borders are made in Zigzag and temple-like images using traditional colors that make these sarees a perfect choice to attain Kanjeevaram South Indian bridal saree look. These Kanjivarams are most apt to be worn on auspicious days like Pooja or Wedding ceremonies by both brides and non-brides.
Final words on 'Best Kanjivaram Silk Sarees for Brides':
I am sure, till now, we've given you fair ideas to choose a perfect Kanjivaram saree bridal look, that personifies your true beauty and regality.  To attain a graceful bridal lool in Kanjivaram sarees, all you need to do some research and try the best color combinations and patterns that suit your personality. For your Kanjivaram bridal saree shopping you can either shop online or visit the markets to get an authentic experience.  
Thank you for reading this article. I hope we have provided answers to all your queries.
FAQs on Best Kanjivaram Silk Sarees for Brides:
Q. How to Identify Kanjivaram Silk Saree?
A. Kanjivaram Silk Sarees are quite expensive, it's important to get a purity check before investing in them. You can use the following ways to check the purity of Kanjivaram Saree:
Touch Test: Touch the surface of the saree and slightly rub it. If you find it soft and smooth, then you can definitely go for it. If it feels a little textured, then it might be fake.
Check for Hallmark: Every original Kanjivaram Silk Saree is marked with a Hallmark, which is given by the "Silk Mark Organisation of India" to certify its quality standards. The visibility of Hallmark can help you to identify the fake and the real ones.    
Q. Is Kanjivaram Silk heavy?
A. Yes, Kanjivaram Silk Sarees can weigh more than a plain silk saree. As the sarees are woven with pure silk materials intertwined with heavy Gold & Silver threads along with Copper Zari work over the border and pallu to increase their durability and quality. Its weight can go up to 2 kg or even more.
Q. What is the actual cost of Kanjivaram Saree?
A. Kanjivaram Sarees are quite expensive as of their durability and use of quality materials in their making along with their unique and intricate weaving process. A basic Kanjivaram saree made using minimum Silk thread and easy process starts from Rs, 10,000. The pricing can further go up to Rs. 2 lakh and more, which completely depends upon the durability and cost of the fabric used in the making process.
Q. What is the difference between Banarasi and Kanjivaram Saree?
A. Banarasi Silk Sarees originated from Banaras, Uttar Pradesh (North India), while Kanjivaram Silk Sarees come from Kanchipuram, Tamil Nadu (South India). The Kanjivaram Sarees are made purely from Mulberry Silk. On the other hand, Katan or pure silk, modern Shattir, Organza, Georgette, Jangla, Butidar, Tanchoi, Cutwork, and Tissue are mostly used fabrics with Banarasi Sarees. Further, Banarasi Sarees can commonly be found weaved in floral motifs, while Kanjivarams are seen in elaborate structures, motifs, stripes, and checks woven with golden or silver threads. However, the Zari work is common in both sarees.
Also read: