Short Kurti Design for Women- Best Styling Tips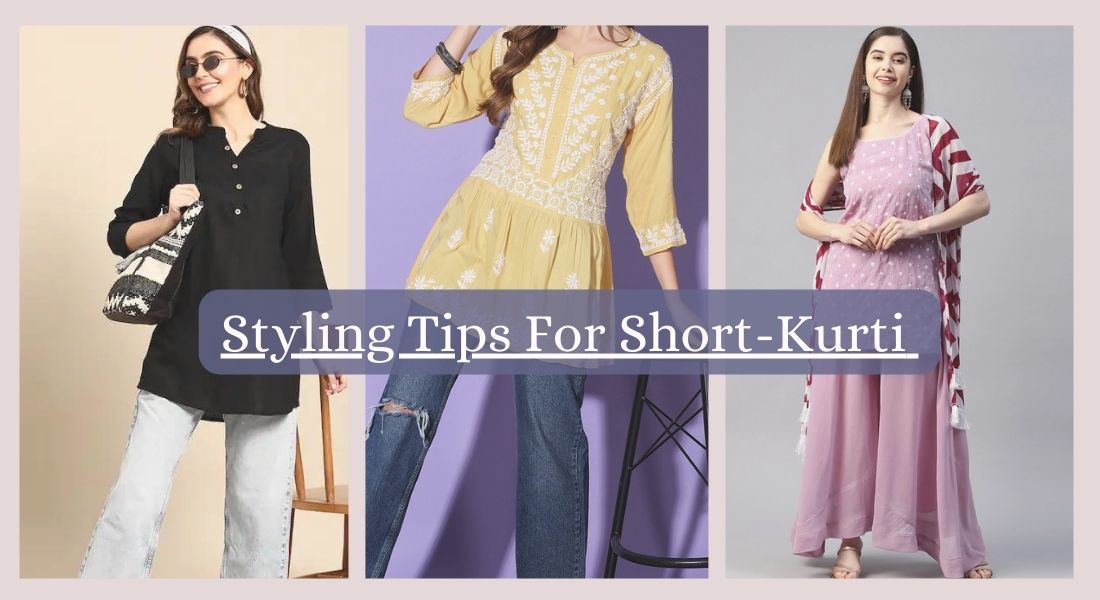 Short Kurtis is a piece of outfit that can be worn on all occasions. Right from casual to special events or western to festive days, kurtis can really elevate your style game. There are various stylish short kurtis designs for women available in unique cuts, patterns, fabrics, lengths and necklines but pairing them up correctly can give you a whole new look. The following article will give you the best styling tip for wearing a short kurti.
Our recommendations are not your limitations. You can use your imagination to mix and match the different layering and styles as per your comfort and the right occasion. Read on the article to learn some best ways to wear a short kurti.
Popular Short Kurti for women:
There are multiple short kurti designs for women available but the most stylish kurti for women are Embroidered, Cotton and Chickankari kurta. Find out more about these trendy short kurti designs for women:
Embroidered Short Kurti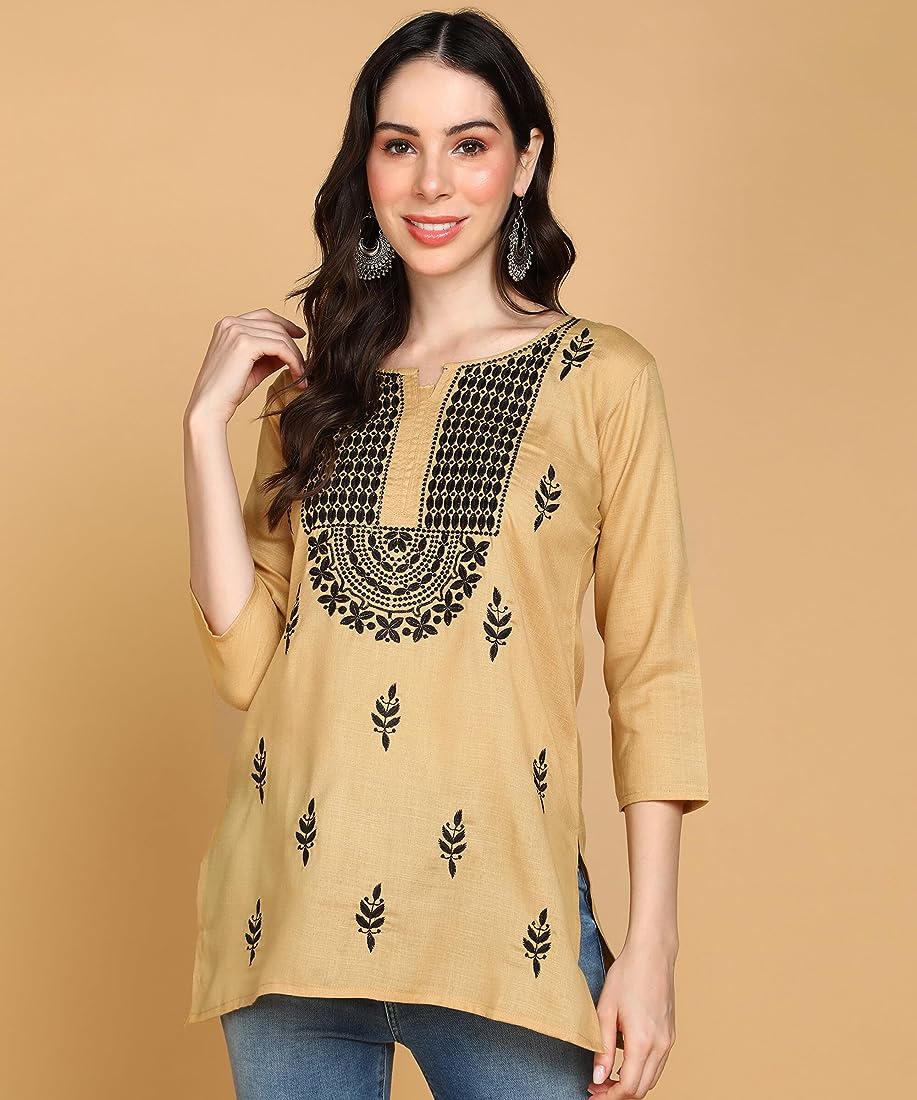 Embroidered short kurtis look classy and suit best on both casual and festive days. There are different types of kurtis available for every occasion. The popular kurti types include Phulkari embroidery, Mirror work, Hand embroidery, Zardosi hand embroidery, etc.
Recommendations:
Kalini Embroidered Short Kurti
Ada Ethnic Motifs Embroidered Pleated Kurti
Cotton Short Kurti for Women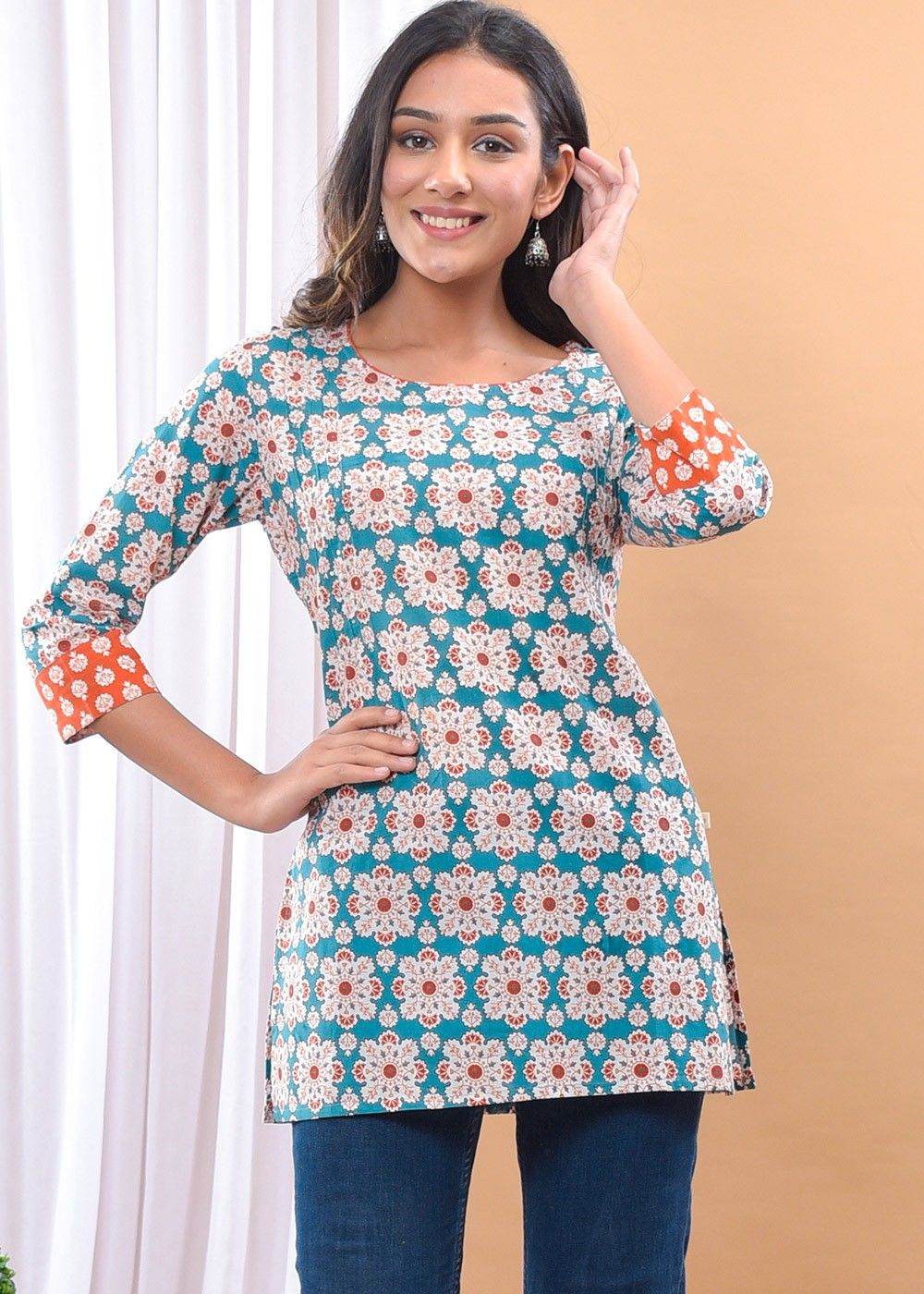 Short cotton kurtis are the most preferable kurti options for women. This style is best for the minimal look and especially best to wear in summer. Cotton short kurtis for women come in various prints and colors and are very popular among college girls. Cotton short kurtis are bets to wear with jeans and juttis.
Recommendations:
Ritu Kumar Women Peach-Coloured Ethnic Motifs Printed Cotton Kurti
Rain and Rainbow Cream & Blue Cotton Printed Straight Short Kurti
Short Chikankari Kurti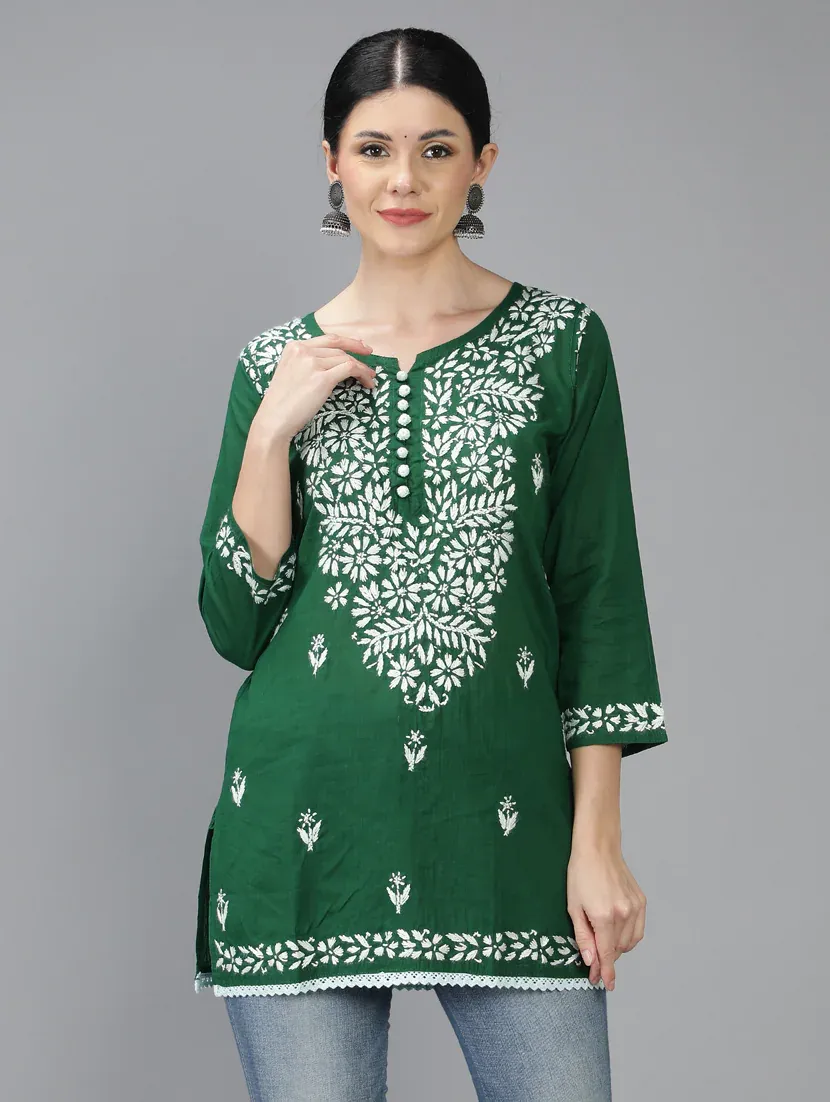 Chikankari Kurtas for women have been in trend for a long time. Due to its intricate thread weaving, it looks royal and elegant on every occasion. Chickankari kurtis are surely a must-have for college girls and office-going women too.
Recommendations:
TULIP 21 Floral Embroidered Pure Cotton Chikankari Kurti
Seva Chikan Ethnic Motifs Chikankari Embroidered Straight Kurti
Tips on What to Wear with Short Kurti:
Short kurtis for women look extremely stylish and sophisticated when paired up correctly. This is an ethnic style that can be worn with a modern fusion. Check out the best tips on what to wear with a short kurti for every occasion:
Short Kurti with Wide-leg Jeans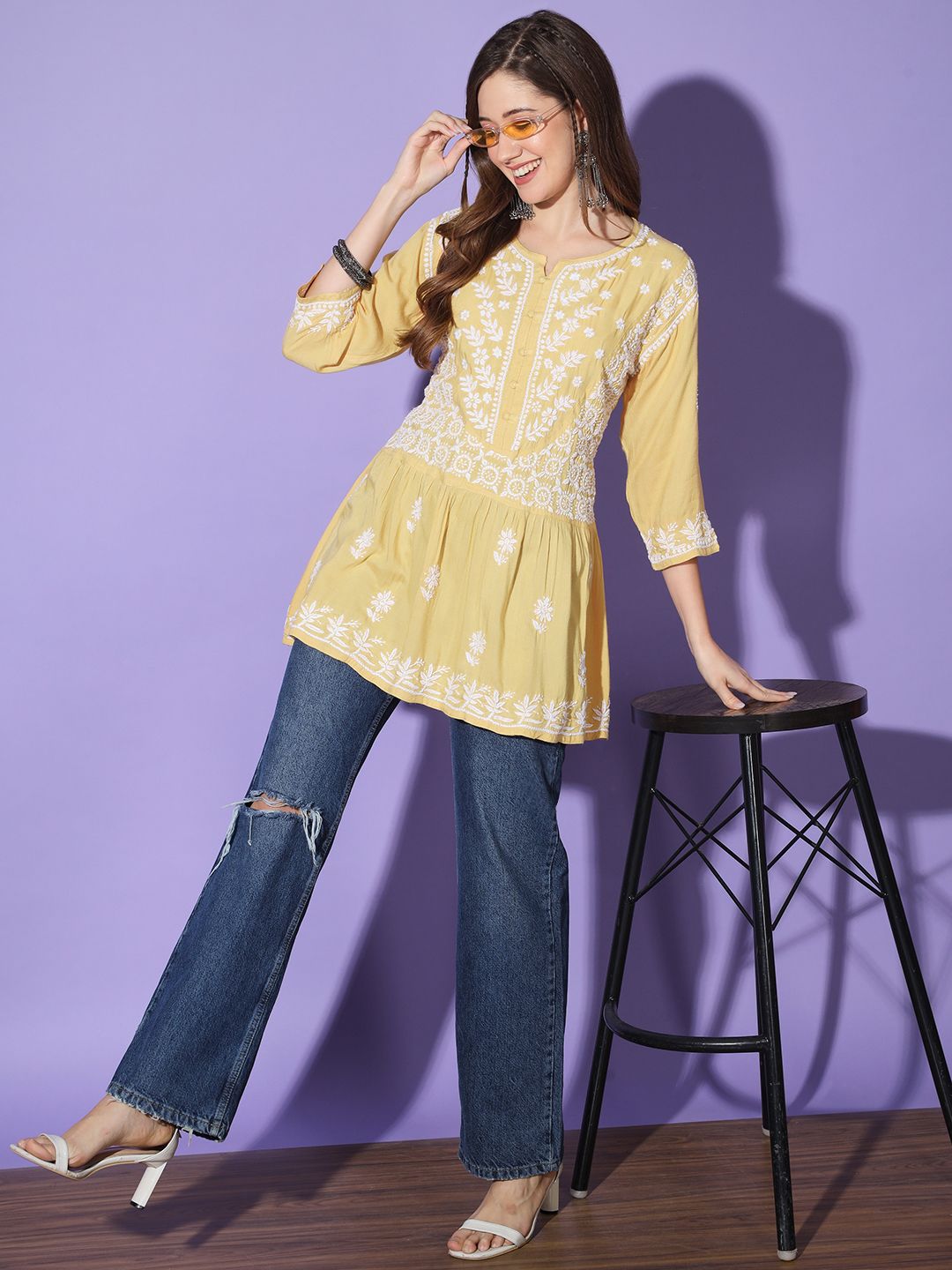 Jeans always make a great pair with any top. You can wear any popular jeans type for women with a straight or flared short kurti. However, Slim-fit jeans are always a go-to style to pair up with short kurtis. But if you possess an excellent height then indeed you can style a fitted kurta with wide-leg jeans. It will not only be a savior in summer but also looks stylish at the same time. If you like to jazz up your look you can adopt a modern look with ripped jeans and a strappy kurta with heels or ballerinas.
Short Kurti with Jacket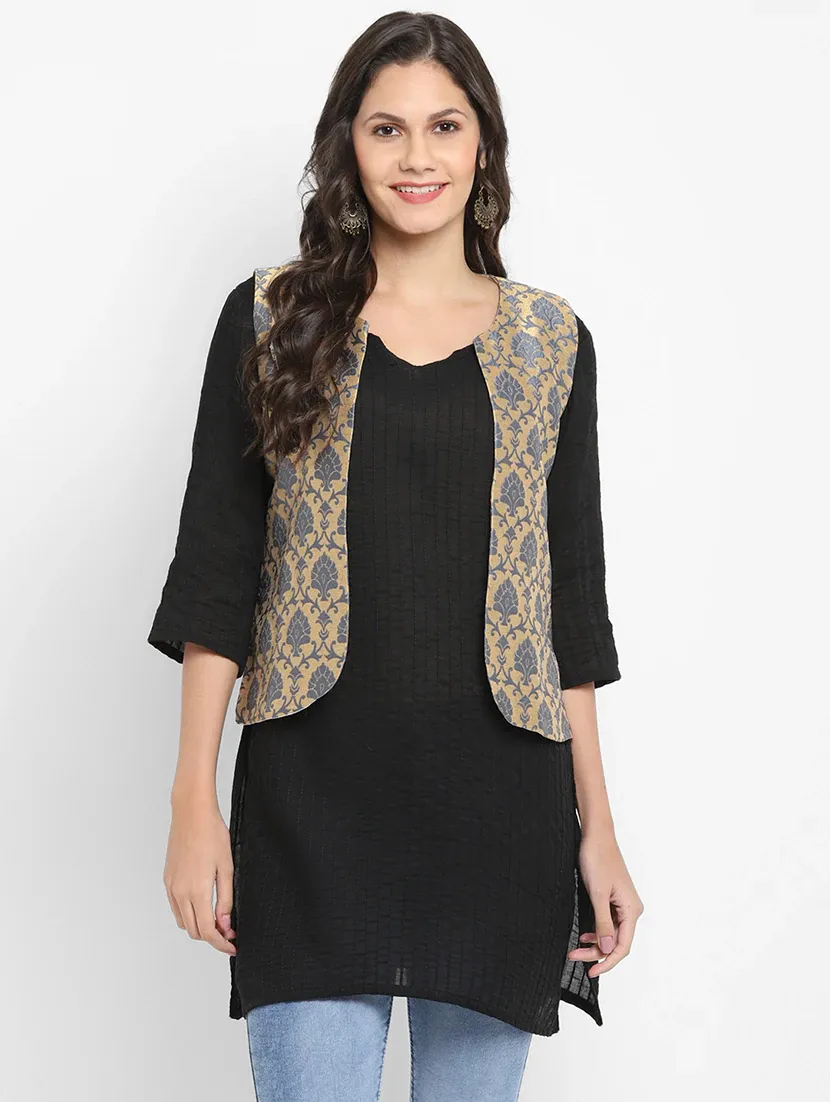 Layering always looks flattering and can ultimately enhance your style game. A short kurti with a jacket can be paired up on any occasion. You can also choose to wear a short kurti with a shrug of any light fabric to amp up your look. There are multiple trendy jackets for women are available. Choose the one as per the weather and the occasion.
Short Kurti with Palazzo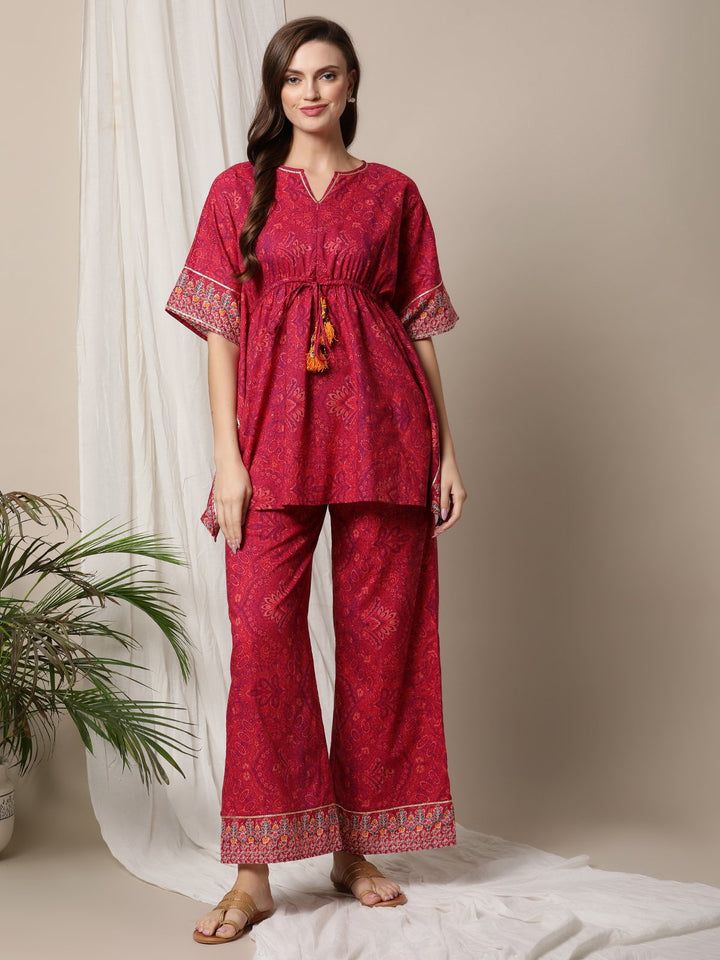 If you want to ditch the skin-hugging bottoms and go for some comfortable options, then Palazzos can be your best shot. A short kurti with a palazzo is best to style on formal and casual occasions. This pair even looks captivating in festive wear. You can try out the peplum style and keep the palazzo to the ankle length and also carry a dupatta to complete the look.
Short Kurti with Legging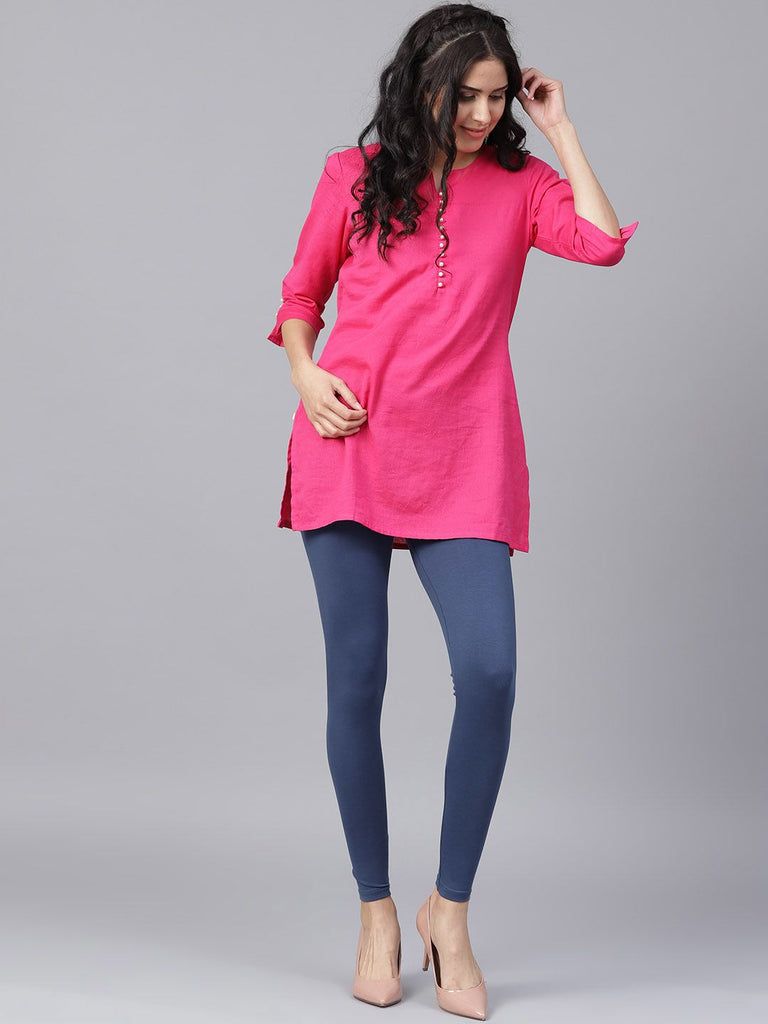 This is an all-time wearable style that never goes out of fashion. A short kurti with leggings is an excellent traditional pair. You can either go for churidar or ankle-length leggings as per your preference. Leggings are available in n number of colors. You can either match the exact or contrasting colors as per the kurti.
Short Kurti with Narrow Trousers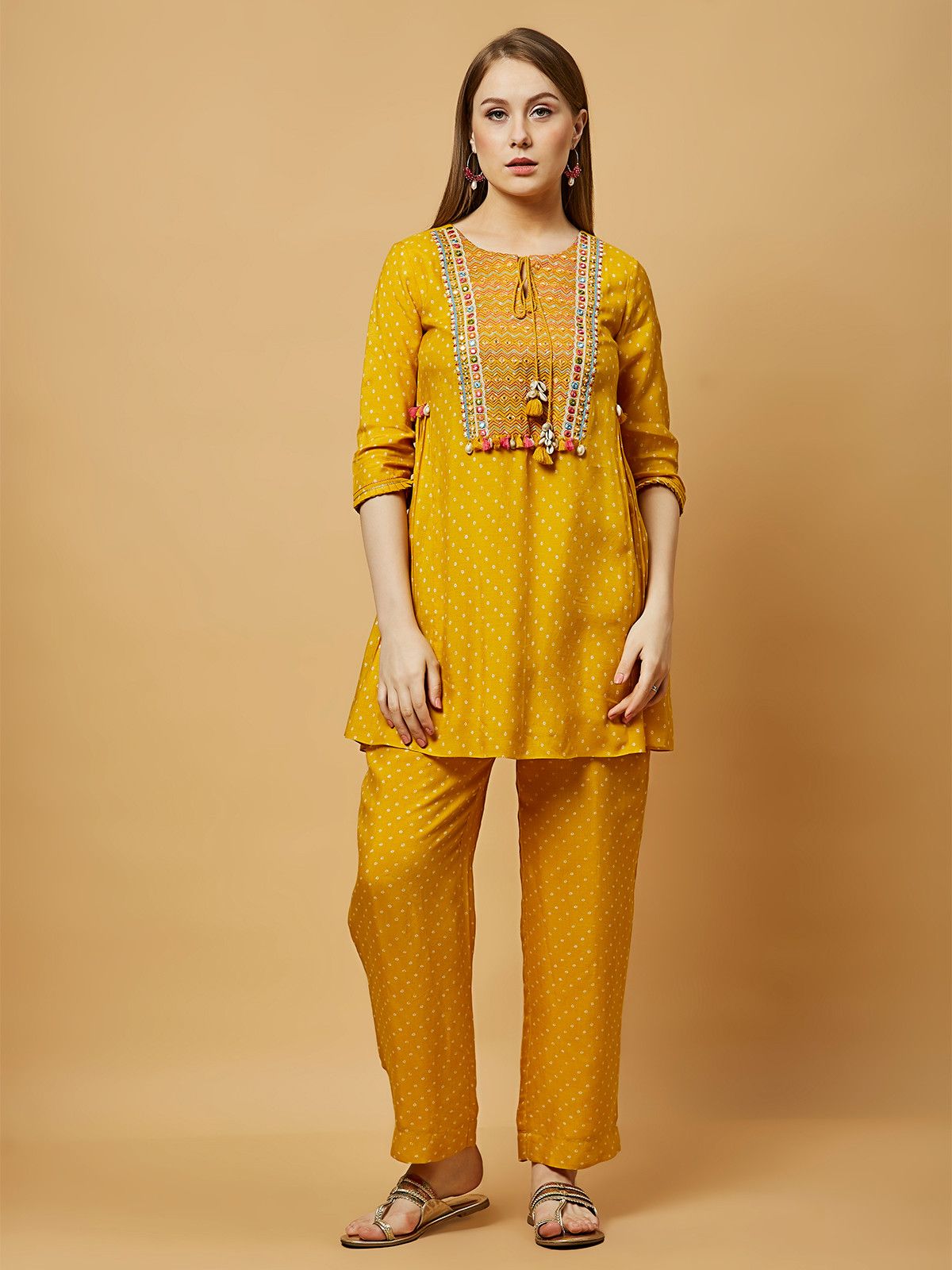 Getting ready for a formal occasion but want to keep your Indianness intact? Then you can choose to wear a short kurti with narrow trousers. Alongside, Cigarette pants also make a good pair with short kurtis. This style doesn't only look sophisticated but has a relaxed fit too. This duo is apt for both formal and casual events.
Thank you for reading this article. I hope we helped you to choose among the best styles.
FAQs on Short Kurti Styling Tips:
Q. How to wear short kurta?
A. Short kurtas are best to pair with wide-leg jeans, palazzos and cigarette pants. You can add on any shrug or jacket for the layering. Choose the accessories as per the event or occasion you're styling for. Short kurtis are stylish and most comfortable to wear in every place such as at work, college, travelling or on festive days.
Q. How to look slim in short kurti?
A. To look slim in short-kurtis, make sure that you buy small patterns. The kurti must have a V neckline and straight cuts. You must go for dark color options to create an optical illusion. Also, avoid clingy and too tight kurti.  
Q. Can Palazzo be worn with short kurti?
A. Yes, wearing short kurtis with palazzo is one of the best and most preferred styling options. This combination gives you comfort with style. A straight-fit kurti goes best with a flared palazzo. You can choose the flare of the palazzo as per your preference.
Q. Does short kurti look good on a short-height girl?
A. Yes, short-height girls can also look good in short kurtis if pairing them correctly. Short-height girls must go for leggings, narrow pants and slim jeans. A trendy monochromatic look also gives an illusion of elongated height. Go for sleek fabrics and avoid bulgy sleeves.
Q. Do shorter-length kurti make you look taller?
A. Yes, if they are styled correctly. To look taller in a short kurti, try to wear your perfect size. Too much loose and voluminous outfits can make you look short. Further, try to avoid it over-accessorize. Keep the look simple and chic.
Also read: